The father of value investing, Benjamin Graham, had an allegory of "Mr. Market," who would offer publicly traded shares on your doorstep every morning at various prices. To make money from Mr. Market you need to know the fundamental value of the shares being offered, and then buy when they were irrationally low priced – thus giving yourself a margin of safety.
Which stocks is Mr. Market offering today that could be nearing deep value? What is one method to determine relative value? What are some of the risks you need to be aware of?
Warren Buffett is one of the greatest investors of all time, and he was a pupil of Benjamin Graham. It would therefore be logical to start our value scan using a few Buffett-style criteria.
Scanning for Buffett Stocks
Buffett likes stocks with a high return on equity relative to their industry. We will use retained earnings if the company pays dividends, so we can calculate the sustainable growth rate for the company. Also, the long-term debt will need to be less than the working capital. We will consider 5-year annual growth rates where the EPS was positive and the last 4 quarters being above break-even. Market cap needs to be at least 500 million.
What type of stocks make this rudimentary scan? These 10 make the cut.
| | |
| --- | --- |
| (NASDAQ:AAPL) | Apple Inc. |
| (NASDAQ:ALTR) | Altera Corp. |
| (NASDAQ:DELL) | Dell Inc. |
| (NASDAQ:DLTR) | Dollar Tree, Inc. |
| (NASDAQ:GOOG) | Google Inc. |
| (NYSE:GPS) | Gap Inc. |
| (NYSE:LXK) | Lexmark International Inc. |
| (NASDAQ:MSFT) | Microsoft Corporation |
| (NASDAQ:ORCL) | Oracle Corp. |
| (NASDAQ:PCLN) | Priceline.com Inc. |
But this isn't necessarily taking into account the price Mr. Market is offering. How can we determine when it's time to buy?
Buying on Low Relative P/E Valuations
Remember that we want to buy when Mr. Market is giving us a steal of a deal. How do we know when we might have a margin of safety? A low relative price-to-earnings ratio (bottom 50%).
One method is to buy when the price-to-earnings ratio is lower - not compared to the entire stock universe, but when compared to itself over the past 5 years. If all things are equal (though unfortunately they rarely are), then if P/E ratios drop below a certain point, this might provide a margin of safety. Thus, our new rule will be to hold stocks when the P/E ratios are in the bottom 50% of their 5-year ranges.
Over the past 10 years this has been a profitable strategy that has been able to generate 138% profits vs. the S&P 500 benchmark of only 5.6%.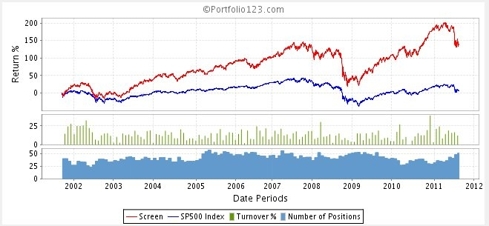 Click to enlarge
Which of the aforementioned Buffett-screened picks might make timely buys now based on P/E valuations?
Apple (AAPL) – Oddly enough, this $350 billion mega cap has some of the best deep value ratios in its publicly traded history. The P/E has dropped below 15, into high-value territory. The P/E divided by the long-term growth rate (PEG) gives us 0.62, and 1 or less is typically suggests the stock is well-priced based on future growth. Apple share prices have proved particularly resilient during the recent market drop. Acquiring Apple shares during these choppy markets could really help your portfolio in the long run.
Altera Corp. (ALTR) – This stock has experienced a major run-up since 2009 from $15 to $50, and back down to $35. The P/E ratio typically ranged between 10 and 30. With a P/E at 12.7 and a PEG ratio of 0.93, this is meeting our buying conditions. Analysts are beginning to improve their recommendations on this stock, although earnings forecasts have seen slight downward revisions over the past week. Support at $36 has unfortunately become resistance, and I would like to see more positive price action before buying.
Google (GOOG) – This has been another high-flying stock over the past 5 years, with wild P/E ratio swings from 50 to sub-20s. A P/E of 19 puts this stock in our target zone. Overall growth is good, 5-year sales growth is at 36.7%, and 5-year earnings growth is at 38.1%. Some support lies at $520, but if that breaks from a broad-based market sell-off, the next buy point is at $480.
Lexmark International (LXK) – Since 2007 share price has slid from $70 to $30. However, the P/E ratio is signaling some value as the averaging 15-plus P/E ratio has fallen to 7. Despite negative growth forecasts for this year and next, estimates have risen over the past months. Modest earnings surprises from 3 out of 4 trailing quarters may suggest that the time to buy is nigh. If the market drop continues a while longer, an entry of $27.50 could prove to be a nice support-based target.
Microsoft (MSFT) – With trailing P/E ratios less than 10, and a 5-year P/E average closer to 15, Microsoft is worthy of a second look. The next 5 years of earnings growth is anticipated at 9.9% annually, giving us an attractive PEG ratio of 0.93. Having support nearby at $24 and $25, this software giant could make a nice addition to your Buffett-style portfolio right now.
Oracle Corp. (ORCL) – This stock has typically traded in the P/E range of 10 – 20, with the 5-year average being 17.6. The current P/E of 15.57 seems a bit high compared to the other deals Mr. Market is offering, but we need to look closer. The stock is expected to grow earnings annually at 15% for the next 5 years. Positive earnings surprises averaging 9% over the last 4 quarters add a small silver lining. Both earnings and sales growth for the last year are double their three-year averages. Support levels lie at every whole dollar mark from $26 - $24, which adds safety in buying at this price.
Due Diligence and P/E Ratios
Simply buying stocks with low overall P/E ratios can be disastrous. Markets usually punish prices for a reason. But if you buy strong stocks when relative ratios are below average, this will provide a small measure of market timing ability.
Why is buying stocks with extremely low P/E ratios dangerous? Investors might simply be pricing in falling earnings – which will stabilize the price-to-earnings ratio at much lower prices. Thus, you need to perform your own due diligence to see if the company still retains the ability to earn and share price is simply succumbing to the broad market, or if investors are re-pricing the shares due to future expectations.
Additional Market Timing Filter
Another enhancement to this strategy is to add an element of broad market timing that considers the forecast earnings trend for the S&P 500. When the short-term average of earnings falls below a longer-term average, this can be an early indication that the market is ready for another correction (or worse).
Portfolio123 recommends using 5- and 21-week S&P 500 current-year earnings estimates, but I prefer slightly more sensitive signals than that. Will a market timing filter, which only allows us to be invested when short-term earnings are rising, provide us with enough opportunity to enhance our gains?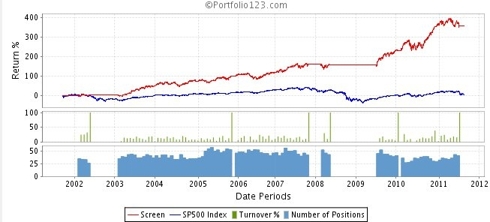 Click to enlarge
Our profits rise 2.5x with this filter as we now achieve 10-year profits of 357% despite only being actively invested for 7 of those years. This provides us with a compound annual growth rate of 16.42%. The unfortunate news is that the market timing rule has still not given us the green light to buy.
Wrap-Up on Buffett Stocks
What does all of this mean? Should you buy or wait?
If you are a contrarian investor that thinks valuations have compressed too far and you want a higher-risk early entry, you can carefully pick from the above results. If, like me, you prefer to wait until the broad market resumes its upward earnings trend, then keep these stocks on your radar and get your trigger finger ready to buy when the light changes color.
Disclosure: I have no positions in any stocks mentioned, and no plans to initiate any positions within the next 72 hours.