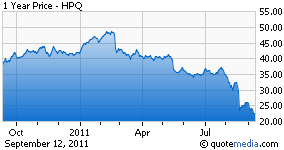 Hewlett Packard (NYSE:
HPQ
) shares have fallen from a 52-week high of $49 to $23. I started building my HP position at $41 and added at $36. I had estimated the intrinsic value of the shares around $55. At $41 the margin of safety looked sufficient and at $36 I was under the impression I got a great deal.
A few things have happened since that time. HP announced it is considering strategic options for the Personal System Group (PSG). It will separate the PSG group through a spin-off or another transaction. It also announced the acquisition of Autonomy for around $10 billion. This will expand the company's software footprint and cloud computing efforts. Last but not least, it lowered the EPS guidance for the year. The market reaction ... a drop in the stock price that would have made the banking sector in 2009 jealous. Needless to say, time to revisit my assumptions. Is this a once in a life time opportunity to add to my position and get a blue chip at bargain prices? Or time to run for the exit?

Let's start the analysis with taking a closer look to the PSG group. It provides commercial PCs, consumer PCs, workstations, calculators and other related accessories, software and services for the commercial and consumer markets. Latest SEC statements show that for the nine months ending July 21 the PSG group contributed $29.5 billion on revenue and $1.77 billion in operating profit (6% Op margin). This is 31% of total revenue and 19% of total Op profit. A great group for the top line, not that helpful for the bottom line.

We'll take the trailing nine months of revenue and earnings to get an indication of how much money HP would collect in a spin-off. It would put annual revenue at around $39 billion and operating profit at around $2.36 billion. I will assume a P/E of 7 for a spin-off. The PSG group is not a growth business and also don't expect we'll be in a raging bull market in the next 12-18 months. For a conservative estimate P/E of 7 will do ... anything more will be upside. We could expect HP to get at least $14 billion out of a spin-off. This would off-set the price paid for Autonomy and add to the cash position with $4 billion.

The trailing 12 months earnings per diluted share are $4.09. If we take out the net profit (tax rate of 20%) for the PSG group, it would get us to a diluted EPS of $3.25. Autonomy profit for the year based on the first six months would be around $218 million. Including this in the HP EPS, without assuming any further growth, would take the EPS to around $3.47. If we take a P/E range of 12 to 15, then the stock price would be trading in the $42 - $52 range. This is slightly lower than my original thesis for creating a position.

Next to trying to get to an estimate of the stock price, I will also redo my intrinsic value calculation, making adjustments for the PSG spin-off and Autonomy integration. I will use the Earnings Power Value (EPV) method:
Revenue: $91 billion
EBIT Margin: 11%
Adjustment for SG&A, R&D and Depreciation.
Tax Rate: 21%
Cash & Debt numbers from the latest SEC filing adjusted with cash +4 billion for the PSG sale.
Discount Rate: 9%
Running the calculation with the above assumptions gives a current earning power value of around $54 a share. If we would include future growth of 5%, a cost of capital of 11% and ROIC of 13%, then it would take the intrinsic value to around $60. This value estimate takes into consideration that HP will be able to get $14 billion for the PSG spin-off. Let's assume in a worst case that is not possible. Even then, I still get an intrinsic value above $50.

Potential for upside is clearly present. What if HP is able to find a better deal for the sale of PSG then assumed in this article? Although the acquisition of Autonomy has gotten its share of (fair) criticism, there is always the possibility that it will work out. HP still has a $10 billion stock repurchase program. I would expect them to be buying back stock aggressively at the current prices. Stock prices always reverse back to the mean. The biggest risk I see is that it might take time before the market regains confidence in HP and prices the stock to intrinsic value.

To answer the question I posed at the beginning of the article. I am not running for the exit. I will be adding to my position if the stock price drops further.

Disclosure: I am long HPQ.