Freemont-McMoRan (NYSE:FCX) is on so many buy lists that its price action baffles me. The fact that the stock is not living up to its expectations might be a signal that now is a good time to buy it. The stock is down over 32.53% from this year's high vs the Value Line Index which is only off 21.49% from its 1 year high. At an 8.6 P/E ratio it is priced at about 50% of the overall markets P/E ratio and almost the same discount from its own median P/E ratio.
Look at the daily trading chart for the last 6 months in this chart provided by Barchart: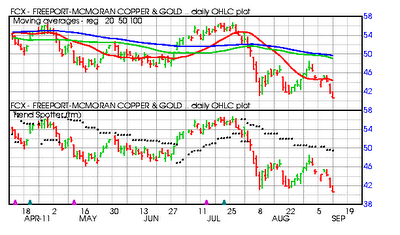 Freeport-McMoRan Copper & Gold Inc. "engages in the exploration, mining, and production of mineral resources. The company primarily explores for copper, gold, molybdenum, silver, and cobalt. It holds interests in various properties, located in North and South America; the Grasberg minerals district in Indonesia; and the Tenke Fungurume minerals district in the Democratic Republic of Congo. As of December 31, 2010, the company's consolidated recoverable proven and probable reserves totaled 120.5 billion pounds of copper, 35.5 million ounces of gold, 3.39 billion pounds of molybdenum, 325.0 million ounces of silver, and 0.75 billion pounds of cobalt. The company was founded in 1987 and is headquartered in Phoenix, Arizona."
Factors to consider:
Barchart technical indicators:
If a company has value, technical sell signals could be signalling an opportunity to buy at a discount
Barchart 100% technical sell signal
Trend spotter sell signal
Below its 20, 50 and 100 day moving averages
32.53% off its 1 year high
Relative Strength Index is 33.68% and getting lower
Barchart computes a technical support level at 39.62
Recently traded at 40.65 which is below its 50 day moving average of 49.00
The value of the in-ground ore reserves are worth much more than the market capitalization of the company
Wall Street brokerage analysts predict sales will increase by 21.60% this year and another 2.20% next year
Earnings forecasts look better with an increase of 27.20% this year, 3.90% next year and expected to continue at an annual pace of 15.31% increase over the next 5 years
Based on these numbers they have released 5 strong buy, 9 buy, 3 hold and only 2 under perform recommendations on this stock
Over the years this stock's price has grown and has an A+ financial strength rating
Sales and earnings are very sensitive to industrial output and metals prices
General investor interest:
Motley Fool readers closely follow this stock with over 5,724 having it on their watch lists
Readers have voted 97% that the stock will beat the market
The more experienced All Stars agree with a 98% vote
Of the Wall Street columnists Fool follows, they note that all 24 of the last articles written have been positive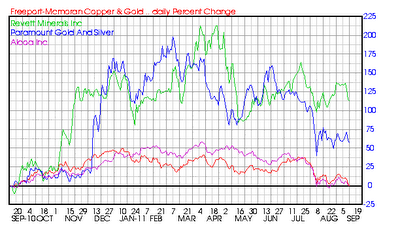 Summary: There are several was to play Freeport-McMoRan (FCX):
buy when it crosses above its trailing 20 day moving average,
buy when you see copper prices recover, or
buy now and wait.
Long term investors should see a good return for their efforts.
Disclosure: I have no positions in any stocks mentioned, and no plans to initiate any positions within the next 72 hours.