Over the years a company that has always been in the news has been the iconic American brand Coca-Cola (NYSE:KO). No matter where in the world you go you see the bottle and the logo and even without knowing the local language to read the label you know it's a Coke. The stock has even caught Warren Buffet's attention and is part of the Berkshire Hathaway (NYSE:BRK.B) portfolio. Is there still fizz left for your own portfolio? Let's look at the numbers.
First please look at the 2 1/2 year weekly trading chart of KO vs. its 20, 50 and 100 week moving averages provided by Barchart: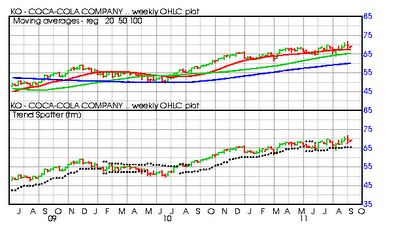 The Coca-Cola Company "manufactures, distributes, and markets nonalcoholic beverages worldwide. It principally offers sparkling and still beverages. The company's sparkling beverages include nonalcoholic ready-to-drink beverages with carbonation, such as energy drinks, and carbonated waters and flavored waters. Its still beverages consist of nonalcoholic beverages without carbonation, including noncarbonated waters, flavored waters and enhanced waters, noncarbonated energy drinks, juices and juice drinks, ready-to-drink teas and coffees, and sports drinks. The Coca-Cola Company also offers flavoring ingredients, sweeteners, powders for purified water products, beverage ingredients, and fountain syrups. It markets its nonalcoholic beverages primarily under Coca-Cola, Diet Coke, Fanta, Sprite, and Simply brands. The company sells its finished beverage products primarily to distributors; and beverage concentrates and syrups to bottling and canning operators, distributors, fountain wholesalers, and fountain retailers. The Coca-Cola Company was founded in 1886 and is headquartered in Atlanta, Georgia" .(Yahoo Finance profile)
Factors you should consider:
Barchart technical indicators:
48% Barchart overall technical buy signals - short term indicators are strengthening
Trend Spotter technical buy signal
Priced above its 20, 50 and 100 day moving averages
9 new highs and up 3.08% in the last month
Relative Strength Index is 51.25%
Barchart computes a technical support level at 68.21
Recently traded at 69.26 which is above its 50 day moving average of 68.37
Wall Street brokerage analysts predict sales will increase by 32.60% this year and another 5.30% next year
Earnings consensuses are for an increase of 11.20% this year, another 10.80% next year and to continue at an annual increase of 9.23% over the next 5 years
Based on these numbers they have released 7 strong buy, 8 buy and 3 hold recommendation at this time
How good are these numbers? Over the pastyear the stock has enjoyed a 100 score both on earnings predictability and price stability so you can be pretty confident in those numbers
KO has an A++ financial strength rating
The growth in the new markets in China and India have more than offset the distribution problems they have experienced in Japan after all the recent natural disasters.
General investor interest:
I measure general investor interest by the readers of Motley Fool. 6,124 readers have expressed a 95% vote that the stock will beat the market
The more experienced All Stars are more confident and voted 97% for the same result
Fool notes that all of the last 27 articles by the Wall Street columnists they follow have been positive
The large companies that are KO's peers are Dr Pepper/Snapple (NYSE:DPS), Nestle (NSRGY.PK0 and Pepsico (NYSE:PEP). As this 2 1/2 month trading chart shows, KO has soundly beaten them in the market: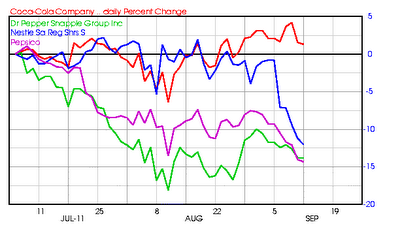 There are some smaller companies in the soft beverage sector that are up between 25% - 325% for the year that might warrant your attention like Coffee Holdings (NASDAQ:JVA), Leading Brands (NASDAQ:LBIX), Hansen Natural (HANS) and National Brands (NASDAQ:FIZZ):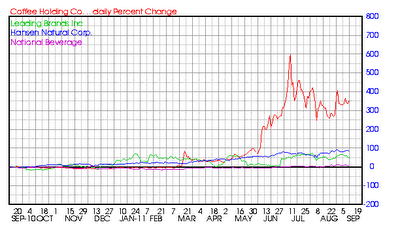 Summary: Long term investors should not be afraid to add Coca-Cola to their portfolio. If the sales projection come in and the stock return more to its median P/E ratio of 20 then investors could experience a total return in the 15% - 17% range annually over the next 5 years

Disclosure: I have no positions in any stocks mentioned, and no plans to initiate any positions within the next 72 hours.