In the current low interest rate environment, investors have certainly been attracted to high-yielding mortgage REITs ("mREITS"). On average, the mREITs below are currently yielding 16.9%.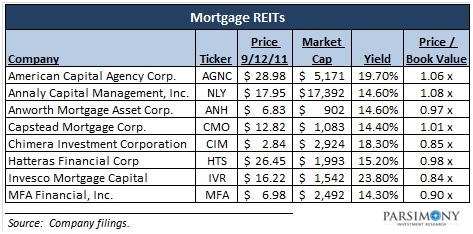 While we have been long term holders of various mortgage REITs, we understand the appeal of a tactical trading strategy around the quarterly dividend dates. However, we recommend sticking with the best performing mREITs if employing this strategy.
As highlighted in the chart below (click to enlarge image), Anworth Mortgage (NYSE:ANH), American Capital Agency (NASDAQ:AGNC), Capstead Mortgage (NYSE:CMO) and Annaly Capital Management (NYSE:NLY) have been the best performing mREITs year-to-date (based on dividend-adjusted returns).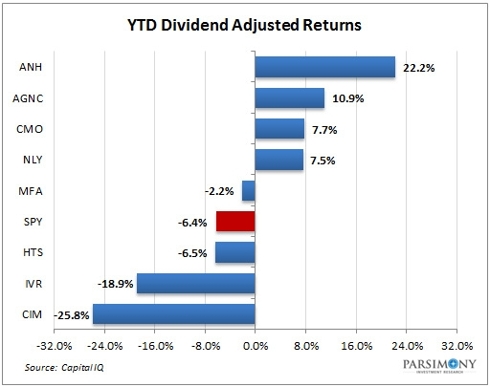 As mREIT ex-dividend dates approach over the next few weeks, investors looking to enter a trade to capture the juicy quarterly dividends should stick to ANH, AGNC, CMO, and NLY. We believe that the best performing mREITs will continue to outperform (which will put the odds of this trading strategy in your favor).
Conversely, we would steer clear of Chimera (NYSE:CIM) and Invesco Mortgage (NYSE:IVR) as we feel that dividend-adjusted returns for these two mREITs will remain negative (which defeats the purpose of the trade).