I was cleaning up on the weekend and started flicking through a pile of old Forbes and Fortune magazine's, and came across an issue with Fortune Magazine's Top 10 Stock Picks for 2011. This piqued my curiosity regarding their performance, and if the 2011 stock picks are on track to outperform the S&P 500 (as they did in 2010). The Top 10 stock picks included Mosaic (NYSE:MOS), Agrium (NYSE:AGU), Dow Chemicals (NYSE:DOW), Transocean (NYSE:RIG), Royal Dutch Shell (NYSE:RDS.A), Lennar (NYSE:LEN), East West Bancorp (NASDAQ:EWBC), Royal Caribbean (NYSE:RCL), Entropic (NASDAQ:ENTR) and Apple (NASDAQ:AAPL).
With two and a half months left to run for their annualized return, I grouped the stocks in the order they were published in Fortune Magazine, and provided an update on market capitalization, PE ratio, and net change in share price. I also included the 52 week high for each stock, which in every case occurred in 2011, ie: after the article was published. This is summarized in the table below:
Click to enlarge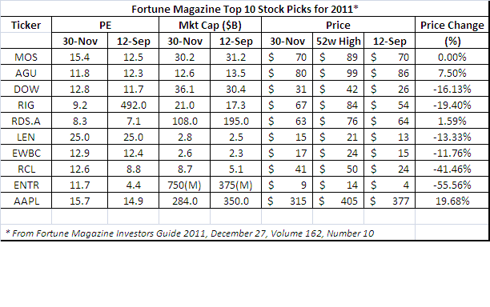 Click to enlarge
In terms of their performance, I will focus primarily on the current change in share price, as this is the factor that has changed most significantly. In most cases, there has not been an exceptional variation to PE or market capitalization. The clear outperformer of the stocks selected was Apple (AAPL), currently up by $62 (19.7%) per share and its market capitalization increasing by $66 Billion. This does have a tendency to skew the overall results, but that said, last year's 2010 stock picks included a 133% return from salesforce.com (NYSE:CRM), currently trading at $121 per share – pretty much on par with where it finished 2010, but down $40 per share from its 52 week high).
But the big change this year (so far) is that six stocks are trading at a significant loss, two stocks are trading at a marginal gain, one stock (Apple) providing a significant annualized return, and one stock breaking even. The biggest loser is Entropic (ENTR), dropping -55%, halving its market capitalization. Two other notable points is Transocean's (RIG) PE blow out, and Royal Caribbean's (RCL) market capitalization reduction of approximately $3.6 Billion.
If you had purchased 1,000 shares of each company's stock on 30 Nov 10 (ignoring weighting by price in your portfolio construction), the portfolio would have required an initial investment of $708,000 and would currently be valued at $733,000 representing a gain of $15,000 (2.1%). However, if we remove the biggest gainer (Apple), the numbers change to an initial investment of $393,000 and would currently be valued at $356,000, representing a loss of $37,000 (-9.41%). Looking across the entire 10 stocks, the average loss is -12.9%.
In terms of the S&P500, how is it faring? On 30 Nov 10 it was trading at 1,180.55 - reaching a 52 week high of 1,363.61 on 29 Apr 11, and as I write it is sitting at 1,149.08, which represents a loss of -2.7%. Last year's S&P500 returned a performance of 9% versus Fortune Magazine's Top 10 returning 16.7%.
And for those who wish to fantasize about the potential of these Top 10 picks were it not for this latest round of 'financial crisis', if we look at the 52 week high for all stocks, this portfolio would have been valued at $904,000 and be demonstrating a potential profit of $196,000-- or an increase of 28% on your original investment. However, that's not the case... we can only dream, as the market has spoken loudly. The 52 week high is only representative of where the market has been, current prices represent investors' present appetite for risk (given the eurozone debt crisis and the U.S. debt ceiling / spending deficit), and the importance of diversification in investment portfolios is reinforced. In both last year and this year's Top 10 stock picks, the stellar performance of a few stand-out stocks can lift a portfolio's potential negative performance back into the black. In this case, it appears "an AAPL a day may keep the doctor away", but we'll have to wait and see what happens in the next two and a half months for the final result.

Disclosure: I have no positions in any stocks mentioned, and no plans to initiate any positions within the next 72 hours.

Additional disclosure: Disclaimer: This advice is general advice only, you should seek independant financial advice before making any investments of your own.