In January of this year, I was essentially unconvinced that William Ackman made a good investment in retailer J.C. Penney (JCP). Bill Ackman is an expert activist investor and has made many shrewd investments in his career. He has a lot of experience with retailers, making investments in companies such as Target (TGT), Sears Holding (SHLD), and McDonald's (MCD). I was waiting for proof that J.C. Penney had a place in retailing. That proof has come.

There are two reasons I am now convinced that J.C. Penney can be an attractive retailer and investment. I recently visited a newly renovated J.C Penney store and was thoroughly impressed. I must admit that I hadn't been in one for a long time. The transformation was profound. The store was well lit, well organized, had attractive merchandise, and actually looked like a store in which a young middle class person would want to shop. The store had just added a Sephora section that was built to look like an actual Sephora store. For those that are not familiar with Sephora, it is a high-end retailer of cosmetics appealing to younger more affluent women. Sephora is owned by Louis Vuitton Moet Hennessy (OTCPK:LVMUY) and is the leading cosmetics retailer in France. J.C. Penney now includes the Sephora store format in 270 of its retail locations.

The second reason I now have more faith in J.C. Penney is its incoming CEO, Ron Johnson. Johnson was attracted from Apple (AAPL), where he was given much credit for the company's retail store design. If Apple does one thing well, it's retailing. If you aren't convinced of this just visit an Apple store. Apple has great products, but it also has great retail locations from which to sell them.
Since Ackman announced his investment in J.C. Penney, shares have run up all the way to $41.00. However, in the last six months their price has fallen 30% on fears of a broad economic slowdown. Those fears are well founded, as consumer confidence has plummeted in the last two months. For this reason I would approach the stock cautiously.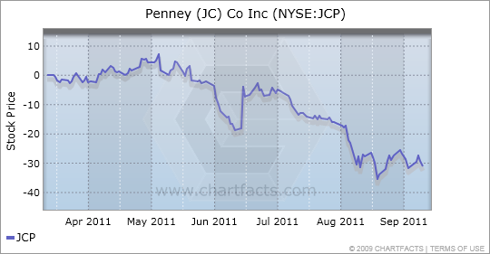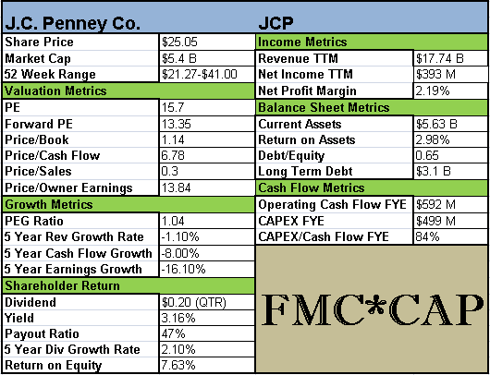 J.C. Penney trades at just over 13 times forward earnings. Shares trade for slightly more than book value, a deep value relative to the retailing sector as a whole. J.C. Penney is a turnaround story. Earnings have declined by an annualized 16% over the last five years. Revenue and cash flow have also declined. One bright spot has been the dividend, which has actually increased over the last five years. J.C. Penney pays out 47% of cash to shareholders in the form of dividends.

The fact that J.C. Penney's stock trades near the same price as it did when Ackman's stake was announced makes it attractive. Ackman is a unique activist investor, subtly pushing for change in companies in which he takes a stake. J.C. Penney recently announced a change that would allow Ackman to increase his stake to 26.1%. Undoubtedly, at least some of the recent changes made by the company can be attributed to Ackman's activist role. He likely played a key role in attracting Ron Johnson from Apple.

Taking a stake in J.C. Penney won't come without risk. If the U.S. economy slips into recession the stock would likely suffer. I don't believe that we are entering another recession, though the risk is there. Apparel retailing is fickle, one misstep can cost a company for many years.
A cautious way to approach the stock is to sell out of the money put options at a strike price that you would like to own the stock. A level I am considering is the October $23 Puts, trading for $1.13. This means you collect $113 for every 100 shares of J.C. Penney you would buy at that level. If the stock is below $23 at the October expiration you would be assigned the shares, however your cost basis would be $21.87 ($23 minus the premium of $1.13). This is a conservative strategy to gain entry into a stock that has a risk of further decline.

With Ackman on board, the long-term outlook for J.C. Penney is much brighter. The changes being made are already apparent in its stores. The stores are being set up to appeal to a younger, more affluent customer base. Investors should take notice. It appears J.C. Penney has been given a new lease on life.

Disclosure: I have no positions in any stocks mentioned, but may initiate a long position in JCP over the next 72 hours.