(This is Part II of a 5-part series this week. Click here for Part I on Southwest Airlines.)

Back in August I wrote a piece here on Seeking Alpha recommending that investors stay aggressive in the midst of a market correction. This week, I'm highlighting 5 iconic brands that look undervalued. These companies have strong business models, valuable brands, long histories of profitability, and depressed share prices. While the broad market woes are not solely responsible for their declines, these five companies are all in a position to rebound strongly along with the broader economy.

Today's spotlighted company is Gap Inc. (NYSE:GPS). It's no exaggeration to say that Don and Doris Fisher, co-founders of The Gap, revolutionized American fashion and American retailing. From a single store in San Francisco in 1969, the company has grown to a behemoth, with $15 billion in sales and over 3,200 stores under 5 brands in 90 countries worldwide. Along the way, The Gap has defined consumer trends in denim and casual wear.

It's likewise no exaggeration that, with many imitators now challenging the company, the distinctiveness and allure of the Gap brand have faded. GPS stock has stalled over the past decade, hovering primarily in a range between $16 and $22, as revenue gains from the Old Navy and Banana Republic franchises have been nullified by struggles in the Gap brand, and a number of failed turnaround attempts. (Google "gap turnaround" and you'll see articles from 2011, 2010, 2007, 2004, 2001 and 1987 on the first two pages alone!) Here's the 10-year chart: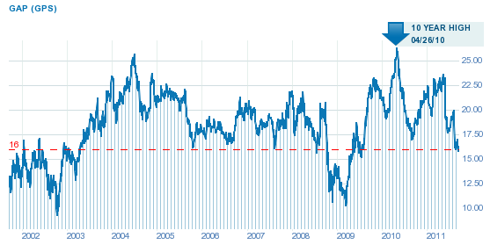 Click to enlarge
GPS 10-year chart, courtesy thestreet.com

Going back to September 4, 2001 (ignoring a weak quarterly report a few days later and the effects of September 11th on the market), the stock has actually fallen 6%, even including dividends: a "lost decade" for GPS shareholders. One thing that has changed dramatically is the company's valuation. As of February 2, 2002 (the end of the company's fiscal year 2001), the company had 860 million shares outstanding. Currently, the company has 510 million shares outstanding. Therefore, market cap has fallen some 44 percent in the past decade-plus.

But earnings and free cash flow have risen dramatically. Gap, Inc. actually lost a penny per share in fiscal year 2001, compared to guidance of $1.40 to $1.50 in earnings per share for fiscal year 2011. Cash flow numbers are even more striking:
| | | | |
| --- | --- | --- | --- |
| Date | Market Cap | Free Cash Flow* | FCF as % of Cap. |
| 9/4/01 | $14.8 billion | $377 million | 2.6% |
| 9/13/01 | $8.27 billion | $1,193 million | 14.4% |

* 2001 FCF numbers for FY 2001 (ending January 31, 2002); 2011 FCF numbers on a trailing twelve-month basis

In short, investors in GPS in 2001 were pricing in a decade of growth. Quite plainly, that growth never materialized.

The question right now for potential GPS investors is whether significant growth is necessary for profitable returns going forward. At Monday's close of $16.20 per share, it would appear that it is not. The company reiterated guidance of $1.40-$1.50 per share for 2011 in its most recent earnings report, giving the stock a forward P/E just above 11 at the midpoint. Free cash flow numbers are more impressive; as noted in the chart above, the company is currently trading at less than 7 times its trailing free cash flow. Incredibly, the company has generated $5.7 billion -- over two-thirds of its current market capitalization -- in free cash from fiscal years 2007-2010.

To its credit, Gap management has insisted on returning that cash to shareholders; the current dividend of 45 cents gives the company a yield of 2.81%, and the company is in the middle of a $2 billion share repurchase program ($671MM remains in the authorization, about 8% of market capitalization). Even amidst macro-economic headwinds and company failures in marketing and design, the Gap still has offered consistent, quality returns, with an emphasis on returning cash directly to its shareholders. Weakly negative same-store comps are negated by the company's international expansion; revenue has remained slightly positive year-over-year, as weakness in North America is balanced by new revenue streams in China, Italy and Russia.

As such, much of the potential downside to the stock seems priced in, as the company appears set to embark on yet another change in strategy. Weak August sales added another layer to a disappointing 2011; first-half comparable store sales were down 2%, only to see August comps fall 6% year-over-year, including a massive reversal in international sales from positive nine percent to negative five percent. On the company's second quarter conference call, CEO Glenn Murphy blamed the company's struggles on failures in its women's lines across brands, and promised new designs and new marketing campaigns in response. The company has also rolled out two new concepts: Athleta, a woman's apparel store meant to compete with Lululemon (NASDAQ:LULU), and Piperlime, a high-end online boutique.

Yet, even amid higher input costs and an admittedly weak product line, Gap Inc. still generates an impressive amount of cash. Free cash flow of $298 million for the first six months was ahead of the year-ago pace, when the company generated $1.2 billion for the full year, over 15% of its enterprise value.

Investors in GPS, therefore, are buying a company with excellent fundamentals, even amidst its struggles. Going forward, three factors could help the company -- and the stock -- bounce back:
the company may get a bounce from lower cotton prices, which spiked over $2 per pound earlier in the year and now sit at about $1.22.
the company's re-branding, design and marketing strategies can help drive increased revenues
a broad economic rebound could help increase consumer spending
Progress on any of these fronts should drive the stock higher, and the strong cash flow and emphasis on shareholder interests should provide a margin of safety in the meantime. Investors who remain unconvinced should keep an eye on the stock's trading range, and particularly the $15 mark, at which the stock's yield would break 3% and its forward P/E would approach 10. The stock has not traded that low since July of 2009, and GPS certainly looks like a buy at those levels. By selling cash-secured puts (the December 15 is bid at $1.12, giving a break-even of $13.88), investors can either guarantee a return or ownership of the stock with a yield above 3%.

In short, simply based on the immense amount of cash that Gap Inc. generates, and its commitment to returning much of that cash to shareholders, GPS seems undervalued. Between international growth, a revitalized product line, lower input prices, and strengthening in the U.S. consumer, potential investors in the stock have numerous options for yet another turnaround. If not, a nearly 3% yield and strong cash flow should provide downside cushion for investors in one of the country's most famous, most profitable, and most iconic retailers.


Disclosure: I have no positions in any stocks mentioned, and no plans to initiate any positions within the next 72 hours.