As part of our process, we perform a rigorous discounted cash-flow methodology that dives into the true intrinsic worth of companies. In Kimberly-Clark's (NYSE:
KMB
) case, we think the firm is worth just under $70 per share. This is up a few dollars from our previous report on the company, which can be found
here
.
We think a comprehensive analysis of a firm's discounted cash-flow valuation, relative valuation versus industry peers, as well as an assessment of technical and momentum indicators is the best way to identify the most attractive stocks at the best time to buy. This process culminates in what we call our
Valuentum Buying Index
, which ranks stocks on a scale from 1 to 10, with 10 being the best.
If a company is undervalued both on a DCF and on a relative valuation basis and is showing improvement in technical and momentum indicators, it scores high on our scale.
Click to enlarge images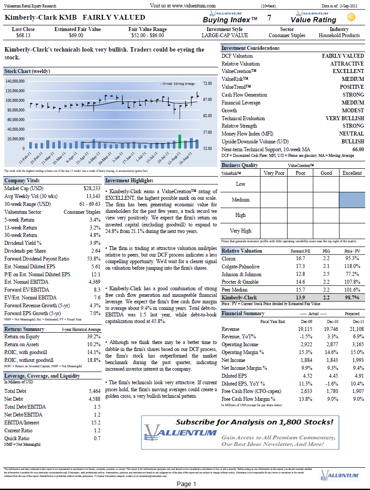 Click to enlarge
Valuation Summary
Our discounted cash flow model indicates that Kimberly-Clark's shares are worth between $52 and $86 each. The margin of safety around our fair value estimate is driven by the firm's MEDIUM ValueRisk™ rating, which is derived from the historical volatility of key valuation drivers.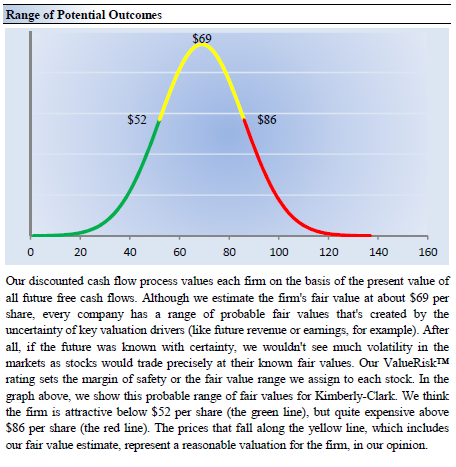 The estimated fair value of $69 per share represents a price-to-earnings (P/E) ratio of about 15.5 times last year's earnings and an implied EV/EBITDA multiple of about 9.4 times last year's EBITDA. We forecast a compound annual revenue growth rate of 4.3% during the next five years, a pace that is higher than the firm's 3-year historical compound annual growth rate of 2.6%. Our model reflects a 5-year projected average operating margin of 15.1%, which is above Kimberly-Clark's trailing 3-year average. Beyond year 5, we assume free cash flow will grow at an annual rate of 2.4% for the next 15 years and 3% in perpetuity. For Kimberly-Clark, our model uses a 8.8% weighted average cost of capital to discount future free cash flows.

While we believe the firm's shares are fairly valued at this time, the technicals look very bullish and represent one of the main reasons why the firm scores a 7 on our Valuentum Buying Index. As you recall, firms that are undervalued on a DCF and relative value basis and are showing strong technical and momentum indicators score high on our scale.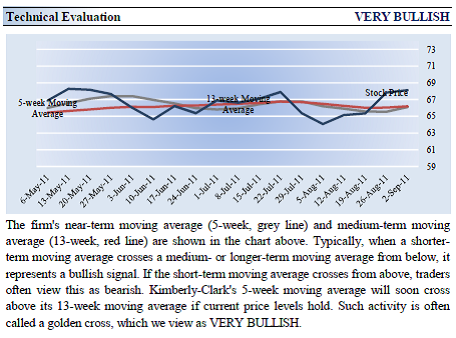 In all, Kimberly Clark is undervalued on a relative value basis and is showing improving technical and momentum indicators. However, since Kimberly-Clark is not also undervalued on a standalone discounted cash-flow basis, it falls short of garnering a "Top Pick" status, or a 10 on our Valuentum Buying Index. As a result, we remain on the sidelines, and are looking for an entry point in Kimberly Clark in the mid-to-low $50s.

Disclosure: I have no positions in any stocks mentioned, and no plans to initiate any positions within the next 72 hours.