Do you want a healthy alternative to shorting-the-market during corrections or bear markets? The following technique will allow you to stay long during market free-falls.
But before we get into the 'market bear – investor long' strategy I should explain why we should even bother when you can simply short stocks during a correction or crash. Here are a couple of reasons why some will consider going with a long strategy:
Some investors are uncomfortable with the high-stress and fast-paced practice of shorting.

Staying long means you do not have to switch sentiments regardless of market cycle.

Large gains on long investments as you will be invested during the market bottom.
If you are the type of investor that is able to read market tops and bottoms, or you prefer to use options and short-funds to hedge – then you may want to pass on the following techniques. If you are the type of investor that wants to stay long and potentially make money even while the market drops in waves – read on.
Going Long in a Bear Market
We will look at the period from Sept. 12 2007 until March 17 2009. The S&P 500 dropped almost 50% during this year and a half long horror-show. For every $100 you invested, you were left with half that amount. If you used the following long strategy, however, you would have earned a 60% profit.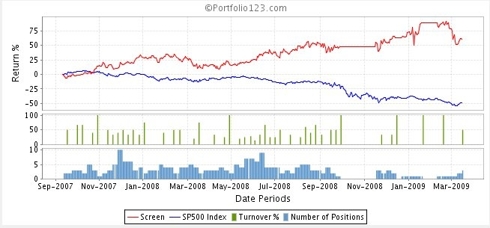 The idea behind this strategy is jumping onto stocks that are, despite horrible market conditions, experiencing positive upward revisions and upgrades from a few different sources. Here is the scan:
Average recommendation 4 weeks ago > 13 weeks ago (this one is odd as it actually means the rating fell - such as from 3 to 2)

Next fiscal year EPS received an upward revision by at least 10% in the past 4 weeks

Price is above $10 per share

Recent quarterly earnings surprise of at least 25%

These stocks have an average analyst recommendation of 2.5 or greater (on a 1 – 5 scale where 1 is strong buy)

Annual EPS less than $1.50

Stock price at least 30% higher than S&P 500 benchmark for previous year
Some Previous Trades
What sort of trades during the market crash could possibly have resulted in these sorts of gains? Let us look at a few historical trades that this scan picked up.
During the week of Sept.12th/2007 the two following stocks were picked up: NVIDIA (NASDAQ:NVDA) and Onyx Pharmaceuticals (NASDAQ:ONXX). That week saw the portfolio drop 6.45% while the broad market gained 0.89%. It would seem early on that this system was not working.
The following week NVDA was dropped and another pharmaceutical, Alexion (NASDAQ:ALXN), was included.

The 2 stocks rose 2.5% that week, although this was still a bit lower than the market.
The third week, Sept.24th 2007, Sigma Designs (NASDAQ:SIGM) was added to the mix. For the following 2 months this strategy would continue to outperform the market significantly. While the market lost 4.4%, going long on these upgraded stocks rose by more than 24%.
For this year and a half – the average week with this strategy produced gains of 0.67% while the market dropped 0.73% - a huge 1.4% per week difference!
Fast forward to November 17th, 2008. After lying dormant for quite a few weeks, the scanner comes alive with three picks: Green Mountain Coffee Roasters (NASDAQ:GMCR), Luminex (NASDAQ:LMNX), and SXC Health Solutions Corporation (SXCI). While the market tanked 8.25% this week, the combined power of these 3 upgraded stocks only lost 1.68%. The following week GMCR was removed from the list and the portfolio rose 6.77% - unfortunately the market jumped almost 10%. The next 7 weeks saw the upgraded portfolio rise by 19.5% while the market declined 4%.
Pros and Cons
As you can see, you need to actively manage your portfolio by examining the holdings every single week. On average 3 stocks were held each week, and on average 1 stock was purchased and one was sold. If you assume a transaction cost of $15 per buy and sell order, you would reduce your profits by 2.5% on a $100,000 portfolio.
With this type of strategy, you need to be willing to assume high-risk volatility and actively management of your portfolio.
As well, there are typically only 3 stocks at any given time to hold. Fewer stocks with varying degrees of liquidity may make it hard to get in and out easily with large sums of money.
The pro is obviously the ability to trade long and potentially profit during a bear market.
Stocks to Buy Right Now
As we lie in the current market that is dragging its heels – which upgraded and revised stocks make the list?
Only 2 stocks show up: Bottomline Technologies (NASDAQ:EPAY) and Elizabeth Arden, Inc. (NASDAQ:RDEN).
EPAY – Bottomline Technologies is a small-cap stock of only $675 million. While small-caps are often more volatile than bigger corporations, these lesser known picks with reduced visibility have been shown to get a bigger boost from the upgrades. However, on closer inspection I am having difficulty finding the EPS upgrade. Portfolio123 gets their information from Reuters so I head over there. While I see that the sales per share has been upgraded and multiple earnings surprises, I fail to see the EPS revision. Perhaps there is a reasonable answer - such as a temporary downgrade mid-month that doesn't show up – I can't tell.
RDEN – Huge earnings surprises have come from this stock over the past 4 quarters. I can see the earnings forecast upgrade for next year as well. Sentiment has changed ever so slightly as one 'strong buy' from a few months ago is now a 'hold'. This stock is also a small-cap with only $855 million. As it sits on its support of $30, I feel this stock has much more potential than EPAY for the moment.
Going Long in Bear Markets Wrap-Up
I run the scanner from March 31st 2001 until today to see what sort of gain we could theoretically get. I exclude risky pharmaceutical stocks for this long-range scan and the back-testing software claims that in theory you could make over 3,000 percent in 10 years. It claims an average 0.74% gain per week, with 2.0% gain per week on average in up markets. I remain skeptical about the overall numbers while still optimistic about its usefulness.
As I look over the past year, this strategy would not have produced significant gains. It appears that this strategy works cyclically and perhaps it will soon produce those large weekly excess gains going forward.
With few great long investments available during a choppy market and with only indecision left on the plate, trying out this 'upgraded and positively revised' strategy could be just what the bulls were waiting for.
Disclosure: I have no positions in any stocks mentioned, and no plans to initiate any positions within the next 72 hours.