As a champion of the individual investor, we wanted to make sure that mom-and-pop investors are aware of the importance of doing their own homework and not blindly trusting any financial source with respect to recommendations. Perhaps the best example to reveal just how investors could potentially be misled, let's take a look at the performance of Morningstar's (NASDAQ:MORN) stock calls over a trailing 5-year period.
Morningstar, the mutual fund rating company, updates investors of the performance of its star-rating system frequently, and the most recent one (that we could find) is available here. Interestingly, when looking at the firm's equity research performance over a trailing 5-year period, the performance of the stocks that it said investors should sell (1-stars) significantly outperformed (read you made more money on) those that it said investors should consider buying or holding. This came as somewhat surprising to us, and given our mission to serve the individual investor, we thought it prudent to bring this rather disappointing disparity to light.
According to the firm's disclosure, one would have earned a 19% annualized gain if investors bought stocks that it told them to consider selling over a 5-year trailing period. Investors would have had significantly lower performance for stocks rated 2 through 4, and slightly worse than 19% annualized performance for stocks rated 5 stars (or stocks that it said investors should consider purchasing). These results include the firm's entire track record over a trailing 5-year period (though we cannot confirm if it includes any artificial boost from poor-performing names that may have been dropped from the data calculation). We also don't think excluding outliers makes sense, since it's very likely investors lost money on those "outlier" recommendations.
And based on this video, it doesn't look like some of Morningstar's favorite picks for 2011 have been performing all that well. Fastenal (NASDAQ:FAST), Compass (NYSE:CMP), and Lowes (NYSE:LOW) have all fallen significantly this year, and the firm's top-pick of Lowes is down nearly 25% from the date of the video (that's worse than the market). We think such performance is consistent with the disparity in performance that Morningstar reported some months ago.
We reveal our fair value estimates of the companies mentioned above. And in the spirit of transparency, our DCF valuation model template can be found here (it can be re-used to value any other operating firm, including those in your portfolio).
Fastenal


(Click to enlarge) Source: Valuentum Securities, Inc.
Our upside fair value estimate for Fastenal is $29 per share, which reflects about 20x fiscal 2012 earnings of about $1.40 per share. Though we like Fastenal quite a bit, we'd still be wary of investing in the firm's shares above $30 at this time. Our valuation model assumes average annual revenue growth of 13.5% during the next five years, and average annual earnings per share growth north of 15% through fiscal 2015, with earnings reaching nearly $2 per share at that time. We feel these estimates are quite optimistic, and we'd wait for an additional pullback in Fastenal's shares before jumping in. It's also worth mentioning that we're using an 8% rate to discount future free cash flows, which we view to be on the low end of our coverage universe.
Compass


(Click to enlarge) Source: Valuentum Securities, Inc.
We think Compass is fairly valued at today's levels. We assume high-single-digit revenue growth during the next five years, which results in earnings of nearly $7 per share by 2015. We view these forecasts as reasonable and discount Compass' future free cash flows at a rate of about 10%, about an average rate for our universe. We'd look to pick up shares if they fell below $50.
Lowes
Based on our valuation assumptions, which we outline in the picture below, we think Lowes is fairly valued at today's levels. Our fair value estimate range is between $16 and $24 per share. We'd consider adding Lowe's to our Best Ideas list in the mid-teens per share.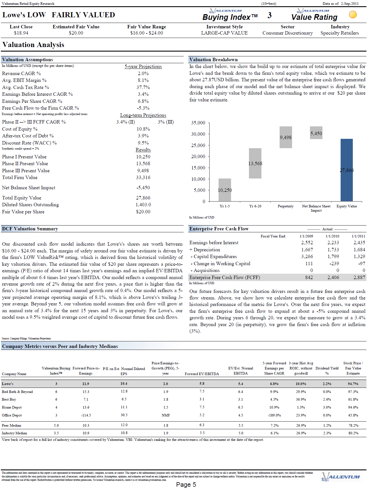 (Click to enlarge) Source: Valuentum Securities, Inc.
Conclusions
All told, we caution investors to not blindly trust any financial source, even ones that come with a brand name. Investors should demand transparency and undoctored results (ex survival bias, etc.) in examining any research provider. If the results come back subpar and your needs aren't being met, seek out a new one. We invite investors to monitor our track record, and encourage them to continue to seek out variant perspectives found on Seeking Alpha. After all, many opinions make a market, and individual investors deserve the most trusted ones.
Disclosure: I have no positions in any stocks mentioned, and no plans to initiate any positions within the next 72 hours.