by Timothy Lutts
If you've thought about buying or selling a house in recent years, you've probably visited Zillow.com (NASDAQ:Z), the company whose name combines "zillions" (of data points) with "pillow." With sales, rental and tax data on more than 100 million homes in the U.S., the site is enormously helpful to both buyers and sellers.
Furthermore, like Google (NASDAQ:GOOG), Wikipedia, Yahoo (NASDAQ:YHOO) and other great online resources, Zillow is free to casual users. The company's revenues come mainly from realtors and other advertisers using the site to drum up business.
Zillow has grown revenues every year since 2006; it grossed $30 million in 2010. Furthermore, the second quarter of this year brought the firm's first profitable quarter–and most assuredly not the last–as revenues soared 116% from the same quarter in the previous year.
Taking advantage of that milestone, Zillow went public on July 20, just as the broad market was topping. Shares debuted at 20, zoomed to 60 that very day, and then tumbled, with the market, to a low of 23, before climbing back to 38 two weeks ago.
But this is not a recommendation of Zillow. Before I recommend the stock, I need to see more constructive chart action, as well as more liquidity. This is, instead, a prelude to a discussion of a study released by Zillow last month, just three days before the IPO, and picked up by the Wall Street Journal, that suggests housing prices are cheap in Las Vegas and Detroit and almost back to "normal" in the U.S. as a whole. (If you infer from the timing of this study that Zillow might be trying to drum up some business of its own, you might be right.)
To draw this conclusion, Zillow hangs its hat on the fact that from 1985 through 1999, housing prices tracked income very closely, as these charts show.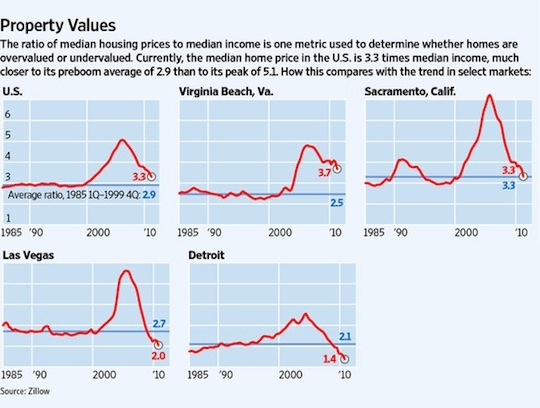 In Virginia Beach, Virginia, housing prices averaged 2.5 times local annual income through that "baseline" period. In Sacramento, California, they averaged 3.3 times local annual income. In Las Vegas, Nevada, they averaged 2.7 times local annual income. And in Detroit, Michigan, they averaged 2.1 times local annual income. Nationally, the average house sold for 2.9 times average annual income.
But in 2000, as the housing market began to overheat–I won't waste your time repeating the reasons–housing prices began to climb above these averages, and they kept on climbing for roughly six years. Of course, you know what happened.
And now, more than five years into the decline of the housing market, Zillow is joining the chorus of voices suggesting this downtrend is near an end.
Well, I don't think so, and my reasoning is this.
First, to construct a baseline from a 15-year sample is a bit shortsighted. A quick look online reveals that in the decade before 1985, the national ratio was roughly 10% lower. Before that, data is murkier; the one constant is variability, thanks to market forces.
Second – and this is my strongest point – I know from experience that when charts fall from an overbought level, they don't just return to "normal," they typically fall to an oversold level.
So I think housing prices, on average, still have further to slide… and I'm not just saying 2% or 3%. I think housing prices will stay soft for as long as it takes for most Americans to stop thinking about houses as investments.
When that day comes, houses will be good investments again, but until that day – and I think it's many years away – you'll be safer if you simply think of your house as your home.
Disclosure: None.