Gulf Resources: Site visit, production analysis
While the carnage in the China smallcap space may not be completely over, I do believe it is time to start examining the survivors. Those with real operations and real assets could easily be 5 to 10-baggers or more within a year. Like many China smallcaps, Gulf Resources (NASDAQ:GURE) has been attacked by short-sellers. While the company has responded, it's hard for the average investor to make an intelligent decision without a site visit. On the last conference call the CEO issued an open invitation for shareholders to visit Gulf Resources, so I did just that.

My purpose was to tour multiple factories, take sampling measurements/readings, calculate capacity, and generally determine whether stated production is consistent with not only the capability, but also observed production. I was quite prepared to write either a positive or negative article depending on whatever I found. I did spend 5 days on site, taking hundreds of photographs, taking measurements, doing some engineering calculations and interpreting all collected data and information. As a result, I am convinced that the unexpected capital expenditures in Q2 were justified and that current production is consistent with the company's stated production.
Arriving in the Shouguang – Weifang area, I met with: Mr. Miao Naihui the COO, Mr. Li Min, CFO, and Mrs. Helen Xu - CEO Assistant, who gave me a guided tour of the company's two subsidiaries: Shouguang City Haoyuan Chemical Co. Ltd (SCHC), which primarily produces and distributes bromine and crude salt, and Shouguang Yuxin Chemical Industry Co. Ltd (SYCI), which focuses on manufacturing and selling chemical products.
The pictures taken during my trip can be seen on the web and I invite every reader to view the Picasa Web Album - GURE Visit.
During my tours I was able to view the company's factories and some of the vast brine salt fields on which the majority of the work is carried out. For the pictures that I took at the SCHC Factory 6 site you'll be able to see links to Google Maps and Google Earth which will allow you to have a clearer understanding about the lay-out of the production site. Further, I posted a video on Youtube that shows some improvements made to salt crystallization pans which will result in more efficient production: Salt Crystallization.

Observations made during the visit of GURE's production facilities, offices and laboratory facilities
The Bromine business represents the major part of its activities and has been a "cash cow" during the last 3 years. The market demand for Bromine has been steadily increasing and even now, while the Chinese Government has taken action to temper growth, demand remains strong and prices are expected to go up further. In Q2 the average selling price was $4333 /MT as compared to $2,901/MT in Q2 2010. For current pricing please check Bromine price.
Over the last few years the government has imposed restrictions on the number of licenses, simultaneously promoting consolidation of the business. A few bigger players took over non-licensed operations and smaller, less efficient production operations are steadily forced to shut down .
To be successful in this business GURE needs to be able to control sufficient brine resources, and have the mining rights, permit, or written consent from the State Land and Resources Bureau to carry out mining activities (brine extraction) on the land leased. SCHC has such permits for Factories 1 through 4 and has written consent for Factories 5 through 9 (see AR 2010).

All Bromine plants that I visited appeared active: the brine storage ponds were filled, the brine pumps were working, raw materials such as sulfur and chlorine were being added into the Bromine extraction process and the pressure gauges of the steam boilers indicated working pressures.
While meeting with GURE's Management I asked a few pertinent questions:
Q1: Can you please justify the big and unexpected capital expenditure on the renewed extraction wells, the transmission channels / ducts, reconstruction and renovation works of crude salt fields? And what are those consequential impairment costs?
A1: Because the candidate sellers of Bromine factories have set a too high price.
A2: Better productivity can be achieved and the authorities want us to make a better use of salt resources.
Once I understood the upgrades it made sense. For example, the new salt crystallization configuration allows solar evaporation cycles to be completed up to 50% faster, thereby substantially increasing throughput capability. I observed a smaller competitor in the area already using this configuration. For better insight please check the video mentioned above.
Q3: Can you explain the costs of $4.6 million related to the construction of the new Bromine Factory No. 4 and another $1.7 million needed to complete the construction?
A3: All costs are resulting from relocation due to the Chinese Government taking the leased land. We aren't sure if we will be compensated for the relocation costs [Note: subsequently the company announced the Chinese Government agreed to reimburse the company approximately $1.34m in relocation expenses].
During my site visit I saw the works involved in relocation of Factory 4 and this is a vast area that needs infrastructure works besides the construction of the production plant, the brine storage and buffering pond with all channels and ducts, the utility buildings, the offices and living quarters. After seeing several Bromine Extraction Towers I felt this one was rather big and I quickly asked the contractor how high the towers were and what the diameter was. Based on his information I estimated that this new plant has a capacity 30% higher compared to the capacity claimed for the old demolished one.
Q4: What's the story behind the "Decreased Bromine Concentration of Brine."
A4: Last year we experienced a slightly lower Bromine concentration in some factories. We hope that results can stabilize or improve with the additional deeper wells.
Q5: Were you able to already check the salinity and Bromine content for the new wells?
A5: The new wells are generally deeper but the results with regards to Bromine content can only be evaluated over a longer period…
Q6: What is the frequency and intensity of power cuts by the State Grid Power Company?
A6: Since May there have been power cuts on several Factory sites. The production lost is not only influenced by the duration of the power cuts but also by the time lost to get the steam boilers back to optimum temperature and get the Bromine Extraction process back to stable output.
During my stay in Shouguang I was in contact with the State Grid Office and learned there had been power cuts for cumulative 40 hours for all sites in May and June and that there would be some more between July and October. I tend to conclude that indeed, this causes a problem, but not too dramatic of one.

Q7: Why the increase of Accounts Receivables?
A7: During the last 6 months the Government has proceeded with several financial tightening actions and there is less cash available for all companies to work with. Payment terms for our customers have not changed but customers tend to pay us at the last possible moment.
The current monetary tightening of the Chinese government has indeed led to many Chinese companies experiencing an increase in Accounts Receivables.
Q8: What's the Status of the Daying – Suining Project? And was there any progress made in establishing GURE's local branch?
A8: Good progress is being made with the drilling of our exploratory wells. As explained in our CC of August 16, the Daying project may double our production output.
To establish the local company we currently hold the pre-approval of the local Government. To obtain the final approval we need to apply for the mining license which can only be specified once we have the brine quality and its bromine content confirmed for our own wells. That will also be needed as a final step to apply for our business license.
I would like to comment here that during my visit I happened to see several brine samples originating from Daying – Suining. I guess these were collected over time and what I gleaned from the labeling tells me that the Bromine content must be in the range of 1gr/liter. Eventually this could be higher for deeper wells as mentioned in some scientific research documents, see Suining brine.
Through a contact with the local government in Suining I have been able to do some crosschecking and a Bromine content of 1g/liter seems to be a safe assessment. This Bromine content of brine is about 5 times higher than what GURE currently has from its resources in Shandong.
The available resources in Suining might indeed help GURE become one of the top ranked Bromine producers in the world. For the new project a yearly Bromine production target of 50,000MT is realistic.
The immense potential and size of this project explains why the company has legitimate reasons to use the cash operationally rather than for share repurchases.
Were government agencies and third parties able to verify GURE's business and size of operations?
Besides the guided tour of SCHC and SYCI factories and premises I also made my own investigations through contacts with:
Shouguang Salt Bureau and Shouguang Salt Association, to learn more about bromine and salt production in the Shouguang - Weifang area.

Shouguang Municipal Quality Supervision Bureau, having authority licensing Bromine production.

Shouguang Well Drilling Companies and suppliers of well piping and equipment.

Shouguang Bromine Industry Association, to obtain info about the main producers and current Bromine pricing.

China State Grid office to find out more about restrictions of electricity supplies to industrial users in the past and expectations for the remainder of 2011 as Bromine production is heavily dependent on electrical power.

Shandong Ocean Chemical Industry Scientific Research Institute:

Shandong Oceanchem.
In a nutshell, what was the relevant info obtained from the above contacts?
Five out of the six above contacts knew that "Shouguang City Haoyuan Chemical Co. Ltd" is trading on Nasdaq and is the biggest licensed Bromine producer with several plants in the Shouguang area.
Contact 1, 2 and 3 with a quick check on their computer were able to confirm me that SCHC is producing >30,000 MT of bromine.
Contact 1 – Mr. Sui smiled broadly when I asked about the accuracy of the statistics and answered that most data are collected from those "Licensed Producers" who report to the government and miss out some data of smaller "Non-licensed" producers.
Contact 2 – When I showed to Mr. Liu the 2009 list of bromine producers published by the Shouguang Bromine Industry Association he commented that there are only 14 licensed producers in Shouguang Administrative division with SCHC being the largest one. Several smaller non-licensed producers are no longer active while others seek to obtain a license or to sell their business, mostly to the 3 bigger Bromine producers shown on the above mentioned list.
A license can only be obtained if the bromine producer has a mining permit for use of the resources, combines production of Bromine with production of industrial salt and has a production plant that passed inspection criteria. The number of Brine wells and status of operation will also be recorded.
Contact 2, 3, 4 and 6 – Confirmed the growing demand for Bromine in China and hence the increased activity in acquisition and drilling of new wells.
Contact 3 – Helped me to make an estimate for the current cost of a new well with equipment installed and connected to the power line: 6000 to 8000 USD depending on well diameter, type of pump and equipment used.
Contact 6 – Mr. Ma Xizhong was well acquainted with SYCI and confirmed their efforts and joint research to produce new chemical specialties. They also have a fairly good knowledge of SYCI's customers.
Contact 5 – Confirmed that past and future planned power cuts were very limited in the area. For example, Yankouzhen village had a cumulative 10 hour power cuts in May, June and July.
Did recent investments by the company make economic sense and is it possible to verify the capacity of GURE's facilities?
This question involved understanding the Bromine extraction facilities and process in detail. The process used is relatively simple and corresponds to the flow sheet shown below:
Figure 1 [click to enlarge images]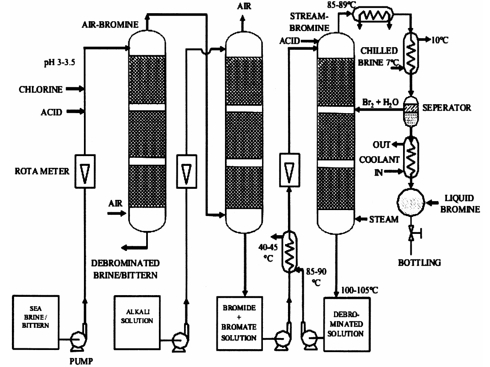 These Bromine extraction plants are all located in areas with lots of salt crystallization fields and consequently in such kinds of environment one shouldn't expect shiny fashionable factory buildings.
Remembering a claim made in one of the hit pieces against GURE: "We visited each of GFRE's factories and each appeared far smaller than GFRE reported in its SEC filings", I decided to perform a capacity check for 3 of the Bromine extraction plants. Hereunder an example for Factory 6: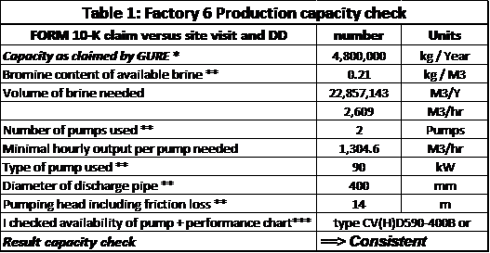 *Info obtained from 10-K Annual Report
**Data obtained during site visit
*** Performance chart

Along the way, I saw also some Bromine Extraction Plants from competitors and these look very much like the ones from SCHC [Longwei website].
Visiting several SCHC Bromine Extraction plants I saw a lot of new brine wells, new open channels and buried pipes, as well as upgraded salt crystallization fields. When observing the photos in the web album you can notice that the bricks used are new. All new brine wells were provided with new power connections and switchboards.
Specifically for the upgraded salt crystallization fields, the reconstruction and upgrade consisted of:
grading of old terrain, leveling and shaping of salt ponds, dikes and channels

placing of a geotextile protection layer and plastic liner

rebuilding of dikes and channels with bricks

installation of floating cover made of plastic membranes
All of the aforementioned confirmed to me that the investments claimed in the first half of this year (which some had questioned) had indeed taken place.
During my visit of the Shouguang Yuxin Chemical Industry Co. Ltd (SYCI)), I observed normal activity for all production lines as well as the 4 laboratories.
Further analysis of the "Q2 Surprises"
Approximately $20,087,600 was spent for new and renewed extraction wells and transmission channels / ducts in Factory No. 1 to 9. The reconstruction and renovation works costs for crude salt fields in Factory No. 1, 5 to 9. amounted to approximately $12,379,153. Impairment charges related to 1. and 2. above: $3,697,479.
Hereunder an overview of the work performed in Q2 and the average costs:


Note: From the discussion during site visits I understood that most rebuilt wells were replacements for non-functioning wells that were no longer supplying brine to the factories. Non-productive wells sometimes had influx of silt and fresh water because these wells were not deep enough.
Above costs are reasonable as these include all materials and equipment used to get operational.
These unit costs are consistent with the independent cost estimates I obtained from a local drilling and pipe supply company previously referenced. The new wells are deeper than previously drilled wells with depth ranges from 70 to 100m. The extra wells should provide GURE with better quality brine, more buffer and guaranteed supply as demand picks up. The extra wells make it also easier to rotate wells significantly extending well life.
Did GURE's investment in new wells make sense from an economic standpoint?
To answer this I used data from GURE's Annual Reports, SEC filings, parameters noted during my field visits and information obtained through communications with professionals in China who produce or sell Bromine Extraction Equipment.
Was there a need to drill new wells and replace some existing wells?
Wells allow GURE a direct access to its mine resource but what happens to the output of a mine if not all excavators can perform or if there are insufficient mine shafts?

Notes:
1) In 2011 Factory 1 ext. operates 9 months and Factory 4 stopped production early July.
2) I assumed 2011 H1 Bromine production output = Metric Tonnes sold + inventory for 2 -3 days.
Table 4 below shows the impact of the new and rebuilt wells on the targeted Bromine production output, considering a realistic production efficiency of 82% for all factories, corresponding to 300 days production.

Conclusion Tables 3 and 4: If the Bromine content of the brine can remain somewhat stable thanks to the new and deeper wells, there will be sufficient wells to reach a Bromine output of an estimated 45,494 MT at 100% factory capacity. At 82.20% (300 days) production efficiency corresponding to an output of 40,849 MT Bromine (Table 3), the demand of brine is fully covered.
But why then did the company decide to switch strategy, namely drilling new brine wells and replace old ones, whereas previously they had a strategy of purchasing smaller Bromine producers to expand its capacity and market share?
Table 5 below gives the answer to this question: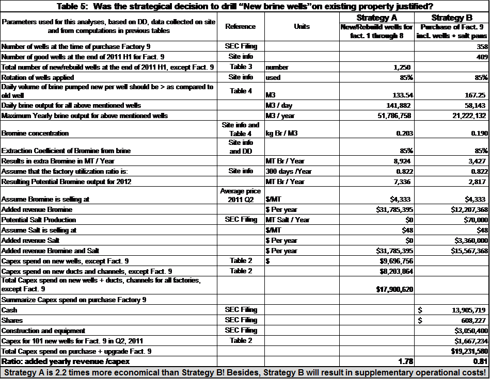 Note: To make the above analysis possible I calculated the additional capital expenditures for construction of new wells on the respective factory sites, in respect to the number of "100% new wells" while I considered that all costs for new channels and ducts must be 100% related to those "100% new wells".
Conclusion Table 5: The ratio shown in the above Table 5 shows that the company's production expansion strategy applied in Q2 was economically sound and justified.
Did GURE's investment in ugrade of salt crystallization pans make sense from an economic standpoint?
To answer this please have a look at the video Salt Crystallization linked above.
The upgrade of the crude salt fields results in:
Prevention of leakage of brine into the bottom soil
Cleaner salt
Shorter salt crystallization cycles because the usage of floating covers can prevent the dilution by rain. Rain water is syphoned off into the brick made channels.
The salt production efficiency may increase 50% according to some tests performed in China. In my estimates I applied a 40% increase for the production output of the upgraded salt crystallization pans. This results in an increase of approximately 80,000 MT per year.
The quality of the extra salt produced in these new salt pans will be better and should fetch a higher price as well.
I expect it will only take around two and a half years to pay off this investment.
As a result of my visit, here is my estimate of Revenue for H2 2011 and 2012 (Table 6):
In my opinion GURE's Management came up with an overly conservative guidance of revenue for 2011 (P.R. from August 16).
Based on my visit and the meetings I had, I made the following estimates:

Bromine, notes:
1) The average selling price of bromine for the three-month period ended June 30, 2011 was $4,333 per MT: see Q2 10-Q Filing page 23
2) Article 1: Bromine has the characteristic of a "Quality Resource"
3) Article 2: The Bromine market equilibrium cannot rule out a sharp rise
4) Net revenue for 2012 is based on a factory utilization of 82.2% (300/365 days). If lowered to 75% Total revenue estimated drops to $254,521,922.
Crude salt, notes:
1) The average selling price of crude salt was $48 per tonne for the three-month period ended June 2011: ref Q2 10-Q page 23
2) The upgrade of the salt crystallization pans should result in an increase of salt production capacity of approximately 80,000 MT of better quality and higher valued salt.

In fact, once the Daying – Suining project sees life the above revenue could easily double in the coming years as the demand for bromine in China is expected to increase for an unforeseeable future.
The demand in China for Bromine remains very strong and further growth is expected. Two other producers in Shandong showed their strong conviction of the Bromine + salt business future and are launching an IPO to speed up their business plans : Haiwang Resources and Dadi Salt.

For me, as an investor it makes much more sense to buy the currently enormously undervalued GURE shares as compared to buying into the two above-mentioned IPOs. Moreover, Albemarle US is participating in a JV in China and publicly recognizes the growing Bromine demand in China as shown in its latest investor presentation of May 3, 2011.

Conclusion: Gulf Resources is a real company and production is consistent with SEC filings
As the pressure mounts on auditors to go the extra mile to verify cash and ownership issues of all survivors in this sector, verifying claimed production and growth will ultimately lead to finding big winners. Certainly GURE needs to step up its communication effort to help investors understand the growth strategy and upcoming major expenditures. The sooner Gulf Resources understands this concept the sooner it will regain investor trust. Specific examples for actions to become more transparent (with very low cost) about activities and manufacturing performances:
Show videos and pictures of your production plants, your salt fields and customers picking up the final products.

Install digital flow meters on the Bromine output line in each packaging section of the factories.

Install hour counters and power consumption metering for brine intake pumps for each factory.

Provide the data readings recorded by the above mentioned equipment to the auditor as a way to improve internal controls.

Disclosure: I am long GURE.