By Paul Quintaro
Last Thursday night, CNBC reported that Yahoo! (NASDAQ: YHOO) would retain the services of UBS and Allen and Co.
Earlier that day, it was announced that the hedge fund Third Point LLC had taken a 5.1% stake in Yahoo!.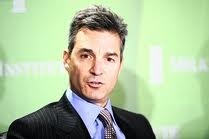 Third Point's manager, Daniel Loeb, wrote a letter to Yahoo!'s board.
"Yahoo's current Board of Directors has made a number of decisions that have directly harmed the Company and resulted in a stock price far below the Company's intrinsic value," Loeb explained. "Although we are pleased that the Board has terminated Ms. Bartz's employment…the decision to hire her alone is grounds for questioning the Board's competence."
Loeb's letter was not simply one of criticism. Loeb went on to propose solutions, although they may have not been favorable to Yahoo!'s current board.
"We insist that Mr. Bostock…promptly resign from the Board. We also demand that fellow Directors Arthur Kern and Vyomesh Joshi…join Mr. Bostock in resignation. Finally, we can only assume that Director Susan James…will also resign, given her close relationship with Ms Bartz. If she does not do so voluntarily, the board should request her resignation as well," Loeb stated.
The Wall Street Journal reported the news of Yahoo!'s deal with UBS and Allen and Co early Friday morning. Yahoo!'s stock initially rallied, but later retraced its gains. As the news had initially broke Thursday night, some traders may have been caught off guard.
After Bartz was fired, Yahoo! dominated the corporate news cycle at large.
Last Wednesday, blogger Henry Blodget reported that Yahoo! had put itself on the market, hoping to attract a potential takeover bid.
Jerry Yang, co-founder and director of Yahoo!, later refuted that report, stating that the company was quite clearly "not for sale."
Perhaps Yahoo's decision to retain UBS and Allen and Co's services is evidence to the contrary. Loeb, too, demonstrating his willingness to take an activist approach, may indicate that Yahoo! could be a takeover target sometime in the future.
Still, Loeb did not propose an outright sale in his letter. Rather, he requested leadership changes that may help to return Yahoo! to its former glory.
Loeb states that he sees a possible valuation of Yahoo! at over $19 per share, assuming the company makes the changes necessary to bring more value to the company's investors. If Loeb's prediction proves accurate, that would represent a gain of nearly 30% from present valuations.
Yet, Yahoo!'s future seems murky. It is clear that massive changes are in the works at the company. Whether these changes will benefit current shareholders remains to be seen.