Precious metals exchange traded funds dropped Monday as investors dumped gold to cover losses in the equities market, analysts said.
SPDR Gold Shares (GLD) was down 2.2% in late trading Monday, and iShares Silver Trust (SLV) was down 3.3%.
Gold futures for December delivery dropped to $1,813.30 per ounce Monday, the lowest price since Aug. 29, reports Matt Day for The Wall Street Journal. Silver futures for December delivery were down but the metal remains above $40 an ounce.

Markets are focused on the Eurozone crisis, with Greece looking at a possible default and speculation of a downgrade on large French banks.
"You've got asset liquidation coming out of Europe," Frank McGhee, a precious metals dealer with Integrated Brokerage Services in Chicago, remarked. McGhee believes that traders were cashing in gains on gold to cover losses elsewhere.
"We had a similar situation in 2008, when stock markets dropped and pulled gold lower, as some hedge funds had to compensate loses by liquidating gold positions," commented Peter Fertig, a consultant at Quantitative Commodity Research, reports Amanda Cooper for Reuters. "Depending on whether the situation in stock markets calms down, this could go on for another couple of days."
Additionally, the strength of the U.S. dollar has also helped suppress gold prices, according to Commerzbank analysts. The dollar's rally last week on the falling euro and the drop in the Swiss franc has sapped gold a bit.
Market observers believe gold will continue to experience volatile trading as the debate continues over Obama's job creation plan and traders take positions ahead of the Federal Reserve meeting next week.
MF Global analyst Tom Pawlicki expects gold to fall toward $1,750 an ounce next week in light of uncertainty and the failure of the market to hold up gold's momentum. "A decline may be anything but a straight-line fall, as volatility is likely to remain," Pawlicki added.
SPDR Gold Shares (GLD)

click to enlarge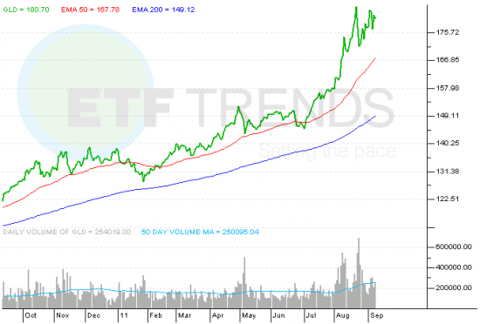 Max Chen contributed to this article.
Disclosure: Tom Lydon's clients own GLD and SLV.