The railroad industry has attracted the attention of Wall Street with its impressive resistance to the stagnating US economy. In early November of 2009, Warren Buffett acquired BNSF Railway (BNI) in a deal valued at $44B. Unlike most of his transactions, the buyout of Burlington Northern and Santa Fe Railway was in both cash and stock. It was the biggest Buffett acquisition to date and stunned investors at the time. In retrospect, the value investor's bet on railroads was right, at least thus far.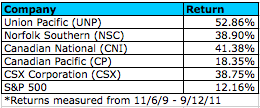 Volumes and expectations of an economic recovery are driving much of these returns. When the economy does pick up, I believe the railroad industry will even exceed these expectations. During the downturn, railroads have recovered remarkably well. Below is an image of intermodal rail freight traffic from Pragmatic Capitalism.
While Buffett's investment in BNSF Railway is noteworthy, his hometown's railroad is also an investment to consider. Headquartered in Omaha, Nebraska, Union Pacific (NYSE:UNP) is the leading railroad company in the United States. This relic of the Gilded Age was built up from consolidations--with Missouri Pacific, Southern Pacific Transportation, Western Pacific, to name a few--and has railroad tracks spanning 32K miles. It connects 23 states in the western two-thirds of the US, linking the Gulf Coast and Pacific Coast to the East and Midwest. It even has six key gateways to Mexico and owns 26% of Ferromex, a Mexican railroad. The connection to a growing economy is advantageous in making up for a lagging US economy.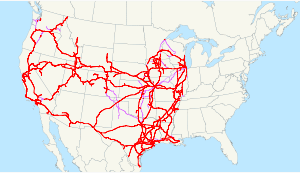 Looking at this rail giant, several factors make me bullish. Firstly, it offers a favorable risk asymmetry. The consensus target price for its stock is $115.19, a 36.7% margin of safety. This is a higher discount to its intrinsic value than most of its competitors: Norfolk Southern (NYSE:NSC), 30.7%; Canadian National Railway (NYSE:CNI), 16%; Canadian Pacific (NYSE:CP), 33.6%; and CSX Corp. (NYSE:CSX), 45.2%. Union Pacific is currently trading at 14x past earnings and has a forward P/E multiple of 10.8. Its enterprise value is trading at 7.3x EBITDA and offers a dividend yield of 2.3%. The railroad is a great company at an attractive price.
Railroad shipping is also the cheapest shipping medium for most products in most purposes. It is unlikely to lose this lead, despite advancements made elsewhere. Accordingly, the industry is poised for tremendous upside as the United States and world economy recovers. Much of the risk in owning the stock would have been seen during the recession when the industry actually fared quite well.
Another factor that makes me bullish on Union Pacific is its top-line growth. I forecast that revenue will grow 16% to $19.7B from 2010 to 2011 and another 13% the following year. I also forecast the derivative of operating expense growth to decline. While my model indicates 11% operating expense growth to $13.3B from 2010 to 2011, it indicates that number to decline to 9.4% the following year.
Union Pacific is also diversified in six key areas: agricultural products, chemicals, automotive, energy, industrial products and intermodal. Unlike most of its competitors, the leading railroad company performed well in the 2Q of 2011, across most areas. Going forward, I expect agriculture to experience the largest growth in Union Pacific's business mix at 20%. Lagging, I think, will be intermodal at 11.7%--still impressive.
The company is also committed to creating value with ROIC heading above 7.6%. Approximately 23% of UNP is owned by core value investors, while 15% is owned by core growth investors. According to my calculation, it has a free cash flow yield of around 5%.
In conclusion, as the economy picks up, I believe Union Pacific will perform tremendously well - as it has done during the recession. Operating in a market with high barriers to entry, the railroad company has an attractive geographic reach and a stellar executive management. These are the qualities that will make it successful in the years ahead.
Disclosure: I have no positions in any stocks mentioned, and no plans to initiate any positions within the next 72 hours.