Quantitative filtering saves a lot of time, getting to a manageable list for further research. Some potentially good securities are filtered out and not seen, but far more unsuitable ones are eliminated.

The simple fact is that time is limited and you can't research every security, so you have to find some way to narrow your focus. Quantitative screens are one good way we find.

This article shares a list of 58 stocks that came through an uncomplicated but obviously demanding equity income filter, because it eliminated 99%-plus of all stocks listed in the U.S.

This is not a recommendation, just a first pass list that you may find helpful as you research dividend stock possibilities for your portfolio.

The date used in the filter is fresh within a week.

Here are the filter criteria:
Paid and increased dividends each year for at least 10 years
Grew dividends by at least 3% over 1 yr, 3yr, 5 yr and 7 yr
Dividend yield > 10-yr Treasuries and > S&P 500
Earnings and dividend strength rating by S&P of at least B+, or financial strength rating by ValueLine of at least B++
Average per minute trading volume at least $25,000
Market-cap at least $250 million
Price at least $5
Here is the list sorted alphabetically by symbol: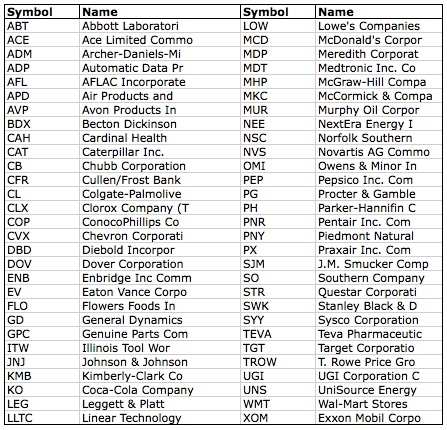 Disclosure: QVM has long positions in a few of the listed stocks in some accounts as of the creation date of this article (September 13, 2011).

Disclaimer: This article provides opinions and information, but does not contain recommendations or personal investment advice to any specific person for any particular purpose. Do your own research or obtain suitable personal advice. You are responsible for your own investment decisions. This article is presented subject to our full disclaimer found on the QVM site available here.