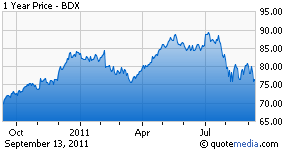 Becton, Dickinson & Co. (NYSE:BDX) consists of three segments: medical, diagnostics, and biosciences. The medical segment manufactures and sells various medical devices such as anesthesia products, syringes, sharps disposal, diabetes care products, and others. Diagnostics provides products for specimen collection, testing systems for STDs and HAIs, and blood collection products. The Biosciences segment focuses on cellular analysis and growing cells and tissues. BDX serves hospitals, laboratories, blood banks, public health agencies, private physician practices, pharmacies, and governmental agencies. The company operates in more than 50 countries worldwide.
Sales, cash flow, earnings, and dividends have increased every year since 1995 for BDX. The company is currently selling at 17.4x net free cash flow, with $1.9 billion in cash. It is selling at 12.65x earnings, below its median and trailing PE of 19.0 and 14.8 respectively. The current ratio is 3:1, with 32% of capital in debt. Return on total capital (17.5%) and return on share equity (25.5%) are significantly higher than the industry averages, while net margins are around the average. The dividend currently yields 2.2%, with an average annual increase of 14.5% over the last 10 years. The company has raised its dividends for 39 consecutive years.
Becton Dickinson is taking steps to insure continued growth into the future. The company positioned itself in emerging markets, offsetting weaker demand in the U.S. and Europe. These developing countries are becoming more health conscious and requiring safer medical equipment. Many of them have high rates of blood-transmitted diseases, making BDX's top line of safety syringes a priority. BDX is also working to meet the needs of the growing diabetes epidemic, especially among juveniles. This will be a growing source of revenue in the future.
The company is putting more emphasis and funds into R&D. This is a good strategy because of the competitiveness of medical manufacturing companies. The company does not want a growing portion of its sales to be confined to just a few products.
BDX has been recognized for its philanthropy. The company donated its time and money to help with the AIDS pandemic by training medical staff in developing countries to improve blood collecting techniques. $5.7 million was donated to the Haiti relief effort, and the company returned there in February to provide additional help as part of their annual volunteer trip. This shows corporate responsibility and dedication to their mission, "Helping all people live healthy lives."
There are several macro and micro risks. There is a possibility of overvaluation in the sector. However, BDX appears attractively priced relative to its peers. New health care reform will increase taxes on US medical products by 2.3%. The company may also be faced with new regulation from the government. BDX's globalization minimizes some of these risks. Buying the stock around $72 should provide a margin of safety and reduce the impact of the aforementioned risks.
BDX's low beta (.65), earnings predictability, remarkable growth history, and high safety make it an appealing stock for conservative, income-oriented investors.
Disclosure: I have no positions in any stocks mentioned, but may initiate a long position in BDX over the next 72 hours.