THE ENLIGHTENED-AMERICAN PORTFOLIO SPREADSHEET
Enlightened-American Portfolio: +5.5% through Sep 12, 2011 (my actual IRR, including cash balance)
DJIA: -4.5%
Nasdaq: -6.0%
S&P 500: -7.6%
DJ Wilshire 5000: -8.4%
Russell 2000 (smallcap): -13.3%
Despite rocky markets, my portfolio has managed to retain positive returns thus far in 2011, largely on the back of high-flying, out-sized gold positions and a large cash position (currently 37% of portfolio). However, my covered-call options strategy has led to one stock [Minefinders (MFN)] being called away with another, Yamana (NYSE:AUY), currently in-the-money. Only the lack of traded options for Central Fund of Canada (NYSEMKT:CEF), a fund which holds physical gold and silver, prevents me from losing my position in the physical commodity itself. A nice refuge in an otherwise dour equity market, I am hesitant to let these gold stocks go but such feelings are usually a good warning that greed is afoot so perhaps it is best to exit. Hopefully, the gold market will undergo a severe correction that will allow investors back in.
Regretting past moves never made anybody money so time to focus on what to do now. Reviewing the portfolio, my most actionable ideas are Cisco Systems (NASDAQ:CSCO) and Telefonica (NYSE:TEF).
Cisco (CSCO)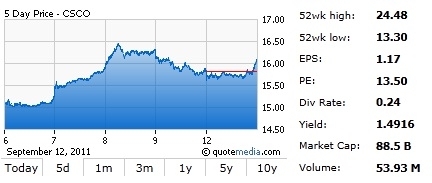 Readers can review my initial buy report on CSCO from April. Not much to update on the fundamental front but shares did fall further from my $17 entry point, allowing me to buy again at $15.25 and to sell Nov 2011 $13 naked puts for a nice 6% premium before shares bounced back after a positive earnings report in August. Analysts are starting to upgrade the stock and the worst may be over for the stock. While CSCO trades 5% lower since my bullish article published, it has performed considerably better than the broader market:
My actual return is better as I legged into the position so my adjusted cost of $16.19 is near break-even vs. the market's 11.5% fall since opening the position.
Telefonica (TEF)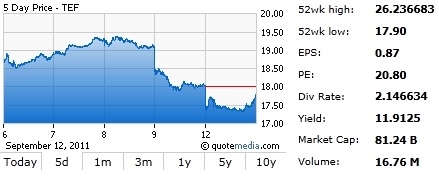 Telefonica has fallen below my May 2010 entry price of $18.49 amid concerns arising out of the Euro debt crisis, including its home market of Spain. The company's heavy debt load combined with the uncertainty of the euro zone has hammered share prices.
As evident above, the chart discrepancy between Telefonica's Madrid shares and ADRs suggests nearly a third of the drop is due to the decline in the euro. Nevertheless, shares have fallen 14% in its native currency, a huge drop in little over a month. Such drastic falls in price can be suggestive of a deterioration in business -- is that the case with Telefonica?
In all its major markets, the company faces a broad range of challenges ranging from intense competition to regulatory setbacks but this has been the industry norm for many years now. Any operator in the global telecom market will have to deal with pricing pressures from competitors as well as regulators, who can set rates for various services and/or force dominant operators to provide access to competitors. It is simply a fact of life for telecom operators (and investors). As far as I can tell, nothing has changed with Telefonica's operating and regulatory environment since August, which leads me to believe TEF's recent woes are being completely driven by the Greek debt crisis and corresponding European fall-out.
The company has over 50Beur debt position, which is a concern given the debt crisis in its home region. But as readers can see from tables culled from Telefonica's annual report and a recent investor presentation, the debt maturities are evenly spaced and manageable for a company the size of Telefonica, which has averaged 8-9Beur free cash flow (FCF) in the last 3 years.
The company's home market also worries investors as revenue and market share in Spain has steadily eroded. Management is taking steps to stabilize the Spanish market, such as the recent labor agreement to reduce headcount and lower operating costs in its wireline business, and is focusing on maintaining profitability even as the expense of market share. But more importantly, Spain is becoming a smaller contributor to the company's consolidated results, partly due to shrinking revenues/profits but also due to growth in Telefonica's Latin America segment and especially, Brazil.
When I first started following the company in 2007, Latin America accounted for only a third of consolidated revenues, which did not translate to 1/3 of profits as the region had a lower profit profile than the European and Spanish markets. By mid-2011, Latin American now comprises 45% of revenues, OIBDA (operating income before depreciation & amortization) and operating cash flow. The market's focus on the turmoil in Europe disregards the fact that half the company's fortunes now reside in Brazil and its neighbors. To illustrate this shift, management has consolidated Spain into its European segment and will now report results for Telefonica Europe and Telefonica Latin America.
Outside of the eurozone crisis, there is some question whether Telefonica will be able to meet its stated dividend target of 1.6eur per share (~10% yield) without taking on debt. Though payout ratios are currently high at 80+% of 3-years avg FCF, management insists they will meet all targets laid out, especially regarding the dividend with a baseline 1.75eur dividend set after 2011, and they have an outstanding track record of hitting guidance. Even if management stumbles and cuts the dividend in half, a 5% yield would still be attractive. And while market and margin growth may be limited going forward, there are still opportunities as market adoption of smart phones and tablets drive data revenues across all markets.
It is impossible to predict how the euro debt crisis will play out but TEF should offer attractive returns once the dust settles. With near 10% dividend yield, investors won't have to wait until then to see returns. I will be looking to add to my position if TEF approaches $16 per ADR.
Disclosure: I am long CSCO, TEF, AUY, CEF. I am short AUY covered calls and CSCO naked puts.