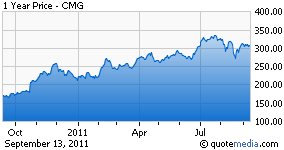 Denver based fast-casual food restaurant Chipotle (NYSE:CMG) has seen it shares double over the past year. This new social hotspot now has a market value of just under $10 billion, and shares are only $30 off its 52-week high of $337. Despite the huge run up in the past year, this stock remains hot! And it could be the best pure growth play in its industry.
Forbes has an excellent report out on the company, but the story is even better than they tell it. According to Forbes, Chipotle has 1,150 restaurants in 38 U.S. That means 12 states don't have Chipotle, and 14 states as well as Washington, D.C., have just 8 locations or less. About 2/3 of their locations are represented by just 9 states. And according to Forbes, another 135 or so restaurants will open this year, including their second European one. A nice target in the U.S. might be Connecticut, a state that's got some good money but only 3 Chipotle locations. In contrast, Mcdonald's (NYSE:MCD) has about 30 times the number of locations as Chipotle. Imagine if Chipotle was as visible.
I'm not the only one that likes this stock. According to Thomson, of the 25 analysts covering the stock, 8 have buys, 14 have holds, and 3 have sells. The average price target is $322, but the median one is $332, only implying about 5-8% growth from here, but let's see what happens after their next quarterly earnings report. I have a feeling that a couple of those targets might be bumped up to the $400 level.
Now, the valuation may seem lofty with its current P/E of 50 and forward P/E of 35. But remember, you are paying for the 22% revenue growth this year and 18% next year, with EPS growth in a similar range this year and expected to grow more than revenues next year. That is at least double the revenue growth of the more established fast-food locations such as McDonald's, Wendy's (NYSE:WEN), and Yum Brands (NYSE:YUM). Now, we know that Chipotle isn't directly competing with those per se, but even Qdoba is only growing revenues in the mid single digits this year, as stated by their parent Jack in the Box. Chipotle is expecting high single to low double digit comps this year. And if you think the economy is going to start growing again, people will definitely pay $10 for a Chipotle meal over a $6 extra value meal.
Chipotle's financials have been improving as well, which is always the sign of a well run company. You can access their statements here if you want do calculate your own numbers. It is pleasing to see the current ratio increase in the past year from 3.37 to 3.76, and the quick ratio from 3.09 to 3.33. Working capital also increased by $85 million to $324 million. Strangely, the debt ratio stayed constant at 25.68% as the company's assets and liabilities grew by the same percentage. Don't see that very often. The company also had $125 million in positive cash flow over the first half of 2011, compared to a negative $17.5 million over the same period last year. Cash is king, especially if you want to repurchase your own stock. The only negative was that margins came down, as food prices increased from a year ago. However, this was mostly offset by leverage from comparable restaurant sales growth.
Chipotle is firing on all cylinders right now, and there's more growth ahead for those who are willing to take the risk. In an industry where revenue growth is in the low to mid single digits, Chipotle is growing 2-3 times as fast. That spread will probably increase even more as Chipotle opens even more locations. Some say the valuation is too high, but I think it's fair to pay for growth. This is a company that is certainly growing.
Disclosure: I have no positions in any stocks mentioned, and no plans to initiate any positions within the next 72 hours.