Dell (NASDAQ:DELL) is not the most innovative computer company but it continues to "custom build" computers to fit the needs of both the retail and business customer. Consumer sales have been weak but businesses are continuing to replace aging technology to keep up with the new direction of cloud computing and the massive amount of required data storage that just seems to keep building. Dell's recently depressed price could signal a good accumulation point. Consider the trading price range compared to the 20, 50 and 100 day moving averages over the last six months:
Click to enlarge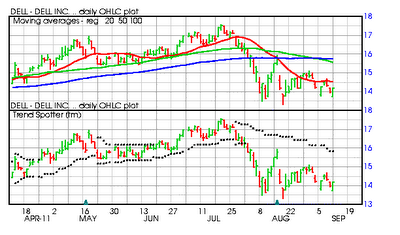 Dell provides integrated technology solutions in the information technology industry worldwide. The company designs, develops, manufactures, markets, sells and supports mobility products, including laptops, netbooks, tablets and smart phones; desktops PCs; and servers and networking products. It also offers storage solutions comprising storage area networks, network-attached storage, direct-attached storage, disk and tape backup systems, and removable disk backup.
In addition, the company provides third-party software products consisting of operating systems, business and office applications, anti-virus and related security software, and entertainment software; and peripherals, such as printers, televisions, notebook accessories, mice, keyboards, networking and wireless products, and digital cameras.
It offers IT and business services, including transactional services, such as support, managed deployment, enterprise installation, and configuration services; outsourcing services comprising data center and systems management, network management, life cycle application development and management, and business process outsourcing services; and project-based services consisting of IT infrastructure, applications, business process, and business consulting services, as well as offers asset recovery, recycling, and applications maintenance services. Further, the company provides financial services, including originating, collecting, and servicing customer receivables related to the purchase of its products.
Dell sells its products and services through its sales representatives, telephone-based sales, and online at dell.com, as well as through indirect sales channels. It has a strategic alliance with ikaSystems Corporation to deliver advanced administration and care management solutions to healthcare payers. The company was founded in 1984 and is headquartered in Round Rock, Texas. (Yahoo Finance Profile)
Factors To Consider
Barchart technical indicators:
Technical sell signals can signal a good accumulation point for stocks that you want to add to your portfolio for their long term appreciation
Barchart 88% technical sell signal
Trend Spotter sell signal
Below its 20, 50 and 100 daily moving averages
selling at a 19.38% discount to it 1 year high
Relative strength Index is 43.29 and still falling
Barchart computes a technical support level at 13.54
Recently traded at 14.19 which is below its 50 day moving average of 15.56
Sales projections by Wall Street analysts are not great with an increase of 1.90% this year and another 3.10% next year expected.
Earnings forecasts are dicey with an increase of 25.80% for this year, decrease of 2.00% next year and a five year annual increase of 6.44 going forward.
In spite of these lackluster numbers brokerage analysts have published 14 strong buy, 4 buy, 16 hold and four under perform recommendations.
Some good points are the P/E ratios - It's present P/E ratio of only 9.4 is way below its median ratio of 23.0.
The P/E ratio is about half the markets ratio which is where you'd like to buy technology stocks.
Dell seems to be a back to school favorite so college sales should be good.
If employment picks up most business will need a new computer for each new employee.
As previously mentioned cloud computing is hard to do on older computers so some replacements will need to be made to keep up with the current technology.
The big "IF" is whether tablets replace or complement desk top and lap top PCs.
General investor interest:
As measured by the readers of Motley Fool individual investor interest is high with 5,675 readers expressing an opinion on Dell.
Readers voted 71% that the stock will beat the market - good but not great.
The more experienced All Stars gave a similar 72% vote for the same result.
Dell's main competitors are Hewlett Packard (NYSE:HPQ), IBM (NYSE:IBM) and Apple (OTC:APPL) and price action over the last six months is compared below: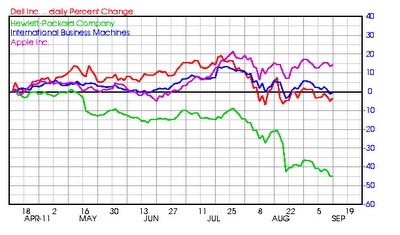 Some smaller names in the electronic computer sector that have had great price momentum over the last year are Silicon Graphics (NASDAQ:SGI) 97.63%, Teradata (NYSE:TDC) 41.32%, Omnicell (NASDAQ:OMCL) 30.16% and Super Micro Comuter (NASDAQ:SMCI) at 28.83%:
Click to enlarge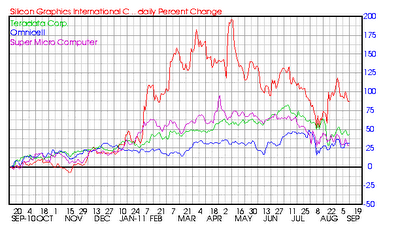 Summary: Dell will be around for a good long while. The question is not will they survive, the question is how well they thrive when the economy recovers. If the economy recovers, sales and earnings will improve. A robust stock market with a return to historical P/E ratios could mean that investors entering at this level could see an annual total return in the 16-18% level.
Disclosure: I have no positions in any stocks mentioned, and no plans to initiate any positions within the next 72 hours.