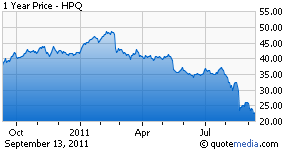 It was something of a shock.
Hewlett-Packard (NYSE:HPQ) has been forced to extend its offer for Autonomy plc to October 3, after just 41.6% of shares were tendered.
It can't be a question of price. The offer was a 79% premium over the company's value when the agreement was made. Autonomy CEO Mike Lynch has already started a victory lap, seemingly looking for the next move after his employment with HP ends.
In fact, the delay looks like a giant vote of no confidence by Autonomy shareholders, most of them British, in Hewlett-Packard's management and its embattled CEO, Leo Apatheker. Autonomy stock is still trading at a slight discount to the offer price.
HP is already hinting at Autonomy's next big project, a sort of "search engine for everything." The company made its name in search technology, but most if it was focused on niche markets, like medicine and finance. Not on going after Google (NASDAQ:GOOG).
Even assuming the deal does go through (and there is every indication it will) the reluctance hints at a coming brain drain that will leave HP with little to show for its strategic decision to ditch PC hardware and focus instead on cloud and cloud-based services.
HP insists it's now an enterprise IT company like IBM (NYSE:IBM). But IBM has moved beyond being "just" an enterprise software company, becoming known as an innovator that can turn a gimmick like Watson into a serious business and PR success story.
HP doesn't have anyone or anything like that. Except Mike Lynch.
Right now Lynch is actually doing a better job articulating an HP vision, based on managing unstructured data, than Apotheker himself. Which hints at what may be the best solution for all this.
Make Lynch as HP's CEO. Or watch the stock keep falling in value until the company can't retain its own autonomy.
Disclosure: I have no positions in any stocks mentioned, and no plans to initiate any positions within the next 72 hours.