About three weeks ago we highlighted the fact that even though WTI oil prices (US benchmark) were well off their highs of the year, gasoline prices had barely budged. We then showed a comparison between the price of gasoline and Brent Crude oil prices (European benchmark). A look at that comparison showed that while the price of gasoline was diverging from WTI, it was joined at the hip with Brent.
In the charts below we have updated the year to date returns of RBOB gasoline compared to WTI and Brent crude oil. As shown in the charts, the divergence between RBOB and WTI crude oil and the convergence between RBOB and Brent crude oil has continued. While WTI crude oil is down more than 2% on the year, Brent crude and RBOB gasoline are both up by double digit percentages.
click to enlarge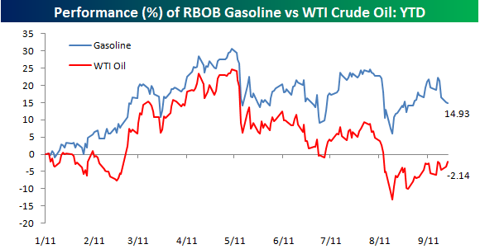 Click to enlarge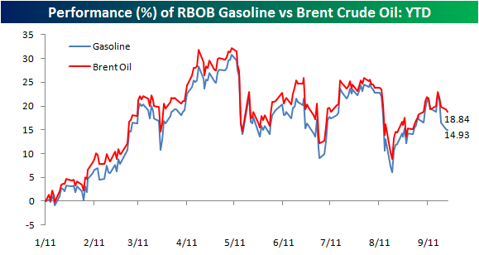 Click to enlarge
Given the fact that gas prices are being seemingly driven by the action in Brent crude oil prices, consumers should not expect to see much in the way of relief at the pump until the premium between Brent and WTI crude oil prices starts to narrow from what are historically high levels.
As shown in the chart below, the spread between the two benchmark crude oil prices is near record levels. There are, however, some signs of potential relief. So far today, the spread has narrowed by more than $1 for the second straight day, and it is down by more than 16% from its record high ($26.87) last week. It's a start, but it will take a lot more before gas prices are anywhere near levels that most Americans would consider 'normal.'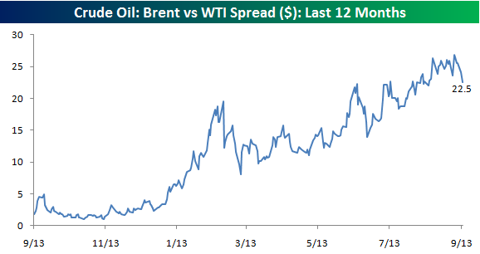 Click to enlarge