Before I give kudos, I want to point out the importance of oil in our country. Electric vehicles are a wonderful idea, and they are becoming ever more popular. Perfection though, is a slow process. What this translates to is an dependence on oil for a long time to come. A long time to come means plenty of time for undeveloped assets located all over the world to establish themselves as key exploration and production players, and to generate cash flow based on the fact that the world will need oil for the foreseeable future.
For me, Nicholas Pardini was the first person to point out the potential of Afren PLC. His article posted on SA touched on the potential of this oil E&P company which I had only heard of.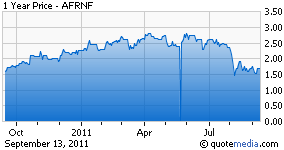 For starters, Afren (OTCPK:AFRNF) is a company focused on the vast number of undeveloped assets located in Africa. More specifically in the shallow waters of Nigeria. Afren has strong indigenous partnerships through Amni International and Oriental Energy Resources, who have helped to access and monetise important reserves and production. These relationships have helped to strengthen Afren's growth engine, but more importantly have enabled them to establish themselves as a partner of choice in Nigeria. In particular to pursue larger scale opportunities alongside partners such as First Hydrocarbon Nigeria.
It should be known that Nigeria and Iraq are ranked as two of the world's top 10 proved oil reserves and top 12 oil producers. This is why not only Nigeria, but the Kurdistan region of Iraq, are opportunities Afren is focused on. And even with the focus on such popular areas, Afren commits to playing to their strengths, avoiding "bidding wars", and focusing their efforts where they are strategically advantaged. This philosophy enables Afren to be the leader in adding low cost reserves.
After the acquisition of Black Marlin Energy in 2010, four major themes began to shape Afren's exploration portfolio.
The proven Upper Cretaceous play concepts along the West Africa Transform Margin.
Low risk exploration close to existing fields in the Teritiary systems of Niger Delta.
High impact, potentially play opening targets in the rift and coastal basins of East Africa.
The well known, yet under-explored Zagros Fold Belt in the Kurdistan region of Iraq.
Afren's portfolio of high profile exploration fairways shows high grade prospects spread across a spread of "hydrocarbon play types and structural settings." In other words, if one area fails to produce, chances are high the next area will yield better results.
This brings us to the fact that Afren is looking at net un-risked prospect resources in excess of 3.6 billion barrels of oil equivalent. And what Afren needs to do is convert this into proved reserves. How will they do this? By funding a drilling campaign, internally and quickly.
The company has previously shown they can put funding to work, by using a portion of their $500 million U.S. bond offering (1st U.K. listed independent E&P company to access the bond market) to repay short term facilities. And with reservoir performance at the Okoro and Ebok fields at the upper end and ahead of expectations despite a delayed start and unexpected downtime, Afren is in a position to prove to the world that they are an intricate part of the driving force that is the oil exploration and production industry.
Disclosure: I am long OTCPK:AFRNF.