This is the fourth installment in a ten-pack series of metals mining company articles. You can find articles for
Great Basin Gold
(NYSEMKT:
GBG
),
Entrée Gold
(NYSEMKT:
EGI
) here, and
Jaguar Mining
(NYSE:
JAG
) here.
Investors fell in love with Seabridge Gold (NYSEMKT:
SA
) in late 2009 and drove the stock price from the low teens to the $35 range. And what was not to like? The company had several projects that had very large resource deposits. Seabridge's strategy was to dispose of some smaller projects to generate current cash for future development of the most promising sites. It all seems like a good plan until you examine the existing Seabridge projects in more detail.
Developments
The largest project, KSM, is located in a fairly remote section of British Columbia, which will require power and road improvements before production can begin. In addition, the KSM transportation leg for the metals will require shipping over water, which will increase cost per ounce and could potentially increase time to market. This is no small hurdle to climb. KSM is a huge field, however, if it can finance the infrastructure needed to mine and move the metals. KSM boasts 38.5 million proven and probable gold ounces, with an indicated resource of up to 45 million ounces. In addition, a bonus silver deposit of 216 million ounces, 10 billion pounds of copper, and 257 million pounds of molybdenum round out this robust deposit. Seabridge expects the mine can be productive for 50 years, and in the future could make Seabridge a very successful major metals miner.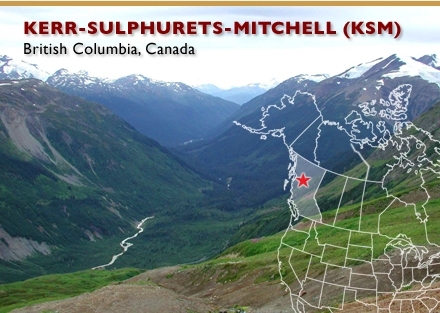 Couragous Lake, the company's second largest deposit, has an indicated 6.8 million ounces of gold. The deposit requires an estimated 6 years to production with an expected 2 year process for mining permits. Seabridge's initial cost project is $435 per ounce, though with rising inflation this number will be significantly different if production begins in the stated time frame. The site is accessible mostly during the winter due to the colder weather improving the hardness of the roads needed to support transportation of the metals. For year round production, road improvements will need to be made. Due to the location, it is also estimated that a local processing plant would be more efficient than transporting out to another site, and power generation is also an issue here as well.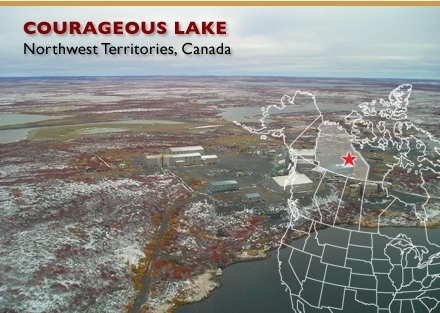 Quartz Mountain is the company's third largest deposit, holding a Measured and Indicated 1.7 million gold ounces in the Bly Ranger district known for gold, silver and mercury mining. This location can be classified as somewhat remote, with access to the site primarily over existing logging trails.
Red Mountain, located in the Skeena Mining District in Northwestern British Columbia, contains 400,000 Measured and Indicated gold ounces with an additional 248,000 inferred ounces. This location is extremely remote with no adequate road access. The site features $40 million in previous development and mining equipment and cost Seabridge less than $1 per inferred ounce to acquire. However, for mining to begin, additional infrastructure will be needed. The site costs $125,000 per annum to hold.
(Click charts to enlarge)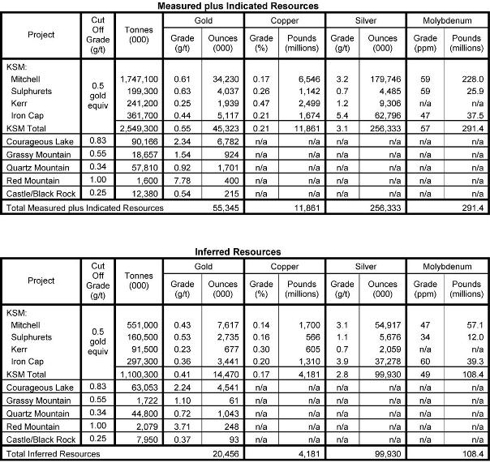 Financials
Seabridge is currently trading at 5.8 times book value with a negative 5.18 percent return on assets and negative 4.15 percent return on equity. The company has $63 million in cash and will need significantly more to develop infrastructure at the current projects. The good news is that Seabridge has very little debt and has a current ratio of 10.43 suggesting no immediate liquidity concerns. Analyst opinion is a buy with a price target of $79.15.
I believe Seabridge has the potential to trade in the high teens within the near future as investors realize there will be negligible income for the near term unless Seabridge can convince a large miner to purchase one of these existing remote projects. This scenario is unlikely as the project-ready sites have already been disposed of by Seabridge.
Trading Approaches
The stock has a low beta and has sufficient volume should you wish to take a position. My approach would be to short the stock. The only boost the stock can receive is a continually rising gold and silver spot price combined with periodic news releases on resource estimates and drilling results. Neither of these factors should propel the stock significantly higher, however, due to the fact Seabridge has no production to sell at those rising market prices.
If you view short selling as too risky (due to potentially infinite losses), another strategy is to sell slightly in the money uncovered calls on the stock. While uncovered calls are risky, in this case I believe the chance of having the option called is remote due to company fundamentals. If the price rises, you have two options: close your position before being called or simply provide the stock to the buyer through the market. For instance, if you sell Nov 2011 28 calls for $2.10, the stock would have to rise about $2.50 in two months for the buyer to break even on the trade. While this is definitely possible, it is likely that the time value of the call deteriorates faster than share price rises. It's a worthwhile risk, in my opinion.
To reduce risk, you can additionally also sell the Nov 2011 $27 put for $2.05. If the price then rises to $31 and the stock is called at $28, you profit $1.15 per share, minus trading costs. If the price falls to $24 and you are put the stock at $27, you profit $1.15 per share, minus trading costs. If the stock stays within the trading range of $24.95 to $30.10, you profit the full value of the options minus the costs. Alternately, you would want to close your positions before the stock moves out of the trading range noted above to avoid exercise while taking a potentially small loss or accepting a reduced gain. Disclosure: I have no positions in any stocks mentioned, and no plans to initiate any positions within the next 72 hours.