Natural gas prices have been low for several years, making it very hard for natural gas exploration and production (E&P) companies to turn a good profit. Consequently a number of them have strategically decided to diversify into mixed natural gas and oil E&P, and they are weighting their development plans in favor of oil development.
Three prominent natural gas companies seem to be making this conversion successfully: Chesapeake Energy Corp. (CHK), EOG Resources Inc. (EOG), and SandRidge Energy Inc. (SD). The key to their profitability in the near term may be the rate of their conversions. In the longer term, the expansion of liquefied natural gas capability may mean that countries such as China and India will eventually become huge LNG importers. When they do, the price of natural gas will likely rise considerably. For now, the percentage of how much oil and natural gas liquids they can produce may well determine the near-term growth and profitability of these companies.
SandRidge Energy has converted to 100% oil development, although the company gets new natural gas development along with the oil development in many cases. The current production profile for 2011:

This means that oil and natural gas liquids (NGLs), in terms of MMBoe, are slated to be 51.45% of production in 2011.
The production profile for 2012:

This shows that oil and NGLs, in terms of MMBoe, are slated to be 57.39% of production in 2012. The IRR for SandRidge even in a down market is predicted to be 74% for the Mississippian oil development and 71% for the Permian oil development. The company should grow its profits in almost any market scenario.
The Chesapeake Energy (CHK) portfolio of natural gas and oil shale assets in the U.S. is unmatched by any other company. CHK controls over 15 million net acres in a variety of fields. It is the #1 or #2 asset holder in a number of prolific fields, such as the Marcellus Shale (1.73 million net acres), the Haynesville Shale (515,000 net acres), the Pearsall Shale (350,000 net acres), the Barnett Shale (220,000 net acres in the Core and Tier 1 area), the Bossier Shale (200,000 net acres), the Utica Shale (1.2 million net acres), the Mississippian Lime (1.1 million net acres), the Cleveland/Tonkawa/Granite Wash (890,000 net acres), the Permian Basin (670,000 net acres), the Niobrara (570,000 net acres), and the Eagle Ford Shale (450,000 net acres). CHK has many other holdings beyond these. You can imagine its potential for growth.
The following production chart shows CHK's predicted production outlook (and percentages) for natural gas, oil, and natural gas liquids.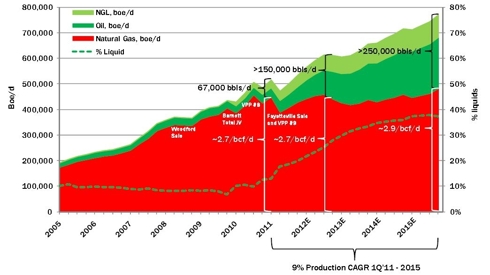 The chart below shows more clearly the dramatic effect the mostly new oil and NGL's development will have on revenues.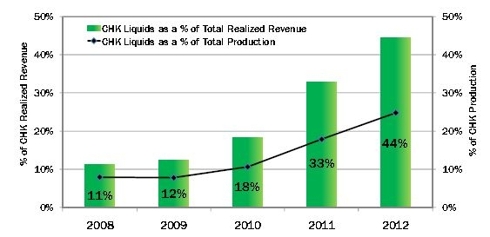 Investors should see a huge improvement in CHK's results soon.
EOG has a fantastic asset portfolio too. Its portfolio is among the best of the oil shale E&P companies in the U.S. A couple of the really prolific assets are EOG's 600,000 net acres in the Bakken/Three Forks and its 535,000 net acres in the oil window of the Eagle Ford. It has many more. The following chart shows its production outlook percentages changes and forecast changes in liquids to natural gas weighting in North America. This should mean that the company will soon become much more highly profitable in the near future.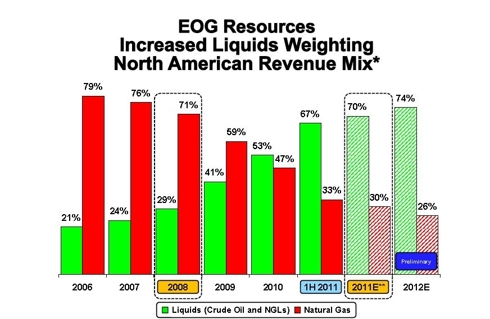 The chart below indicates how much faster EOG has forecast its earnings growth than other companies. This does not mean it is the best long-term company. CHK seems to have a much more extensive overall portfolio. However, it may mean that EOG's stock may perform better than other stocks in the near future.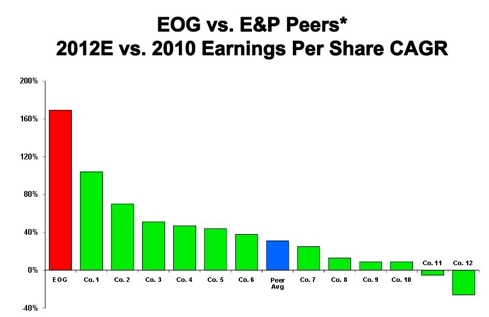 Companies used for comparison include: APC, APA, CHK, COG, ECA, NFX, NBL, RRC, SWN, and UPL.
Let's take a look at the fundamental financial numbers of each of these. The data in the table below are from TDameritrade and Yahoo Finance.
| | | | |
| --- | --- | --- | --- |
| Stock | SD | CHK | EOG |
| Price | $6.84 | $30.76 | $86.11 |
| 1-Year Analysts' Target Price | $12.92 | $40.67 | $120.35 |
| Predicted % Gain | 89% | 32% | 40% |
| P/E | N/A | 20.59 | 53.98 |
| FPE | 18.62 | 10.56 | 16.21 |
| Average Analysts' Opinion | 2.1 | 2.2 | 2.2 |
| Miss Or Beat Amount For Last Quarter | -$0.03 | +$0.04 | +$0.32 |
| EPS % Growth Estimate for 2011 | -54.50% | -2.40% | 283.70% |
| EPS % Growth Estimate for 2012 | 640.00% | 1.70% | 49.90% |
| 5-Year EPS Growth Estimate Per Annum | 15.00 | 11.00% | 12.00% |
| Market Cap | $2.71B | $19.70B | $23.15B |
| Enterprise Value | $5.63B | $30.49B | $28.28B |
| Beta | 2.26 | 1.47 | 1.03 |
| Total Cash Per Share (mrq) | $0.01 | $0.17 | $5.87 |
| Price/Book | 1.95 | 1.63 | 1.91 |
| Price/Cash Flow | 7.91 | 7.59 | 8.80 |
| Short Interest as a % of Float | 8.16% | 3.97% | 3.08% |
| Total Debt/Total Capital (mrq) | 61.69% | 39.35% | 30.20% |
| Quick Ratio (mrq) | 0.29 | -- | 1.25 |
| Interest Coverage (mrq) | -- | -- | 11.48 |
| Return on Equity (ttm) | -4.67% | 7.93% | 3.71% |
| EPS Growth (mrq) | 103.03% | 68.03% | 366.50% |
| EPS Growth (mrq) | 92.48% | 130.37% | -32.68% |
| Revenue Growth (mrq) | 99.94% | 64.91% | 89.27% |
| Revenue Growth (ttm) | 75.87% | 7.27% | 42.61% |
| Annual Dividend Rate | N/A | $0.35 (1.20%) | $0.64 (0.80%) |
| Gross Profit Margin (ttm) | 61.39% | 85.13% | 87.83% |
| Operating Profit Margin (ttm) | -14.95% | 16.84% | 13.06% |
| Net Profit Margin (ttm) | 2.70% | 11.90% | 5.26% |
All of the above are good stocks. However, EOG clearly stands out as an investment opportunity for the near term. It has good growth, an enviable balance sheet with good cash and good operational earnings, and it should have no trouble paying its bills, even in a recession. It has a low Beta.
CHK has lower near-term growth, but its portfolio of assets is fantastic. It has the best long-term potential. However, it is cash-poor. If it becomes strapped for cash, it could sell assets to raise cash. It could be hurt by having to sell some assets at a discount if the economy soured demonstrably.
SD has good assets. It is a great growth opportunity. However, since the last time I wrote about it, its statistics have deteriorated slightly. A couple of months ago it claimed to add $5.6 million to NPV with each well it drilled in the Mississippian. The latest claim is only +$4.9 million to NPV per well. These wells are not the most prolific in the industry. They have low drilling costs with relatively low IPs. In contrast, both CHK and EOG have lots of results with high IPs. Such results are far more encouraging.
Let's look at the two-year charts of these stocks for some technical input.
The two-year chart of SD is below: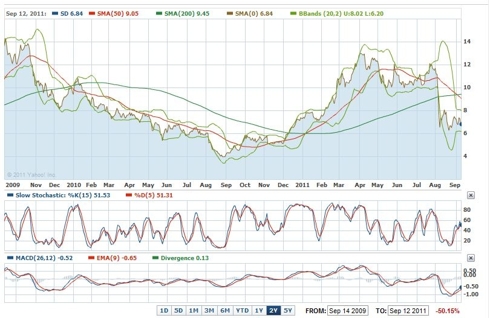 The two-year chart of CHK is below: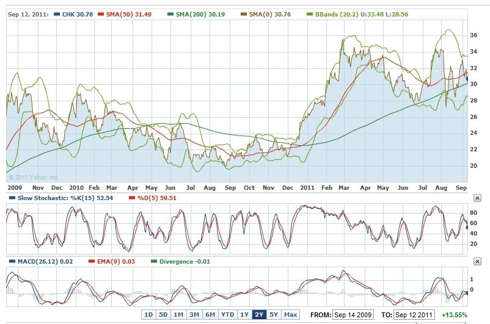 The two-year chart of EOG is below:
All of these stocks have sold off during the recent overall market downturn. There was also a cutback by the EIA of 250,000 bo/d in its forecast for 2012 world demand. This brought the increase in demand for 2012 down to +1.39 million bo/d. This likely added to the down move of these stocks. CHK seems have the most strength of the three. This is likely due to its huge, fantastic assets. Its recent announcement about the newly verified prolific nature of its Utica shale holdings probably contributed to this. With its new data, it believes those assets alone may add $15B to $20B to CHK's net worth. CHK is likely set to bounce upward. Both SD and EOG should bounce too. EOG seems particularly well positioned, both technically and fundamentally, to bounce.
All of these are worthy investments. CHK's assets make it the best long-term play. It should be a buy-and-hold investor's dream stock. It should get huge growth from its new oil field development; plus it will eventually get good growth from its natural gas fields as LNG makes exporting to China and India more feasible (and prices go up). EOG is financially more stable at this point in time. It should stand up well in a tough economic environment. It should still grow profits considerably. SD is also a good company, but its more tenuous near-term financial position could lead to it getting battered in a tough economic environment.