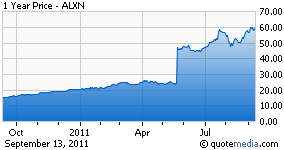 Alexion Pharmaceuticals (NASDAQ:ALXN) has bucked the recent downward trend in the market, rising from a price of $50.37/share on July 11th to a close of $58/share on Friday, September 9th. During the same time frame, the S&P 500 dropped from 1,319 to 1,154. In both the short-term and the long-term, Alexion has made investors a fistful of dollars, and its recent position near the top of the Investor's Business Daily 50 has put it on the map with regard to mainstream press coverage. This is a plus for momentum investors.
I've always contended that when a security is high in the pecking order of the IBD 50, it's only a question of time before it begins to move quickly down the totem pole. However, investors have been awestruck with this biotech trailblazer, and, with an expanding pipeline of promising products, it could remain elevated in a holding pattern, or, continue on its meteoric path. The company has oozed money since it was trading for $3.30/share back in 2004. Will it continue to advance at breakneck speed? The jury is still out, but, I believe this a solid company and worth a closer examination.
What carries the load for Alexion Pharma is its flagship drug Soliris (eculizumab). "Soliris, at $409,500 a year, is the world's most single expensive drug," according to Matthew Herper in a February 22nd, 2010, article in Forbes titled The World's Most Expensive Drugs. "This monoclonal antibody drug treats a rare disorder in which the immune system destroys red blood cells at night. The disorder, paroxysymal nocturnal hemoglobinuria (PNH), hits 8,000 Americans. In the inverted world of drug pricing, the fewer the patients a drug helps, the more it costs."
Alexion specializes in medications for ultra-rare diseases, which at almost a half a million dollars per patient, has jolted both the top and bottom lines. A September 1st, 2011, Investor's Business Daily posting by Marilyn Much, Alexion Gains Mileage Expanding Footprint explains: "Ultra-rare diseases affect fewer than 20 people per 1 million of population and for which there are few, if any, treatment options." In essence, you pay through the nose or suffer the consequences. This may mean life or death.
Unlike a controlled substance in a trial phase, Soliris has been on the market since 2007, and, most importantly, it works. CEO Dr. Leonard Bell points this out in a revelation in the April 21st, 2011, Q1 Conference Call: "Independent researchers earlier this month published two seminal observations in the journal Blood. First, that the survival of PNH patients treated with Soliris was markedly improved compared to a controlled population of PNH patients not treated with Soliris, and further, that survival of a Soliris treated patient was no different than the survival of a healthy, normal individual." It has been a win-win situation, for both the patient and patient investors.
The big knock on Alexion Pharma is that it only has one medication in production. Although Soliris is approved in over 35 countries and is making inroads in Turkey, Brazil and Russia, it can only grow so much. That scenario will change very quickly if the FDA green-lights further uses for the drug.
Going back to the Marilyn Much article in Investor's Business Daily: "Alexion isn't going to be a one-trick pony for long. The company expects the Food and Drug Administration to decide if Soliris can be marketed to treat another rare disease, atypical Hemolytic Uremic Syndrome, or aHUS, as early as this year's fourth quarter. The disease primarily affects kidney function. If approved, Alexion officials anticipate the U.S. launch of Soliris for aHUS during the same quarter."
Alexion hasn't overdosed on publicity. It primarily flies under the radar because it doesn't produce a mass-market product, but recently got some nice press from the E coli epidemic that swept Germany this spring. An article written by Gregory Seay on May 31st, 2011, in The Hartford Business Journal, titled Alexion Treating Europe's E Coli Victims, notes: "Alexion reports Tuesday in its 8-K filing to the Securities and Exchange Commission that its German subsidiary has been deluged with physician requests for eculizumab - branded as Soliris - to treat patients suffering from Shiga-toxin producing E. coli hemolytic uremic syndrome (STEC-HUS)."
The post goes on to say: "Alexion stressed in its filing that eculizumab is not approved for the treatment of STEC-HUS in Germany or elsewhere ... the drug maker said it is supplying Soliris at no charge to physicians who request it for STEC-HUS patients." What this means for the company is that if it is effective in treating the E coli, it could be put on the fast-track for approval here in the United States. This could open up the spigot for an additional revenue stream.
As is, the numbers on Alexion Pharma are extremely strong even without the additional revenue sources. Yahoo Finance earnings estimates gives the company $1.16/share for 2011, and a whopping $1.59/share for 2012. This breaks down to P/E Ratios of 50 for the current year and 36 going forward. With a five year CAGR (compound annual growth rate) of 36.12%, we get PEG Ratios of 1.4 for the 2011 and 1.0 for 2012. Those figures are very reasonable.
One caveat for the equity is the third quarter earnings which are supposed to be weaker than recent past performances. For the past 14 quarters, Alexion Pharmaceutical has had earnings growth higher than 15%. For Q3, which will come out at the end of October, earnings are slated to be just 12%. This may cause the wheels to come off the wagon, but just in the short-term. The company looks to be in good shape.
Analysts like this stock for a multitude of good reasons. Yahoo Finance analyst opinions break down to eight having a strong buy, six have a buy, and, seven say to hold the equity. Personally, I'm in the hold camp because September is historically a rough month for the market. And then in October, Alexion could get whacked on an earnings let down.
Disclosure: I have no positions in any stocks mentioned, and no plans to initiate any positions within the next 72 hours.
Additional disclosure: Am short the market with inverse ETFs.