Lockheed Martin (LMT) is a global security company that employs about 126,000 people worldwide and is principally engaged in the research, design, development, manufacture, integration and sustainment of advanced technology systems, products and services. LMT's business units are spread across four key groups -- Aeronautics, Electronic Systems, Information Systems & Global Solutions (IS&GS), and Space Systems.
Goldman Sachs upgraded Lockheed Martin from sell to neutral on Tuesday, September 13.. It made the upgrade on the basis that it believes LMT will seek to up dividend payments in preference to share buybacks. As I write this LMT is trading at $72.76 per share, holding the middle ground between its 52 week high of $81.48 per share, and its 52 week low of $64.71 per share. EPS ratio is 7.92, PE ratio is 9.10, and its current yield sits just above 4% at 4.1528. The Goldman Sachs' analysts predict that an increased dividend payout would increase its yield to between 5 - 6 % and potentially attract dividend income stream investors.
In terms of sustained trading performance, LMT has trading consistently within two key price bands, across each of its 90 day and 5 year trading periods.
90 Day Trading Price Range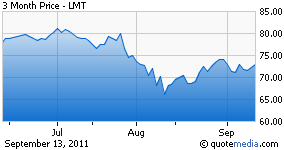 Over the last 90 days LMT has traded between upper and lower resistance levels of $80 and $75 (June and July) and upper and lower resistance levels of $75 and $65 (August and September). In my opinion it is currently testing its 30 day moving average and if it breaks $75 per share and can sustain this then it may mark the start of another slow successive growth period. Over its five year trading period LMT has traded between upper and lower resistance levels of $100 and $80 (2007 to late 2009) and upper and lower resistance levels of $80 and $65 (late 2009 to present 2011). If it can break the $75 barrier and remain there then the next test will be to start building share value to $80 and beyond.
5 Year Trading Price Range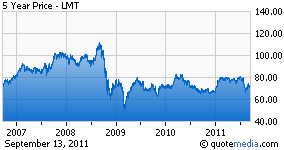 Since 1995 the company has been paying a steadily increasing dividend to investors, from $0.175 in 1995 to $0.750 in 2011. Of interest is that its dividend payments have maintained this upwards growth, even during the global financial crisis, much of which can be attributed to a steady stream of revenue generated from its defense business and US federal government agency programs. With increasing pressure from Government seeking strategic spending reform across defense and other government agencies, LMTs revenue stream will come under increasing pressure. It has already begun work to flatten its overheads and recently implemented staffing reductions within its Space Systems and Aeronautic business groups.
Its current debt to equity ratio is 1.53, an increase from 1.35 in its 2010 Annual Report. The last three years has also seen a slight decrease on Return on Invested Capital, from 21.7% in 2008, 19.9% in 2009, to 17.9% in 2010. In its 2011 Q2 financial results LMT's management indicated that sales had increased by 2% for the quarter, and earnings per share had increased by 11% for the same period. They also sought to clarify funding cost over-runs ($900M) predicted by government in its assessment of the F-35 Joint Strike Fighter (JSF) program. Management's explanation of the JSF funding issues can be viewed in the 2011 Q2 transcript.
In terms of the pressure from government to reduce overall defense and government agency costs, this needs to happen given the government's current financial balance sheet, but it will not happen where soldiers and security specialist lives are placed at risk (War on Terror), and it certainly won't be at the expense of the USA surrendering its security technological edge over other key foreign agencies and military powers. In addition to this, the types of complex security programs that LMT undertakes are generational projects, in terms of design and development, manufacturing and delivery, maintenance and through life support. So while it will experience funding pressures in the short to medium term; its revenue cash flow is not going to dry up overnight. It needs to manage these pressures by controlling program and labor costs more tightly, reducing overheads, and making itself for attractive to longer term investors (particularly those seeking dividend growth and income streams as part of a conservative blue chip investment portfolio), which is exactly the reasoning behind Goldman Sachs upgrade for LMT stock.
While the company has large throughput from defense and government agencies, its customer base is global, and spread wider than the immediate dependency of the United States government, which should assist it mitigating its revenue risk in the short to medium term. While it maintains its dividend growth and manages to balance debt against sales and revenue, then I believe it is a suitable stock for those investing with a long term (2-3 year) timeframe.

Disclosure: I have no positions in any stocks mentioned, and no plans to initiate any positions within the next 72 hours.