The McGraw-Hill Companies (MHP), a 123-year old publishing giant, just recently agreed to be split into two separate public entities: McGraw-Hill Markets and McGraw-Hill Education. Management expects sales to be $4B for the former and $2.4B for the latter in 2011, implying a forward multiple of 3.6x sales.
Earlier in the year, shareholder activists Jana Partners and the Ontario Teachers' Pension Plan Board-- which collectively own 5.62% of McGraw-Hill-- notably pushed the company to split into four businesses as a way of unlocking value. In the presentation filed to the SEC, Jana featured this telling visual: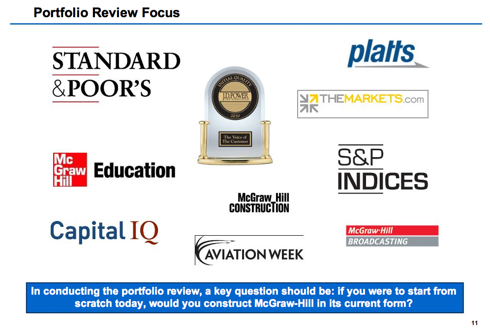 While this is in many ways reminiscent of Bill Ackman's friendly breakup of Fortune Brands (FO), there are several things that make this a different strategic activist play. Jana's Rosenstein has been requesting that McGraw-Hill also add value through increasing share buybacks, reducing corporate overhead and costs, and hiring an independent oversight figure for the financial business.
McGraw-Hill appears to be taking an "all of the above" approach in regards to Jana's requests. In addition to splitting into two companies, management has agreed to increase share repurchases to $1B for the year, to review its current $1B cost base, and to hire a new CEO for McGraw-Hill Education. The company has already replaced the head of its S&P business. And all of this comes from a company without both a poison pill and a classified board.
While Jana and Ontario Teachers' campaign was successful, the true measure of "success" for activist investors is whether shareholder value increases and not just whether short-term objectives were completed. What follows is a rough analysis of the publishing conglomerate's breakup value.
For the S&P bond-ratings business in 2012, I estimate approximately $830M in EBITDA. For McGraw-Hill Education, as well as M-H Financial: $410M. Information and Media: $250M. Using conservative multiples of around 9.5 and accounting for revenue and cost synergies, my model gets a cumulative equity value of around $52/share.
The split appears to be a step in the right direction for McGraw-Hill. In particular, the Justice Department's investigation of Standard & Poor's downgrade of U.S. debt is a stark reminder about the drawbacks of housing a financial business with an education business.
While I was originally gloomy about the prospects of McGraw-Hill's education unit, I have more optimistic projections viewing it as a standalone company. The education business' revenue has fallen for three consecutive quarters and is down 18% in the 2Q of 2011. It has suffered from low margins while mitigating the value of the iconic information provider. With new management and a new head, McGraw-Hill Education can focus on cutting costs and increasing volume. Budget cuts will, however, make the ride more difficult for the business going forward.
As for McGraw-Hill Markets… I am not overly concerned with the current investigation. S&P and M-H Financial were up 19% and 14%, respectively for the 2Q of 2011. It is a strong business driven by sustainable fundamentals that will perform even better without the educational unit.

Disclosure: I have no positions in any stocks mentioned, and no plans to initiate any positions within the next 72 hours.