Amid last week's volatility, ETF traders shifted funds moderately towards Commodities and Bond funds and away from traditional growth and blend equity sectors.
Fund flows in the universe of speculative short and leveraged ETFs were mixed last week. While the overall trend was for moving risk capital into bear-oriented funds and cashing out of bullish funds, there were notable exceptions.
Short Equity: Several bear funds, such as SH (short S&P 500), SDS (2x short), and RWM (short Russell) received large net inflows of new capital in the volatile week, potentially as traders hedged net long portfolios.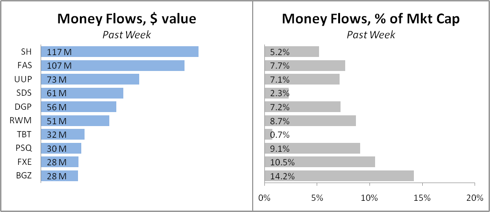 Click to enlarge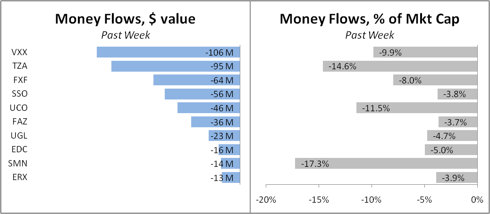 Click to enlarge
Disclosure: I have no positions in any stocks mentioned, and no plans to initiate any positions within the next 72 hours.