The warehouse space, along with other real estate sectors, went through a very deep recession in 2008. As a consequence, the supply/demand situation of the sector is now exhibiting interesting properties. Supply has been constrained for over two years. Growth has been less than 1% per annum and has not been able to cover obsolescence. Meanwhile, demand continues to see plans for growth due to reconfiguration of distribution systems in order to achieve greater efficiency and lower costs.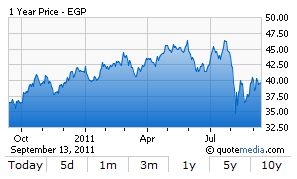 EastGroup Properties (NYSE:EGP) is a player that stands to benefit from this. EastGroup Properties is an industrial property real estate investment trust. Its portfolio encompasses 247 industrial properties and one office building with 28.5 million square feet of space. Of this, the end market exposures are 76% business distribution, 19% bulk distribution and 5% business space. EGP's facilities are located in the sunbelt regions, predominantly focusing in Florida, Texas, Arizona, and California, which are conceived as supply-constrained.
The typical business distribution space is between 5,000 to 50,000 square foot range in multi-tenant buildings with a depth of 200 feet or less, clear height of 20 to 24 feet, office finish of 10%–25%, and truck courts with a depth of 100–120 feet.
The company has a diverse customer base. No single property makes more than 10% rental revenues and the top 10 customers bring in less than 10% of total revenues. Some key customers are United Stationers Supply Co, Universal Wilkes Company, U.S. Postal Service, International and Price Transfer.
The company has a solid development plan that can yield a further 5 million square feet of property. Recent acquisitions include 31.5 acres of land in Arizona, which is expected to increase leasable square footage by 420,000 square feet. The company is also negotiating a new area in Houston, which will add an estimated 1.6 million square feet of additional development capacity. This brings the pipeline to around 7mn square feet, which is 25% of the current portfolio.
While lease renewals, tenant bankruptcies, development and acquisition strategies, rates and the economy are typical risks of an investment of this type, EGP offers a cushion to investors with its attractive yield at 5.3%.
Furthermore, the development potential is expected to kickstart revenue growth, which is slated to hit mid-single digits from flat growth; that yields a double digit operating income growth and over 25% net income growth in 2012.
For this kind of profile, the company trades at an attractive 13x forward EPS. The company's balance sheet and gearing are within market norms as debt/total assets sits comfortably close to the industry average at 70%. Funds from operations cover the dividend at 1.4x rate.
Disclosure: I have no positions in any stocks mentioned, and no plans to initiate any positions within the next 72 hours.