By Brian Sozzi
I want to warm up to Pier One (NYSE:PIR) ahead of earnings this Thursday, really I do. The company has the following positive characteristics that retailers of any kind would love:
Double-digit percentage comparable store sales growth (+10.8% in the pre-announced quarter)
Merchandise margin expansion on top of strong year earlier comparisons.
Inventory well controlled relative to sales growth.
Positive reception to seasonal fall goods...in August.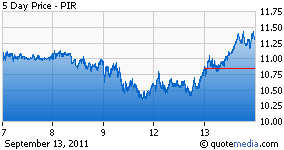 The stock isn't terribly expensive at 10.6x forward earnings (next calendar year), or is it? Earnings for this year are expected to decline in each of the last two quarters due to abnormally strong results in calendar 2010. Now, the company's merchandise margin expansion is cooling from historical levels, ditto the comp trend. Combine these factoids with analyst estimates that have run following the pre-announcement on September 1, macro hiccup in August, and stepped up pace of investment by Pier One - and further near-term earnings upside looks under wraps.
Price action:
Marginal EPS beat pre-announced on September 1 was not rewarded by the market; the stock has basically been flat since.
Since the June 16 earnings release [see transcript], stock is down slightly from the intraday high of $11.51 despite no glaring red flags in the report.
That said, outside of the dollar stores, the retail sector continues to be missing conviction daily. The best acting name is Ugg maker Decker's Outdoor (NASDAQ:DECK). This moment in the calendar in 2010 is when Decker's Outdoor shares began their robust ascent into year end, rising 61%. Just saying.
Disclosure: None.