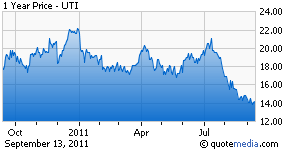 Universal Technical Institute (NYSE:UTI) is the largest provider of associate degrees, diplomas and certificate programs in the areas of auto, diesel, collision repair, motorcycle and marine technology. The company operates 11 campuses and 20 manufacturer-specific training centers, enrolling over 16,000 students.
KEY POINTS
The automotive repair employment market is attractive and growing. The U.S. Department of Labor expects this market to expand between 5% and 7% by 2018.
Automotive employment (if not education) is acyclical or counter-cyclical, according to the DOL, as demand continues or even increases when the purchase of new cars slows.

Management sees the training of under-qualified technicians and skills upgrade training in the automotive and diesel sector as a significant untapped opportunity. Particularly in diesel, where the company has only about a 1% market share, there is potential for future expansion.
UTI has close OEM relationships with companies such as BMW, Ford (NYSE:F), Toyota (NYSE:TM), Porsche (OTCPK:POAHF), Mercedes, Honda (NYSE:HMC), Volvo (OTC:VOLAF), and Nissan (OTCPK:NSANF), among others, allowing it to offer a number of manufacturer-sponsored, advanced training programs and electives to its students. The caliber of these partnerships, which are far more extensive than those enjoyed by other publicly traded operators, is an indication of the reputation UTI enjoys in the marketplace. They also enhance the appeal of the program to prospective students, parents, and employers.
While schools offering automotive and motorcycle technology programs require a high capital investment and take longer to reach profitability, these program areas have strong pricing power and therefore generate higher margins than typical IT or business programs.
The stock's valuation looks compelling. An 18x multiple of analyst's 2012 EPS estimate together with $1.50 in cash per share, provides support for significant upside from the current price level.
Disclosure: I have no positions in any stocks mentioned, and no plans to initiate any positions within the next 72 hours.