With interest rates near historic lows and savings accounts yielding essentially zero, investors seeking a steady source of income from investments may want to consider preferred stock exchange traded funds.
Preferred stocks have generated yields of 6% on average, according to Gail MarksJarvis for HeraldNet.

Preferred shares typically don't carry voting rights but often have a higher dividend than common stock.
Potential investors should be aware that preferred stocks are not guaranteed investments and may be subject to greater risks as compared to bonds – there is a chance that an investor may not receive dividends or the principal back if the issuer gets into trouble. Additionally, preferred stocks may also diminish in value if interest rates rise.
However, they are not as risky as common stocks. Preferred stocks pay income on a regular basis and may appreciate or depreciate over time.
Financial planner Gregory Zandlo believes in holding preferred stocks in retirees' portfolios as a buy-and-hold investment.
"You wouldn't want to have to sell it" during periods of high volatility, Zandlo said. "My clients hold for income and don't get out."
In the event an issuer goes bankrupt, an investor would lose his or her original investment. However, with ETFs, investors would invest in a basket of preferred stocks and minimize any potential risks found in any single company. It should be noted that most preferred stocks are issued by financial institutions, and there are some lingering financial concerns, especially in the Eurozone.
The largest ETFs in the category include PowerShares Financial Preferred (NYSEARCA:PGF), PowerShares Preferred (NYSEARCA:PGX), SPDR Wells Fargo Preferred Stock (NYSEARCA:PSK) and iShares S&P U.S. Preferred Stock (NYSEARCA:PFF).

PowerShares Financial Preferred ETF (PGF)

click to enlarge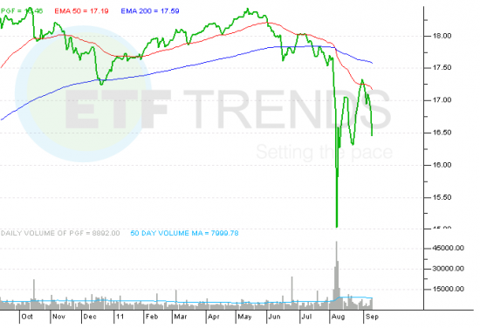 Max Chen contributed to this article.
Disclosure: None