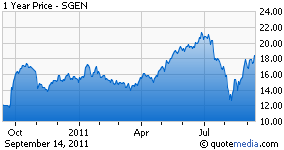 It has already been noted that insider buying at many biotech firms has been very active in these markets, but the actions of one buyer in particular have caught my attention.
His spending has been off the charts the past few weeks, particularly his appetite for shares of Seattle Genetics (NASDAQ:SGEN); the firm engaged in development and commercialization of monoclonal antibody-based therapies for the treatment of cancer and autoimmune diseases.
SGEN was founded in 1998 by Clay B. Siegall, who as CEO sold shares for as much as $20.66 per share in July.
On the other hand, Felix Baker, a director and already a 10%-plus owner in SGEN has been buying shares aggressively since mid-August, putting in big buys worth $275,723, $17,925,663, $2,206,641 and $30,285, respectively, under various entities registered to him.
We know that Seattle Genetics plans to charge $13,500 per dose of ADCETRIS, the company's Hodgkin lymphoma medicine. But therein lies the problem. Investors started dropping shares fearing that the company would follow cancer drugs like Dendreon Corp.'s (NASDAQ:DNDN) Provenge in disappointing early sales.
ADCETRIS became the first approved oncology treatment for the disease in three decades after the U.S. Food and Drug Administration granted accelerated approval of ADCETRIS for two indications: (1) the treatment of patients with Hodgkin lymphoma and (2) the treatment of patients with systemic anaplastic large cell lymphoma (ALCL) after failure of at least one prior multi-agent chemotherapy regimen.
When the drug was tested patients were given ADCETRIS in eight infusions every three weeks. Given the announced price tag, that would end up costing a patient a total of $108,000 per course of treatment.
"There is a general concern about owning any company into a drug launch, and the recent blowup of Dendreon does not help," Jason Kantor, an analyst with RBC Capital Markets told a San Francisco newspaper. "General concerns relate to reimbursement, uptake, execution and expectations."
"Dendreon has a drug for prostate cancer that serves millions of American males," he said. "Seattle Genetics has a niche oncology product for a much smaller market."
Browsing through the BioMedReports Trade Catalyst and FDA Calendar, I see four upcoming milestones listed for the company, but none as big as the planned fourth quarter launch of ADCETRIS in the U.S. and abroad.
Seattle Genetics has U.S. and Canadian commercialization rights and the Takeda Group has rights to commercialize ADCETRIS in the rest of the world. Seattle Genetics and the Takeda Group are funding joint development costs for ADCETRIS on a 50:50 basis, except in Japan where the Takeda Group will be solely responsible for development costs.
Interestingly, as the markets have been trading sideways and investors have been more cautious, Baker has also been doing even more heavy buying as an insider for two other firms:
First, Pharmacyclics Inc. (NASDAQ:PCYC), the biopharmaceutical company focused on designing, developing and commercializing therapies whose pipeline includes a treatment for chronic inflammatory diseases like rheumatoid arthritis and lupus, the treatment of pancreatic cancer and gastric/colon cancer, and a treatment of relapsed and refractory lymphoma and solid tumors, among others. Interestingly, BioMed Report's FDA calendar shows more than a handful of catalysts, mostly related to clinical study milestones that appear to indicate that PCYC's clinical programs are all pushing ahead with plenty of momentum.
And second, he's been buying a lot of ViroPharma (VPHM) whose core focus is on providing patients and physicians new therapeutic alternatives for great unmet medical needs and whose product folio includes Vancocin Capsules for treatment of antibiotic-associated pseudomembranous colitis; Cinryze (C1 Esterase Inhibitor - human) for routine prophylaxis against angioedema attacks in adolescent and adult patients with Hereditary Angioedema (HAE) and others. ViroPharma has collaborations with Halozyme Therapeutics Inc., Biotest AG, MicroDose Technologies, Inc, Lev Pharmaceuticals, Inc., GlaxoSmithKline, Wyeth, Eli Lilly and Company, Medidata Solutions, Norwich Pharmaceuticals Inc., etc. The BioMedReports' FDA Calendar shows one upcoming catalyst for the firm as they anticipate initiating a Phase III study in the later part of 2011.

On Monday, Seth Jayson of MotleyFool warned loudly that ViroPharma might burn investors, stating: "Investors should watch the top line carefully during the next quarter or two. For the last fully reported fiscal quarter, ViroPharma's year-over-year revenue grew 18.2%, and its AR grew 41.8%. That's a yellow flag."
It will be interesting to see who was right about buying at these price levels. The reporter and the shareholders or the insider.
Disclosure: I have no positions in any stocks mentioned, and no plans to initiate any positions within the next 72 hours.