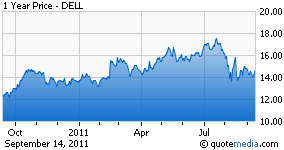 Back in March of this year I questioned why Dell (NASDAQ:DELL) was not using its huge cash hoard and ample cash flow to buy back shares. At that point the company had ceased its buyback program and although the company was clearly cheap on a free cash flow yield basis I worried about the cash going into a stupid acquisition instead of a buyback.
I shouldn't have been worried. Almost to the day my article came out Dell got busy retiring shares. In just the second quarter alone Dell bought back 3% of the shares outstanding.
And now Dell has announced approval of another $5 billion share repurchase program.
A person really needs to look at the numbers to appreciate how many shares can be repurchased at the current bargain share price.
According to the press release linked to above Dell has $16.2 billion in cash and cash equivalents at the end of the second quarter. On top of that Dell generates about $4 billion per year in free cash flow from operations.
Let's assume that in the next 12 months Dell completes the existing $2.16 billion repurchase plan that is already authorized AND the newly announced $5 billion purchase plan. That would require just over $7 billion of cash. $4 billion of that could come from free cash flow generated from the business and another $3 billion by dipping into the cash hoard.
$7 billion of share repurchases at the current stock price of roughly $14.50 would result in the retirement of $7billion/$14.50 = 483 million shares.
With a fully diluted share count of 1.87 billion a repurchase of 483 million shares would be a 25% reduction the outstanding share count. And this isn't a pie in the sky scenario. Dell could do it while barely dipping into its net cash position.
How would this impact the cash flow attributable to each shareholder? At the current run rate of about $4 billion with 1.87 billion shares outstanding free cash flow per share is $4 billion / 1.87 billion = $2.14 per share.
If Dell repurchased 483 million shares that would reduce the share count to 1.38 billion and increase free cash flow per share to $4 billion / 1.87 billion = $2.88 billion. That is a 35% increase in free cash flow per share in 12 months with no change to the business itself.
Normally I'm not as big of a fan of share repurchases as many investors are. Yes it can be very accretive but it also weakens the company financially as the cash simply disappears and no asset takes its place. However when the shares that are being bought back are valued at about four times free cash flow AND the company doing the buyback is flush with cash and generating gobs of it every year then share buybacks are a no-brainer.
Ironically, if Dell sticks with this share buyback plan for the next couple of years the single best thing that could happen for shareholders if for Dell's stock price to stay low so that as many shares as possible can be repurchased.
We see share buybacks by companies all of the time. When the buyback is done with careful consideration of the valuation of the shares being bought it is a tremendous way to create shareholder value. Unfortunately, most of the time the share buybacks by American corporations are done at exactly the wrong time which is when the economy looks rosy and their share prices high.
The Dell Board of Directors gets a "job well done" from this shareholder.
Disclosure: I am long DELL.