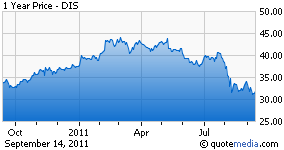 Disney World Resort, Disney Channel, ESPN, ABC Network, Pixar, vacation clubs, cruises, and of course Mickey Mouse -- these are just some of the things that has made The Walt Disney Company (NYSE:DIS) arguably the most recognizable brand in America. And Mickey Mouse is travelling across the globe -- expanding its timeless distribution of movies and resorts into emerging markets, particularly in Asia.
I am bullish on Disney, because I see it as long-term value stock. Firstly, it has a sustainable grip on its market and is well diversified across five key offerings: media networks, parks and resorts, studio entertainment, consumer products, and interactive media. This is an exceptional business mix with equally exceptional synergistic value. Put differently, the whole is much better than the parts. That is not to say, however, that Disney would not perform well if any of these divisions were suddenly spun off. It would -- Disney excels across the board.
Accordingly, 3Q 2011 results beat expectations with 7% growth in sales and were generally impressive all around. Consumer products and interactive media stood out at a 13% and 27.4% respective gain from last year's 3Q. Over the next two years, I forecast strong growth performance from all categories -- including media networks at around 8.6%.
If you have ever wondered how much percent of Disney's revenue comes from parks & resorts or media entertainment, see the pie chart below. The numbers come from Disney's 2010 annual statement when the company had approximately $38.1B in sales.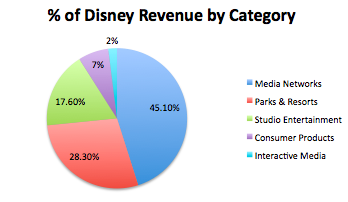 Of the $17.2B in revenue generated from Disney's media business, slightly more than two-thirds came from cable networks. The other third came from broadcasting. As for the $10.8B in revenue generated from parks & resorts, interestingly, an impressive 22% came from international markets. Moreover, international sales increased by 6% in parks & resorts and was virtually flat for domestic in 2010. As one can imagine, this category has low operating margins at 12.2%.
It is particularly noteworthy that the company grew internationally in resorts. This is the second chief reason I am bullish on Disney. While the company has a worldwide appeal, I believe it has incredible potential to tap much further in the emerging markets. The timelessness of the brand can be made compatible in other nations. Disney's stellar management has taken steps in the right direction over the years.
To review, Disney has 51% ownership of Disneyland Paris, 40% ownership of Euro Disney S.C.A., and a 47% ownership of Hong Kong Disneyland Resort. It has licenses for Tokyo Disney Resort in Japan. It operates 211 stores in North America, but also 104 stores in Europe and 48 more stores in Japan. Its media business stretches across geographic borders. Pixar, Touchstone Pictures, Dimension, and Walt Disney Pictures have captivated audiences worldwide. The company even distributes the hit Japanese classic, "Spirited Away." While this is a nice start, Disney still nevertheless has a long way to go before it has the sort of appeal that it does in America.
Disney also offers a hidden bonus: its real estate. The iconic Walt Disney Resort in Orlando, Florida sits on 25K acres (most of it unoccupied). For an investor looking to get involved in different asset classes, Disney offers a simplistic solution. This real estate is enhanced by 17 owned and operated hotels on the Orlando resort and 3 more on Disneyland Resort. This portfolio will be enhanced by international expansion, which will give investors nice exposure to real estate in emerging markets. In a stagnating US economy, this reduces much of the risk otherwise inherent in Disney.
Cash flow per share was strong at around $3.65--much higher than that of the market overall. Top-line growth is also solid for such a large company: I estimate 8% to $41.1B from 2010 to 2011 and 6.3% more the following year. Estimates for EPS growth is 20.3%, 16.9%, and 15.1% for 2011, 2012, and 2013, respectively. That puts EPS at $3.35 for 2013.
In conclusion, I believe that Disney has tremendous untapped potential in the global market and is heading the right direction. It is well diversified, has great management, and is undervalued. It currently trades at 13.3x past earnings and 10.8x forward earnings. With a 36.9% discount to its consensus target price of $43.04 and tremendous upside, Mickey Mouse is a brand to strongly consider.
Disclosure: I have no positions in any stocks mentioned, and no plans to initiate any positions within the next 72 hours.