The struggling BlackBerry-maker, Research in Motion (RIMM) has recently been targeted by Canadian activist investor Jaguar Financial Corp. Jaguar, which owns a little less than 5% of RIM, joins NEI Investments in reforming the company that has lost nearly half of its value.
Earlier, NEI Investments pushed RIM to separate the role of Chairman and CEO and to have an independent director for the role as Chairman. They withdrew their proposal and instead agreed to RIM establishing a Committee of independent directors to review this basic best practice of corporate governance. RIM is still "researching" the idea.
"Our call is for (RIM's board) to take action; no more study, take action. Take action now, before it's too late."
The activist has proposed a complete sale of the business or a spin off of its patents. All of this comes amidst a patent buying binge in the technology industry. The proposal is also reminiscent of Carl Icahn's push for a breakup of Motorola Mobility (NYSE:MMI), which was ultimately sold to Google for $12.5B recently. At the beginning of Icahn's activist campaign, MMI was suffering from declining sales in its once-popular Razr phone. RIM may very well be looking at MMI as a case study in how to maximize shareholder value.
With RIM selling at 4.8x past earnings and 5.8x future earnings, no debt, and EV trading at 2.4x EBITDA, the company is cheap. My concern with RIM operating independently is that its decline in sales has negatively impacted its liquidity in a way that will make it difficult to produce new innovative products. Even though the company is planning to release a QNX phone early next year, heavy costs in creating the cutting edge technology will make it difficult to compete against the likes of Apple's iOS and Google's Android. However, if RIM were to be bought out, the parent could use the value inherent in the acquisition's patents to grow. Apple has $28.4B in cash and no debt while RIM has an enterprise value of $13.3B.
Starting an auction process could reveal the synergistic worth of RIM's assets. Co-CEOs Lazaridis and Balsille will likely face ongoing shareholder pressure if they fail to make a decision shortly. Licensing products to developers for new applications could be one option. The company has already cut back on operations and laid off 2K workers. It will need to do more than that to avert its free fall.
According to my own estimates, in the situation that management fails to act, EPS will decline by approximately 40% to $3.80 from 2011 to 2014. EPS Consensus Estimates are illustrated below: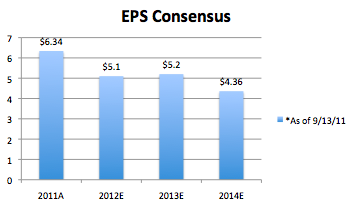 Disclosure: I have no positions in any stocks mentioned, and no plans to initiate any positions within the next 72 hours.