By Justin Dove
Clean Energy and Spy Bots
The biggest problem with most clean energy companies is the speculation involved. Most aren't profitable, at least not yet, especially in the electronic vehicle (EV) market. It's a guessing game trying to figure out what products or brands will take off.
For instance, a company such as Ecotality (Nasdaq: ECTY) could end up being a future leader in EV charging systems. It announced last Thursday that it was chosen to install 200 EV charging stations around the Houston area. But the company's tiny market cap of $53.96 million and lack of profitability makes Ecotality a relatively shaky investment. Its beta of 2.38 shows its more than twice as volatile as the market as a whole… and the market as a whole hasn't been very stable.
Plus, nobody really knows how the EV market will shake out. There are certainly some who feel they will never directly compete with gas-guzzlers – at least not in our lifetimes. Then there's the presence of giants such as General Electric (NYSE: GE) or Siemens (NYSE: SI) in the industry that could blow everyone out of the water if and when it's profitable to do so.
That's why AeroVironment (Nasdaq: AVAV) is such an interesting play on the EV market.
Spy Bots!
AeroVironment designed the very first commercial EV prototype, the EV1, for General Motors (NYSE: GM) back in the mid 1990s. But the EV isn't the company's breadwinner. The biggest moneymakers for AeroVironment are the unmanned aerial vehicles (UAVs) they design and build for the U.S. military.
These aren't your grandfather's drones, either. One of the most sophisticated is called the Nano Hummingbird. It's a remote controlled robotic hummingbird with a camera that weighs less than an AA battery. It can fly in every direction, just like a real hummingbird.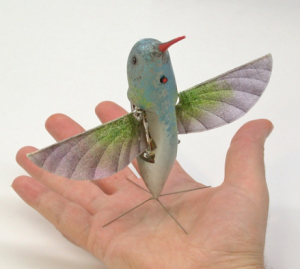 (Courtesy: Wikipedia)
Another is called Shrike, which is a quad-rotor helicopter that takes off and lands vertically. It can hover and record video for about 40 minutes or perch on a surface and record for hours.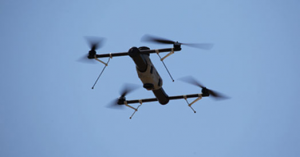 (Courtesy: AeroVironment)
Then there's the Raven, which AeroVironment just signed a $15-million deal with the U.S. Army to provide. The Raven is a remote-controlled airplane with high-powered cameras. From AeroVironment's website:
With a wingspan of 4.5 feet and a weight of 4.2 pounds, the hand-launched Raven provides aerial observation, day or night, at line-of-sight ranges up to 10 kilometers. The Raven delivers real-time color or infrared imagery to the ground control and remote viewing stations.
But perhaps the most Orwellian UAV by AeroVironment is the Switchblade. The U.S. Army recently paid $4.9 million for the first batch, and for good reason. Imagine surveillance UAVs that are shot out of a rocket launcher and can be controlled by remote. When the controller spots an enemy, it can lock onto the target, ram it and explode. It's almost scary to think these types of things are already possible.
There are plenty more, too. But there's a fear that the government will curb military spending in upcoming years. That would certainly hurt AeroVironment's bottom line… or would it?
EV Charging
If AeroVironment is lucky, it can replace any lost revenue from its UAV business with an expanding market for EV charging terminals.
When Nissan and BMW needed home charging systems for the EVs that are being released, both companies came to AeroVironment.
NRG Energy (NYSE: NRG) teamed up with AeroVironment this year in an effort to install 70 charging stations in the Dallas/Ft. Worth area by 2012. And Oregon recently employed AeroVironment to install 22 more charging stations along its most heavily traveled corridors. AeroVironment has a network of 2500 stations in 25 states, and the list continues to grow.
There's hope that once a solid infrastructure is set up for EVs, the market will start to improve. Then, AeroVironment could have a leg up on any competitors.
AeroVironment's Bottom Line
But that's no sure thing, and until then AeroVironment's bottom line will be driven mainly by its successful UAV business.
Its Q1 fiscal 2012 report released last week showed increased revenue for the fourth straight quarter. A $65.5-million contract in August for its Puma AE UAV helped drive profits up 62 percent over Q1 of 2011.
Sales in its UAV business improved $18.8 million over the same quarter last year and the EV solutions sector improved by $5 million.
Those are pretty good numbers for the stock that's fallen more than 20 percent since July.
Department of Defense spending and the EV market are no sure things going forward. But with a diversified business plan and recent innovations in both markets, AeroVironment may be a better option than pure plays in either field.
Disclosure: Investment U expressly forbids its writers from having a financial interest in any security they recommend to our subscribers. All employees and agents of Investment U (and affiliated companies) must wait 24 hours after an initial trade recommendation is published on online - or 72 hours after a direct mail publication is sent - before acting on that recommendation.