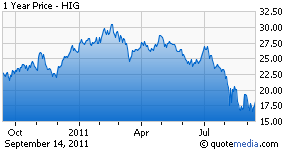 Hurricane Irene didn't just leave millions in the dark for days and destroy roads in Vermont, creating islands out of mountains. It left a potential $175 million hole in The Hartford's (NYSE:HIG) wallet.

The Hartford Financial Services Group's August 4, 2011 earnings call may be recent history, but the data provided are already out of date as late-August's Hurricane Irene cut an unprecedented path through western New England, devastating parts of Connecticut, western Massachusetts and most of the state of Vermont. Five million customers in Massachusetts lost power, and as much as 33% of the states of Vermont and Connecticut experienced electricity loss.

Business insurance claims may push the cost of Irene even further, as Vermont's network of B&Bs, inns, restaurants and retail establishments that rely on fall leaf peepers (and their tourist dollars) stand to lose millions if infrastructure can't be rebuilt in time for the 2011 fall foliage season. That is unlikely given that it's starting in the next few weeks.

The $175 million price tag eats into the Hartford's third quarter earnings and overshadowed a positive PR push regarding new service offerings for World Wildlife Federation members. Shares fell by more than 20% post-Irene, rebounding slightly in the past week, but HIG stands at 34% below share price at this point last year.

Planned philanthropic projects, like a $65,000 grant for the Mark Twain House & Museum in Hartford, Conn., help boost the financial services company's public profile, but can't boost earnings. For now, this is one stock to hold or sell.

Disclosure: I have no positions in any stocks mentioned, and no plans to initiate any positions within the next 72 hours.