Pro Shares Ultra Pro S&P 500 (NYSEARCA:UPRO) is a triple leveraged fund that seeks a 300% return on the performance of the S&P for a single day. Conversely, the Pro Shares Ultra Pro Short S&P 500 (NYSEARCA:SPXU) seeks a triple leverage or 300% return on the inverse performance of the S&P 500.
Several days ago I called for a break under 1140 on the S&P as a buy on SPXU. While my thesis on this trade remains intact I must admit that China stepping up to buy Italy's bonds changed the timing of this trade. The euro, which had been sold off at the end of last week, has finally found some stabilization as we moved through Tuesday's trading session.
Recently, risk aversion seemed likely to be a major theme. While China has sent mixed signals regarding buying Italian bonds, Italy's yields jumped yet again, with the 10-year bond hitting 5.75% at one point. That showed weaker than expected demand and higher borrowing costs for the Italian government.
However, we also had positive development in the eurozone sovereign debt crisis as German Chancellor Angela Merkel came out and said that Germany would not allow an uncontrolled insolvency in Greece. While that gave yesterday's market some optimism that the core of Europe may again put their weight behind Greece I believe that Greece has defaulted and this is some kind of political game that is being played. The yield on the 10-year Greek bond is 76%. If it weren't so sad it would be laughable. What Greece needs to do is to ensure France that they are able to meet their deficit targets spelled-out in the second bailout from July 22nd. That would include the privatization of state assets as well as increasing the tax intake of the government and spending cuts. So far Greece has had to impose a new $2 billion levy on real estate to make up for the shortfall the ECB had seen on its books. I can only surmise that the real estate levy went over like a lead balloon with the Greek population.
The fear of contagion is a domino effect in which European banks with exposure to Greece, Portugal, Ireland, Italy and Spain have come under the microscope and this has contributed to a lot of weakness of European equities and the euro. As I wrote earlier, we had reports that China may come and help Italy by investing in the country or by buying its bonds. However, so far that story does not provide any kind of monetary figure for any Chinese support, and my feeling is that the Chinese are more interested in buying Italian assets than they are buying the risky Italian bonds. Italy is actually a country that is too big to save.
I conclude that market investors have firmly placed themselves on the side of believing that a Greek default is almost a sure thing or in a state of full blown denial.
On the home front the Federal Reserve weighs yet again how to try and stimulate the economy. It was reported in yesterday's Wall Street Journal that a staggering 46% of the population fall under the Fed's guidelines of being below the poverty line. The report also stated that the number would be higher but many college grads have chosen to move back home with their family.
Let's face it, the economy is not getting better any time soon. The president's jobs bill was a great speech but with the partisan politics being played out in Washington, I don't see this ending well.
Yesterday the market showed some green on the board and that was a welcome sight but I am sticking with my trade of SPXU. Please see the chart below.
Click to enlarge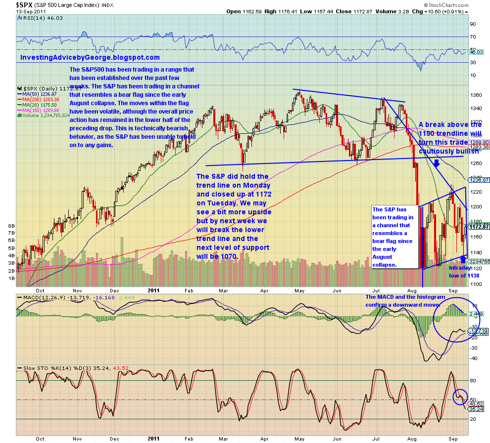 While on Monday the S&P 500 did break the trendline, intraday, it was unable to hold below $1140.00 and closed at $1161.00. A break above the 1190 trendline will turn this trade cautiously bearish. Until this happens I will remain long SPXU.
Yesterday the market traded in a tight range area and closed at 1173. I know this was based on rumors that the Chinese will step in and start buying the euro debt. Here's a news flash. The only thing the Chinese are interested in are the assets in Europe. Once everyone figures this out, the market will sell off with a vengeance. Rather than bemoan the fact that China threw a knuckleball at me and it threw my timing off, I look at this as an opportunity to acquire more shares at a lower price. By next week, I believe that the S&P 500 will be retesting the 1140 lows and when it breaks the trendline and holds it, I will know that my thesis was right. In the meantime I see a bit more upside on Wednesday and Thursday and will use these days to add to my position.
Disclosure: I am long SPXU.