A few years ago I passed on Amazon.com (NASDAQ:AMZN) because I didn't think U.S. consumers were buying more books. What could the growth possibilities be? I had no idea the company would expand its product offerings the way it did. Lately I wondered if it still had some growth left. The stock has been doing quite well as this Barchart chart reveals:
Click to enlarge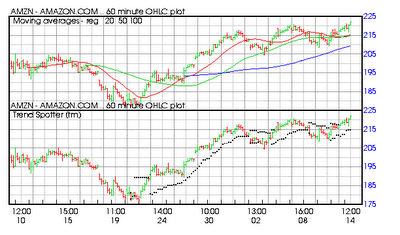 Amazon.com operates as an online retailer in North America and internationally. It operates retail Web sites, including amazon.com and amazon.ca. The company serves consumers through its retail Web sites and focuses on selection, price and convenience. It also offers programs that enable sellers to sell their products on its Web sites, and their own branded Web sites. In addition, the company serves developer customers through Amazon Web Services, which provides access to technology infrastructure that developers can use to enable virtually various type of business.
Further, it manufactures and sells the Kindle e-reader. Additionally, the company provides fulfillment; miscellaneous marketing and promotional agreements, such as online advertising; and co-branded credit cards. Amazon.com, Inc. was founded in 1994 and is headquartered in Seattle, Washington. (Yahoo Finance profile)
Factors To Consider
Barchart technical indicators:
64% Barchart technical buy signal
Trend Spotter technical buy signal
Above its 20, 50 and 100 day moving averages
Eight new highs and up 8.77% in the last month
Relative Strength Index 60.29% and rising
Barchart computes a technical support level at 214.88
Recently traded at 219.95 which is above its 50 day moving average of 208.24
Wall Street brokerage analysts predict sales will increase by 42.60% this year and another 32.30% next year.
Earnings are forecasted to decrease by 22.10% this year but increase by 63.50% next year. The five-year annual earnings growth rate is expected to be 27.48%.
Most of the decrease in earnings is due to some technology upgrades that are capital intensive.
These consensus numbers resulted in 10 strong buy, 11 buy and 15 hold recommendations for clients to ponder.
Sales are really growing and Amazon may soon be selling in China. The real growth may come when they enter the emerging growth countries.
45% of all sales are now to offshore locations.
The company enjoys an A+ financial rating.
General investor interest:
This is a popular stock on the watch lists of the readers of Motley Fool.
The 5,743 readers giving an opinion vote 80% that the stock will beat the market.
The more experienced and savvy All Stars are more positive with an 85% vote for the same result.
In the area of books their major competitors are Barnes & Noble (NYSE:BKS) down 28.67% and EBAY (NASDAQ:EBAY) up 22.39%. As this one year chart shows they have soundly out performed both this past year: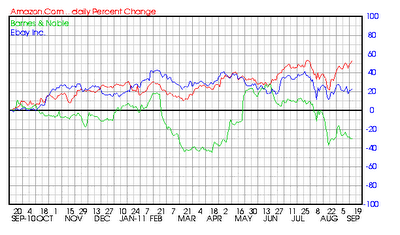 Some other stocks in the Internet sales sector you might want to consider are Stamp.com (NASDAQ:STMP) up 110.57%, Valuevision Media (VVTV) up 101.08, PC Mall (MALL) up 45.67% and PC Connection (NASDAQ:PCCC) up 28.63%:
Click to enlarge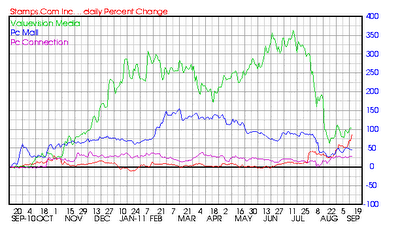 Summary: Amazon is the leader in the Internet sales area. They should be very profitable after the new technology upgrades are in place. New investors at this level should experience an annual total return of 9% - 11% over the next five years.
Disclosure: I have no positions in any stocks mentioned, and no plans to initiate any positions within the next 72 hours.