As I noted in yesterday's update, I was leaning toward unloading the 10 Best Buy (NYSE:BBY) March $22 calls that I held in the $10,000 portfolio I am looking to double by the end of the year. I did just that earlier today at a price of $3.75. That leaves the position with a realized loss of -$530.

The portfolio now sports $8,448 worth of cash to play with. Not counting options spreads on Apple (NASDAQ:AAPL) and Amazon.com (NASDAQ:AMZN) that will expire worthless this Friday, the only open position I have left after the BBY sell to close is 2 AAPL December $380 calls that I picked up for $27.00 each. As of intraday Wednesday, those calls are trading around $32.42 with AAPL stock past $390.

That's good for an on-paper profit of $1,084 on the AAPL calls. In a real-life portfolio I would have sold, but because I'm going for a double, I'll let things ride on AAPL's momentum. In fact, I think the stock has a chance of testing $400 this week or next. Between the cash and the intraday value of the AAPL position, the $10,000 portfolio stands at $14,932. In the span of about a month, I'm halfway to a double with appreciation of over 49%. Not too shabby.

So, what's next? First of all, I am kicking myself for not going long Ralph Lauren (NYSE:RL). When I first suggested going long on August 11th as part of my penchant for high-end retail, RL traded at $130.55. As of intraday Wednesday, the stock climbed as high as $141.57. While I still see considerable upside in the shares, it's more of a play for the long-term investor.

In a society where the line between the haves and have-nots continues to become more and more clear, companies that serve the upper echelon will continue to prosper. Just imagine how bad the distinction between well-to-do and poor would look if we actually used a relevant measure of poverty that, for instance, accounted for geography.

Along this line of thinking, I am taking a long position in Lululemon (NASDAQ:LULU). I am generally not one to jump in and buy volatility (my recent success as come via selling it), but in this case, I think LULU is poised to blow past resistance in the $60.00 range. The company does not report earnings until December and it enjoys a relatively loyal following among the upper-crust.

Click to enlarge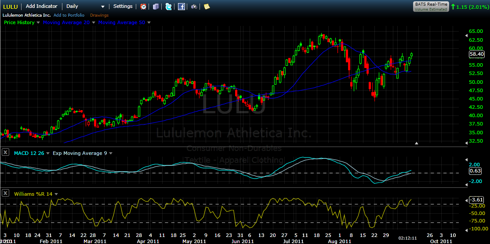 Click to enlarge
Chart courtesy of FreeStockCharts.com
I'm a buyer of 5 LULU January 2012 $60 calls at $7.85 apiece for total outlay of $3,925, leaving the portfolio with $4,523 in cash. We'll set a spot loss on the LULU trade of $5.85. That's a decent size bit of risk, relative to the value of the larger portfolio, but I do not want to get stopped out a head-fake pullback.

The "B" side to the Apple story could just be Research in Motion's (RIMM) continuing woes. As Cramer apparently said the other night, expect another "everything is fine" speech from RIM Co-CEO Jim Balsillie during tomorrow's earnings call. I'm not sure that an (unlikely) upside surprise on quarterly earnings will even make much of a difference.

It's the unwritten future that matters and, certainly, investors will put little stock into whatever Balsillie says about that. Show me, don't tell me. The company's still in disarray. Don't let anybody fool you. I've written more than a few articles about it, highlighting shrinking market share, a scattered focus and slim chances at a meaningful turnaround. Remember, this is a company that guided revenues down by about $1 billion.

On that sentiment, I am buying 10 RIMM October $28 puts at $2.00 for an outlay of $2,000. If I'm wrong, I will sell them at whatever they open for post-earnings on Friday morning. If I am right, I'll make a game-time decision on when to take profits, assume I have some, at that time.

In summary, the $10,000 portfolio stands at $14,932 with long positions in AAPL and LULU calls and RIMM puts and now, $2,523 in cash, as of this writing, at 11:25 a.m., Pacific time, Wednesday. Banking on a Canadian dichotomy to take us closer to a double as hockey season draws near!

Disclosure: I have no positions in any stocks mentioned, but may initiate a short position in RIMM over the next 72 hours.