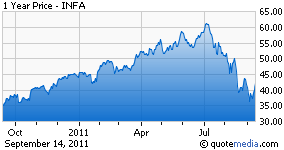 Informatica Corporation (NASDAQ:INFA) provides enterprise data integration and data quality software and services worldwide. Its software solutions include a set of technologies that enable various enterprise-wide data integration initiatives.
Key Points
Informatica is one of the best positioned and well-run enterprise software companies today. This point was evident during the recent economic downturn when the company had positive organic license revenue growth while most of its perpetual license peers during the same period reported significant license revenue declines.
The company benefits greatly from being the largest independent, publicly traded data integration solutions vendor, without biases towards any one data source, hardware system stack, and/or services partner; customers value Informatica's "data agnostic" view of their projects since they do not have to sacrifice on quality to receive the best solution to solve their specific data issues.
Informatica's valuation appears high relative to its peers and the broader market for 3 main reasons: 1) the company's performance over the last few years has been very solid and therefore investors are willing to pay more for that consistency; 2) the potential for continued growth, particularly with the addition of products that address cloud integration, remains high; and 3) every few quarters rumors circulate that the company is a takeover candidate.
It's been a few quarters since Informatica's last sizable acquisition. Therefore another one could come soon, which really should not pose a large problem given the company's integration prowess. But as Informatica potentially increases the sizes of the acquisitions it needs to make to be material, the potential dilution from larger deals could also increase, which investors may not view as favorably as they have the smaller deals the company has made in the past.
Informatica has a strong track record of acquiring and quickly integrating new products and services into its platform and cross-selling them into the company's existing base of over 4,000 customers. Acquisitions that Informatica has made over the last 5 years contribute an estimated ~25% to 35% of Informatica's current total revenue run rate.
The company's seasoned and trustworthy management team contributes to Informatica's high valuation relative to peers as investors feel very comfortable that it consistently provides clear, honest, and straight-forward responses to most investor/analyst inquiries, and provide honest assessments of their business at any snapshot in time.
Disclosure: I have no positions in any stocks mentioned, and no plans to initiate any positions within the next 72 hours.