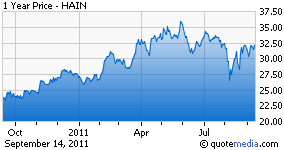 Interested in a sample of maltodextrin or monosodium glutamate? Or, how about a little sodium acetate with sodium caseinate or disodium inosinate on the side? Read the back of many major food products and you'll begin to understand why sales of organic foods, such as those made by Hain Celestial (NASDAQ:
HAIN
), have been on the rise.
Organic foods and beverages have become big business. Here in the States, sales of organic foods and beverages have grown from $1 billion in 1990 to $26.7 billion in 2010. And the momentum has remained strong with 2010 sales 7.7% higher than 2009. But it's not just Americans who are spending more on organics. Worldwide sales of such products totaled $54.9 billion in 2009, up from $50.9 billion in 2008. And, it's not just organic food where sales have increased. Organic non-food sales were up 9.7% in 2010, reaching $1.97 billion.
Hain's products cut across food, drinks, personal care and household. The company makes snacks and sells fresh food. And growing demand from consumers is driving more sales into unconventional channels, such as discount and convenience stores. As a result, grocery sales dropped to 61% of net revenue in FY2011, down from 65% in FY2010.
Last quarter, revenue rose 31%, bringing FY2011 sales growth to 23%. The additional scale, and a tight rein on costs, helped gross profit margin increase 186 basis points in the quarter from the prior year. For the full year, the company's GAAP gross profit was up 89 basis points while GAAP operating margins increased 168 basis points. This margin strength is particularly impressive given input costs have headed higher.
Part of Hain's profit success has come from leveraging acquisitions for scale and expanding acquired brands into new markets. Last year, Hain acquired The Greek Gods yogurt and Sensible Portions snack brands, both of which Hain has boosted sales from pre-acquisition levels.
In the United States, revenue was $910.1 million in FY2011, up $187.9 million from the prior year. Overall, sales volume increased for its Earth's Best brand and personal care products. Its snack foods, which include the Terra brand, accounted for 17% of net sales in FY2011, up from 10% in FY2010.
Hain also is enjoying success overseas. In FY2011, international sales were $220.2 million, accounting for 19.5% of sales, and $25.1 million higher than in FY2010. To further fuel growth overseas, Hain acquired Danival SAS, a maker of 200 branded certified organic food products in France, and GG UniqueFiber AS, a maker of natural high fiber crackers in Norway, last quarter. Hain is also expanding in Asia through its Hutchison Hain Organic joint venture. And in China, Hain has introduced Earth's Best and Zhi Ling Tong co-branded infant formula, which taps the fast growing infant nutrition market.
The company's growth has attracted the attention of the Carl Icahn. He owns some 7.1 million in stock. His Icahn Group owns another 5.7 million shares. Assuming all options are exercised, they own some 21.6% of common stock. As a result, Hain inked a deal with Icahn in July that puts Brett Icahn and David Schechter on its board, suggesting future shareholder friendly announcements.
Hain expects sales momentum to continue into FY2012. The company is guiding 9-11% top line and 11-19% bottom line growth, which equals $1.50-1.60 per share. There are 8.3 days to cover short and the company has beaten Street analysts in each of the past three quarters. As a result, analysts have boosted their FY2013 forecast to $1.74 from $1.65 30 days ago. Given shares are trading 13% off their 52 week high and turning up off their 200dma support, investors could be nicely rewarded in the coming months.
Disclosure:
I have no positions in any stocks mentioned, but may initiate a long position in
HAIN
over the next 72 hours.