Few brands penetrate the mainstream to such an extent that their names become verbs. A modern example would be Google (NASDAQ:GOOG), as in "google it", directing someone to do a web search. Once upon a time, Xerox's (NYSE:XRX) brand and technology was similarly prominent, Xerox-ing being a synonym for copying. Such fads in the vernacular can be fleeting for companies, however, and offers no assurance that eventual obsolescence can be avoided. Society continues to move closer to a paperless ideal, a trend that offers little growth for a company built on enterprise copiers and printers. The times, they are-a-changin', yes, but what investors may not understand is that Xerox has changed with them.
Xerox still derives almost half of revenues from the Technology segment, their traditional business of providing copiers, printers and corresponding services/supplies to businesses. While growth in this segment has stalled, management still sees opportunities to shift clients to color pages, where price premium with black & white (B&W) has narrowed to make color more affordable. More importantly, Xerox's install base gives them a foothold to offer clients other services, an important aspect of their transformation which should allow the company to grow in the future.
Xerox's Technology segment and its massive salesforce translate into a platform to offer other services like Document Management (DO). Businesses still generate a huge volume of paper and corporations can find it beneficial to outsource management of these documents. But Xerox's transformation truly crystallized with its $6.4B purchase of Affiliated Computer Services (ACS) in early 2010, which tripled its Services segment overnight. The timing was stellar as they announced the deal in September of 2009, paying only a 34% premium to ACS' beaten-down share price. Nearly two years on, the transaction looks a winner for Xerox as its Services segment now provides roughly half of revenues/profits and contains nearly all of its growth prospects.
The ACS transaction provided Xerox instant access to the Business Processing (BPO) market and bolstered its IT outsourcing (ITO) and DO services. So Xerox now makes half its money providing mundane but critical services like collecting traffic tolls, processing healthcare claims, managing states' unemployment claims, providing customer service, handling companies' document generation and managing IT infrastructure, just to point out a few areas. Recent billion-dollar Medicaid contracts in California and Texas notwithstanding, the company's contracts are diversified enough that no single or handful of contracts comprise a significant portion of revenue.
Moving into businesses like BPO, ITO and DO has strengthened Xerox's annuity revenue profile as over 90% of Services revenue is annuity. The Technology segment also brings in 65% of revenue as annuity, since most of its money is generated not on the equipment sales/lease but on services and supplies following installation. Combined, the company's realizes 84% of its revenue as annuity which provides great visibility on future results.
The Services segment is also where management sees the best growth possibility, projecting 6-8% revenue growth in 2012 vs. 1-3% for the Technology segment. The company plans to deploy its large legacy salesforce to boost ACS' global presence. Given Services' stronger annuity base and higher operating margins, management has definitely set Xerox on the right track.
Of course, reviewing Xerox's business position is only part of the process. More importantly, we must review its valuation at current share prices.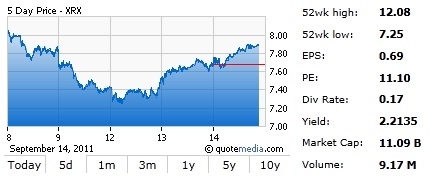 XRX generates outstanding free cash flow as evidenced by the 5 year + TTM chart below:

[$M]
| | | | | | | |
| --- | --- | --- | --- | --- | --- | --- |
| Year | 2006 | 2007 | 2008 | 2009 | 2010 | TTM |
| OCF | 1,617 | 1,871 | 939 | 2,208 | 2,726 | 1990 |
| CapEx | -294 | -359 | -335 | -193 | -519 | -562 |
| FCF | 1,323 | 1,512 | 604 | 2,015 | 2,207 | 1428 |
| total assets | 21,709 | 23,543 | 22,447 | 24,032 | 30,600 | 31095 |
| FCF/assets | 6.1% | 6.4% | 2.7% | 8.4% | 7.2% | 4.6% |

Taking an average of the last 5 years + TTM FCF gives us $1.5B annual FCF. The table indicates we can expect Xerox to reliably generate roughly 6% FCF return on assets with an anomaly in 2008, where a one-time expense related to litigation settlements hit results. TTM FCF of $1.4B has dropped from previous years' $2.0-$2.2B numbers as the company expends capital to build out its services platform but the decline should be temporary. Applying XRX 5-year + TTM avg rate of 6% FCF return on assets yields $1.8B annual FCF, which happens to match management's guidance for 2011 with 2012 FCF expected to move up to $2.0-$2.3B. The company expects to generate low-mid single-digit growth but for my analysis, I conservatively project zero growth in perpetuity. Here's how the various valuation scenarios play out:
Free cash flow valuation per share
5yrs+TTM = $1.5B -> $11.5
2011 Projected = $1.8B -> $14
2010 Actual = $2.2B -> $17.5
Stress Case = $1.0B -> $7.5
Free cash flow analysis suggests XRX is significantly undervalued. 2008 was the worst year for FCF but included the aforementioned litigation settlement. I put a bad-case scenario at $1B FCF, half of what management is guiding for 2011/2012, and still get a value near today's trading range. Keep in mind, that $1B FCF would be a baseline figure assuming 0% growth which means we're assuming XRX will only generate $1B annually in perpetuity. I consider this scenario highly unlikely, perhaps less than 5% probability. Less negative scenarios such as $1.4-$1.5B FCF provide XRX with a considerable 25-30% margin of safety. I value XRX at $12 - $14 per share.

At first glance, XRX debt levels appear high at ~$9B, roughly 3x EBITDA of $3B but the company provides financing to its customers, targeting a 7:1 leverage ratio. Currently, it holds over $1B cash to provide $6.2B to facilitate customers' purchases/leases of equipment. "Core debt" is a much more manageable $2.4B, less than a year's EBITDA. The company is exposed to debt write-offs among its customer base -- current bad debt provisions as a percentage of trade/finance receivables came in at 3.3%, 4.1% and 3.4% for 2010, 2009 and 2008 respectively -- but barring a catastrophic credit event surpassing the crisis in 2008, this exposure is manageable.

As with any stock, XRX is not without risk. Other tech companies have also moved into services and at least one, Hewlett-Packard (NYSE:HPQ), competes in both hardware and services. At $11B market cap, XRX is one of the smaller operators in the space and may not be able to compete effectively in the marketplace or for acquisitions:
Company - Market Cap
Xerox - $11B
Wipro (NYSE:WIT) - $23B
Dell (NASDAQ:DELL) - $27B
Accenture (NYSE:ACN) - $33B
Hewlett-Packard - $47B
IBM (NYSE:IBM) - $199B
Additionally, Xerox lists $2.1B pension funding shortfall on its balance sheet as well as $913M for retiree medical benefits, which are not funded by any plan. $3B+ in unfunded pension and health benefits is worrisome enough but Xerox derived these figures by assuming over 7% growth in its pension plan assets and less than 5% growth in long-term retiree healthcare costs. It is probable that Xerox's actual liabilities exceed the $3B carried on its liabilities ledger. For reference, assuming 2010's healthcare cost trend rate of 9% boosts retiree medical costs by $352M.
A smaller risk is management, which I feel are too "Wall Street"-oriented. Simply reviewing the Q2 earnings call, investors can hear the CFO talk about "protecting the quarter", which signals undue emphasis on pleasing analysts. Companies should be managed for the long term -- quarters do not need to be protected. Unfortunately, Xerox management obtains additional compensation for meeting EPS and cash flow targets, which explains protecting the quarter.
The company also favors share buybacks over dividends to return capital to shareholders. I prefer dividends as companies tend to buy back shares when things are good, i.e. share prices are high, and suspend buyback programs in panic-stricken markets precisely when shares are cheap. Also, companies can issue shares again in the future to fund acquisitions. Xerox shares are trading low enough to make a buyback attractive but future acquisitions funded by equity dilution cannot be ruled out. Still, the dividend is decent at over 2% so this is not a huge concern.
At current trading levels though, investors are being compensated for these risks and then some. I initiated my position by writing in-the-money $7.5 naked puts on XRX for a 12% premium to take advantage of elevated volatility premiums and to set a lower entry price for the stock. My options have since moved out of the money but with today's markets, I suspect opportunities to build a position will become available again.

Disclosure: I have no positions in any stocks mentioned, and no plans to initiate any positions within the next 72 hours.

Additional disclosure: Short XRX naked puts.