This is the 3rd in a 5 part series this week. Click below for earlier entries:
Back in August I wrote a piece here on Seeking Alpha recommending that investors stay aggressive in the midst of a market correction. This week, I'm highlighting 5 iconic brands that look undervalued. These companies have strong business models, valuable brands, long histories of profitability, and depressed share prices. While the broad market woes are not solely responsible for their declines, these five companies are all in a position to rebound strongly along with the broader economy.
Today's spotlighted company is Dell, Inc. (NASDAQ:DELL). Dell's brand may not have the luster of competitors like Apple (NASDAQ:AAPL) or even Hewlett-Packard (NYSE:HPQ) -- the company has traditionally competed more on cost than service or features -- but it has been a market leader for nearly two decades now.
The stock has been hit hard over the past two months (down about 20% since mid-July) on macro fears, as well as industry concerns. Hewlett-Packard's proposed divestiture of its PC business was seen by many as the beginning of the end for the traditional desktop PC. As HP CEO Leo Apotheker noted, referring to Apple's iPad: "The tablet effect is real." IT research firm Gartner piled on last week, cutting PC growth for 2011 and 2012 from 9.3 to 3.8 percent, and 12.8 to 10.9 percent, respectively. Gartner blamed slowing economic conditions on the US and Western Europe, while also noting that younger consumers were more apt to substitute smartphones and tablets for traditional desktop PCs.
And while consumer weakness is no doubt a problem, it is unclear that is truly all that big a problem for Dell. Quite simply, Dell makes very little money off the consumer (click to enlarge images):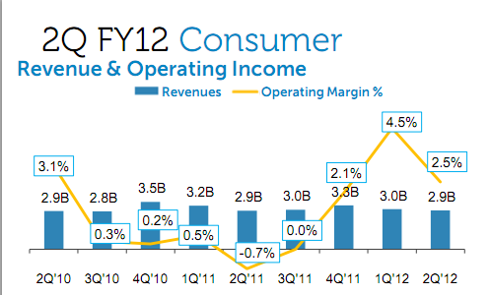 Source: Dell 2Q Earnings Presentation
Based on these figures, total operating profit in the consumer segment for the second quarter was about $75 million. Total operating profit for the company as whole (using the company's non-GAAP figures) was $1.33 billion, putting the consumer segment's contribution to overall profit in the range of about 5-6 percent.
Dell's profit is driven by its sales to businesses and government, which account for over 80% of its revenues, and include servers and IT services in addition to traditional PC's and smartphones. And while PC, tablet, and handheld sales on the whole represented 54% of second quarter sales, according the company's earnings report, with revenue down 1% year-over-year, business units such as servers and networking and Dell Services are growing.
Year-over-year, second quarter sales for servers were up 9%; services revenue increased 6% while backlog increased 11%. Management understands the need for Dell to continue to migrate away from the PC field, and has taken steps in that direction. Guidance for the full year included a downward revision in revenue growth (to 1-5% from 5-9%) and a simultaneous upward change in operating income growth (from 12-18% to 17-23%), based on "strategic decisions to redirect resources from lower- to higher-value solutions", to quote the company's press release.
In other words, the company is focusing on the double-digit margins offered by IT products and services, rather than the low-margin legacy PC business that competitor Hewlett-Packard seems intent on exiting. Recent acquisitions of storage maker Compellent Technologies and networking supplier Force10 Networks now enable Dell to offer complete packages of IT products, solutions, and services to its clients.
In the meantime, Dell seems to offer compelling value, even given flat revenue growth (2010 revenue was up just half a percent over 2007). The balance sheet is exceptionally strong, with $4.50 per share in net cash, 30% of market capitalization. Trailing and forward P/E ratios sit below 8; most impressively, the enterprise value-to-earnings ratio for the stock is just 5.4. Free cash flow is equally impressive; the company has generated $4.7 billion in free cash flow over the past twelve months, over one-fourth of its enterprise value.
While the company does not pay a dividend -- and does not appear to have any plans for doing so -- it has ramped up its stock buyback plans. A $5 billion authorization announced yesterday increased the company's total buyback plan to $6.6 billion, representing 25% of shares currently outstanding.
So if the numbers are so good, and the outlook so rosy, what are the downside risks for Dell? There certainly are many, and the stock's currently depressed valuation reflects the fact that many market participants view the company as a value trap, rather than a value play. Even the company's announced buyback drew mixed reviews. Goldman Sachs (NYSE:GS) analysts, who have a rare "Sell" rating on the stock, reiterated their view that earnings estimates are too high, noting that their 2012 estimate of $1.33 dramatically trailed Wall Street consensus of $1.95.
Other analysts noted the lack of a dividend -- given the balance sheet and free cash flow, the company easily could pay out a yield that would rival the 4-plus percent offered by supplier Intel (NASDAQ:INTC) -- and fears of the company's large exposure to governments, who are cutting budgets across the Western world.
The counter-argument -- similar to the argument I made on Tuesday for Gap, Inc. (NYSE:GPS) -- is that those fears appear to be priced in. Even Goldman's below-consensus estimate of $1.33 for calendar year 2012 values the company at just over 11 times earnings, and less than 8 times earnings on an enterprise basis.
One major mitigating factor for Dell going forward is the diversification of its product line. Fears of exposure to government spending may prove correct; but public sales account for only 29% of revenue, with second quarter margins comparable to those of corporate clients. 28% of revenue now comes from overseas; with 14% growth in developing markets (though that has tailed off over the last few quarters).
And, as noted earlier, nearly half of the company's current revenue comes outside of the company's traditional markets in desktops, laptops, tablets, and handhelds. Such a diverse revenue base, across geography, product lines, and client types, should allow the company to react efficiently against economic uncertainty, no matter where and how it arises.
Going forward, Dell's transition to enterprise services will continue as the company is now moving into the highly competitive cloud computing space, competing with leaders such as Amazon (NASDAQ:AMZN) and Rackspace (NYSE:RAX). Growth in corporate and public IT sales should continue at a moderate pace, and the company has not yet given up on the consumer. HP's exit from the PC business may help margins in that category, and the company recently announced a partnership with Chinese search giant Baidu (NASDAQ:BIDU) to sell smartphones to the growing Chinese market.
As the company continues to transition away from its legacy PC business, margins should rise, and the market valuation should begin to reflect Dell's new role as a powerhouse information technology provider. Right now, with the company valued, on an enterprise basis, at 5.4 times earnings, four times free cash flow, and 0.3 times sales, it appears that DELL has nowhere to go but up.
Disclosure: I have no positions in any stocks mentioned, and no plans to initiate any positions within the next 72 hours.