MDU Resources Group Inc. (NYSE:MDU) currently has three catalysts that will provide significant opportunities for dividend growth:
The first catalyst is 2012 regulatory approval for utility rate hikes.
The second catalyst is MDU Resources' focus upon expanding its unregulated gas and oil production.
The third catalyst is the development of its construction business segment.
In aggregate, these catalysts will assist in increasing MDU Resources' dividend growth and earnings growth. The current dividend yield is a quarterly .163 cents per share, or a 3.3% annual dividend yield.
Business Model
MDU Resources deals with mostly value added natural resource products and services, which includes regulated electric and natural gas utilities, regulated natural gas pipelines and energy services, natural gas and oil production, construction materials and contracting, along with construction services.
The successive sublets that manage different fields under the vast MDU Resources umbrella have divisions that manage different types of products and services: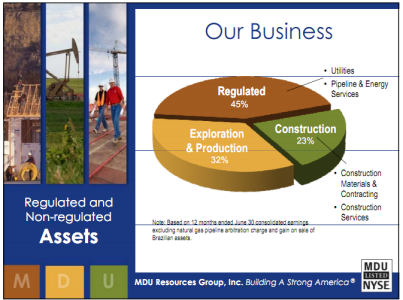 Dividends
MDU Resources Group's common stock dividend has been consistently ascending for the past 20 years, consecutively. MDU Resources has paid 73 consecutive years of uninterrupted quarterly common stock dividends. The unregulated oil and gas exploration and production provide significant profit margins. This, in turn, will provide the earnings flow for potential investors to receive an increasing dividend income stream. The unregulated construction business units provide further corporate growth based upon higher profit margins.
Earnings
MDU Resources Group is expected to earn $1.30 per share in 2011. Earnings in 2012 are currently forecast at $1.45 per share.
3 Catalysts For Dividend Hikes
1) 2012 Regulated Rate Hikes
Montana and North Dakota have approved regulated utility rates. The electric unit provided 11.8% of MDU's 2010 operating income. Natural gas distribution provided 18.4% of 2010's operating income. Pipeline and energy services provided 11.3% of 2010's operating income. The regulated unit provides a base of income stability. MDU Resources has submitted approval for higher regulated rates for future periods.
The regulated sector of MDU resources remains the most stable source of earnings for the shareholders and investors. Utility companies come under these regulatory approval rate hikes as they provide the resources and services to power the nation's places of work and rest. The electric and natural gas distribution segments provide generation, transmission and distribution of energy. The installed mesh work of energy transference pipelines is what keeps the nation moving. Emphasizing customer satisfaction is the crux of MDU's success.
2) Unregulated Gas and Oil Production
MDU Resources received 34.9% of 2010's operating income from gas and oil production. The company operates in a growing energy exploration and production area within the U.S.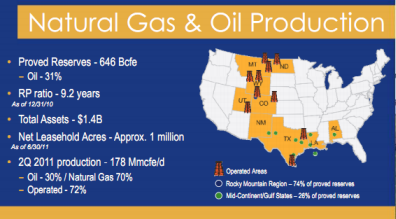 The MDU Resources exploration and production unit is called Fidelity Exploration and Production. Its purpose is to produce and transport fuel, which is the chief constituent of a thriving economy. With the demand for energy skyrocketing, the natural gas and oil production sector has become a pivotal driver for primary corporate growth.
Per slide 19 of an August MDU presentation, MDU management stated their intent to grow the exploration and development business segment. This will be done by the following actions:

MDU Resources owns 90,000 net acres of leaseholds in the Bakken oil area.
3) Unregulated Construction Materials
Construction services provided 8.1% of 2010's operating income. Construction materials and contracting provided 23.6% of 2010's operating income. MDU Resources' construction unit has broken ground with a lot of structures that now represent the face of corporate America.
Knife River Corporation, MDU's construction unit, offers integrated construction and specialty services to support its mineral-based product lines. Products from Knife River's companies have helped create U.S. military installations, interstate highways and major sports and business facilities. The services that are offered by Knife River do not just limit themselves to the sole act of building. They are significant to energy infrastructure networks as well, including electrical and mechanical services and connectivity. Their companies have installed electrical wiring and fire suppression systems in some of the largest casinos in Las Vegas, as well as major sports arenas and nationwide industrial facilities.
Business Summary
MDU Resources Group zeroes in on areas that require growth and development within its parameter of expertise and enables its progression. Founded in 1924, MDU has dealt with the acquisition of both regulated and non-regulated businesses, forming a collective operation that deals with the selling of a wide range of high quality products and services that are related to the energy and transport infrastructure throughout the United States.
MDU Resources Group believes in taking opportunistic measures when it comes to creating powerful synergies to add to their already extensive repertoire. Growth opportunities in non-regulated businesses are supported by the stability and predictability of the regulated businesses.
Peer Group Analysis
MDU Resources Group is a diversified business with regulated and unregulated businesses. The company is focused upon improving profits from within the gas and oil production business unit.
The following companies represent a peer group closely representing the exploration and production business model: EOG Resources (NYSE:EOG), Chesapeake Energy (NYSE:CHK), EnCana Corp. (NYSE:ECA), Devon Energy (NYSE:DVN), and Apache Corp. (NYSE:APA). Duke Energy Corp. (NYSE:DUK) represents a proxy for MDU Resources' regulated utility business.
click to enlarge image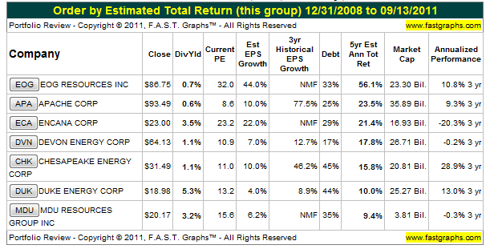 Click to enlarge
Disclosure: I am long MDU.