by Mike Moody
Ed Yardeni may be Wall Street's favorite economist/investment strategist, not least because he always has great graphics. The smart commentary is just a bonus! Recently, he wrote how he was expecting S&P 500 earnings to decelerate based on the recent weakness in ISM's Purchasing Manager's Index. As always, he had a nifty graphic to show the relationship. Click to enlarge: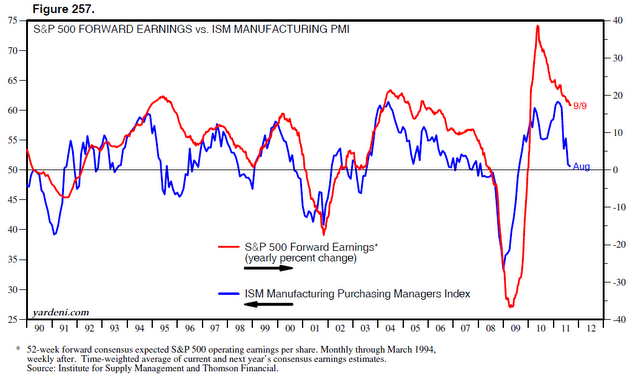 Source: yardeni.com
When earnings growth slows, it often highlights the growth monsters—companies with extremely powerful growth drivers that continue to generate earnings when everyone else decelerates. Growth monsters are always around, but during a cyclical rebound it is not always easy to distinguish them from companies that temporarily have the wind at their back. Growth monsters are more apparent when everyone else is slowing down.
Relative strength tends to identify growth monsters very effectively. Below is a table of the top performing stocks in the S&P 500 and the S&P Midcap 400 for the trailing 12 months. All of the companies that I highlighted in the table are owned in the Technical Leaders Index (PDP) or in one of our Systematic RS separate account styles. We're never going to get everything, but you can see that the methodology finds a lot of the dynamic performers in the market. Click to enlarge: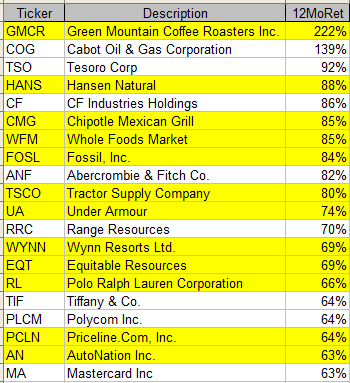 Source: Dorsey, Wright Money Management
Disclosure: A list of all holdings for the past 12 months is available on request.