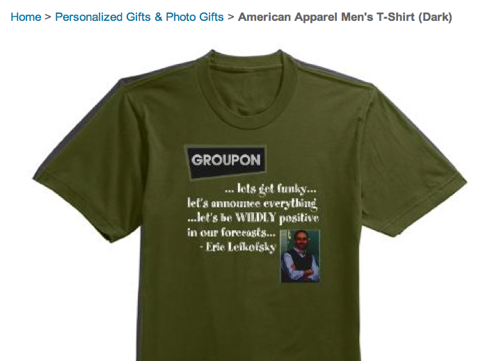 20 months ago, I wrote here an open letter to investment bankers asking them not to ruin the IPO window by rushing unsuitable companies to market.
The IPO markets are open because institutional investors need new product, growth stories that represent the growth of the internet, cleantech, mobile computing etc. for the next decade. What we and they do not need is unprofitable companies, without clearly profitable business models, that consume cash and need to source that cash in the public markets to survive. Slow growth companies will also find it tough in the demanding public markets. Our memory is short but we have been through this in 1999 and 2000, when bankers brought all the Pets companies and sock puppets public, ultimately cratering and ruining the IPO market for years.
Following that post, I received the following note from a Senior manager at a bulge bracket investment bank:
Michael,

Great Great article.

Many thanks for writing it. Circulated throughout XX system.

Sincerely
B
Since then, we have had some great companies come public, including Benchmark investment OpenTable (NASDAQ:OPEN) as well as LinkedIn (NYSE:LNKD). These are high quality companies with high quality earnings and simple to understand financials. They also have high competitive moats, built over years and are profitable, even increasingly profitable.
However, the last few months have brought some indicators that bankers have become less careful. Only 37% of this year's IPOs are trading above their IPO price. Private companies which depend on a healthy IPO market are likely to pay the price. (see IPOscoop's review of the IPO market). This is the despite the fact that the WSJ reported that IPOs have performed better than the overall market.
What this tells us is that the select suitable/worthy IPOs are doing exactly what they are supposed to and better, but that those IPOs and bankers who are "taking advantage of the window" are bringing down the averages.
Here are signs that should worry bankers and the investing public about companies "taking advantage of the window."
1. New Financial Metrics:
Remember "eyeballs?" That was the valuation metric in the bubble. Turns out that "eyeballs" were not a terrible proxy for ultimate revenue growth but at that point in history it was both non-standard and a lousy predictor of success. Given that eyeballs did not equal revenue nor profit, it was impossible to discern winners (YHOO, AMZN) who would ultimately translate those eyeballs or engaged users into revenue and profits from the losers (Pets.com, Globe.com) who did not and would never find a business model. So all sorts of crap came public on eyeball models that nobody could compute, understand or figure out who would win at them.
This time, we have traded a body part for an acronym, "consolidated segment operating income, or adjusted CSOI." That should have worried the banks who filed the S1 and clearly approved the vudu metrics written of course in plain English. Anyway, GRPN is now on hold, but not before it left somewhat of a black eye on the IPO market that healthy companies need for liquidity. Barron's went so far as to suggest that investors are applauding the shelving of the IPO due to GRPN's "rather novel accounting measure that excluded most marketing costs, and (that Groupon) has no clear path to profitability" I guess Barron's is watching out for the IPO market. Thanks!
2. Big Losses
When I started in investment banking in the mid-90s, there was a rule that you needed to have two quarters of profitability to go public. Well, that rule has been waved for some really great growth companies, but sometimes it can be taken too far. As an example, Bazaarvoice's S1 (NASDAQ:BV) shows increasing revenues but also dramatically increasing losses over the last 3 years. Perhaps the profitability of the business has turned around in the last 60 days, but it is hard to see from the financials. Bazaarvoice lost ~$20,000 in 2011, up from losses of ~$8,000,000 in 2010. Huh? I am sure the bankers have an insight I don't so please share it with us for the health of the IPO market.
3. Transparency
The market has been spooked by Chinese accounting scandals, and the Chinese market, as big and enticing as it is, is very foriegn to US investors and operates under different norms. Toudo Holdings' (NASDAQ:TUDO) IPO has this peculiar risk factor:
lack of internal controls had resulted in errors in recording and accounting for redeemable convertible preferred shares, share-based compensation, litigation losses, advertising agency fees, and certain other balance sheet line items.
Wait, there have already been accounting issues ("recording errors") and now the underwriters led by Credit Suisse are taking it public? Reuters in its coverage added: "The company said it does not have enough people with knowledge of U.S. accounting rules, which is not uncommon for Chinese companies." It makes you wonder if the core driver for taking Tudou public was that its competitor Youku (NYSE:YOKU) went public, which makes it reminiscent of the endless online pet store companies chasing each other to the public market. Can we be careful please?
One of my favorite new economic writers Umair Haque (@umairh) in his book The New Capitalist Manifesto writes that 20th century capitalism shifted costs from those who made money onto either governments, unwitting citizens or other less powerful businesses. The same could be said of rushing inappropriate companies to the IPO market. Those that make the 7% fee on the borderline IPOs could be shifting the cost onto the hundreds of private companies that need to access the IPO market for liquidity but will be unable to because they will find the pipeline clogged with crap and investors running away from the stench. In the medium and long term, that is bad for the market and the economy.
* According to this note, Groupon is still growing briskly
**I found the shirt on cafepress
Disclosure: I have no positions in any stocks mentioned, and no plans to initiate any positions within the next 72 hours.
Additional disclosure: I am an investor in Seeking Alpha. Benchmark Capital was the venture investor in OPEN and in Z.